For the Raptors, Game 2 Is do-or-die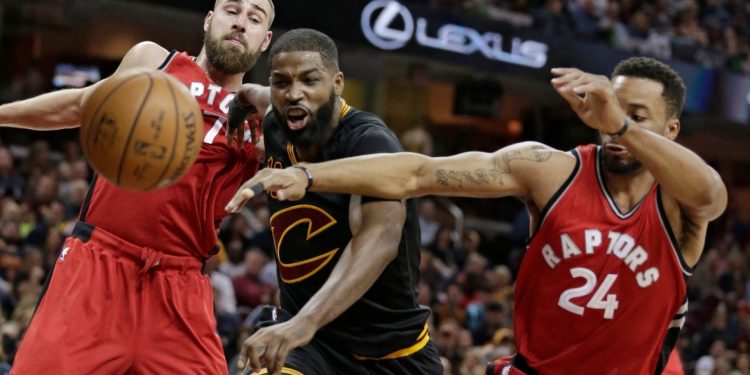 The Toronto Raptors cannot defeat the Cleveland Cavaliers four out of five times.
That is the quandary the Raptors will be faced with if they are unable to win Game 2, after losing Game 1 on Monday night, 116-105. The Cavaliers are 11-0 with LeBron James when they take a 2-0 series lead in a best-of-seven, and James' teams are 18-0 overall with such an advantage.
During the Dwane Casey era, the Raptors have now lost seven straight Game 1's, and his reluctance to be the first to roll the dice has become more glaring with each loss. He failed once again to be proactive in Game 1, reverting back to the starting lineup that the Milwaukee Bucks forced them into changing in the first round.
In the four games that Lowry-DeRozan-Carroll-Ibaka-Valanciunas have started this playoffs, the team has now been outscored 117-80 in the first quarter. In their three starts against the Bucks, the Raptors forced an average of 10 turnovers per game. With Powell starting the next three games in the series (all wins), the Raptors forced an average of 16.7 turnovers a game. They only forced four turnovers through three quarters in this contest, before eight turnovers in a meaningless fourth quarter helped prop up the final tally.
Starting Jonas Valanciunas made some sense, as Tristan Thompson is the only player on Cleveland's roster that he could theoretically match up with in a positive manner. However, it was evident early that Valanciunas was ill-equipped to meet the demands of defending Cleveland's pick-and-roll actions, and struggled to create scoring opportunities in the post.
Thompson proved to be an absolute nightmare for him to handle, and the Raptors should bid farewell to trying this again. Toronto's head coach has already intimated that the only thing that matters in the postseason is wins, and he needs to walk the walk after talking the talk. Jonas Valanciunas has no place in this series, and even rookies Jakob Poeltl and Pascal Siakam present better options at centre.
Casey often makes reference to playing with force, and starting Powell against the Bucks gave them that aggressiveness. I mentioned the need to start one of Powell or Tucker in my series preview, but after the way Game 1 went down, both should receive consideration to start Game 2. Ibaka at centre is a no-brainer at this point, and DeMarre Carroll offered nothing of significance in his 15 minutes of action. He's another man that Casey has to make a bold decision on, and ignore the contract he was given as a free agent.
Tucker showed an assertiveness that was sorely lacking from his bench mates, finishing with 13 points and 11 rebounds. Patrick Patterson played as poorly as anyone on the offensive end, showing a distinct lack of preparedness. He was not shot ready and did not anticipate the traps on his teammates, failing to get into better position to provide an outlet. To be fair, this is something that his teammates were guilty of as well. He misfired on four of his five 3-point attempts, making his only shot when Cleveland was already ahead by over 20 points.
DeRozan struggled to get his game going, but he must stay patient with regards to his own offence. He did an excellent job of facilitating in the final three games of the Milwaukee series, but was slow to get the ball out of the traps in this game. Part of that, again, is attributable to reverting back to Valanciunas at centre, but he mustn't feel the need to force his shot to get the better of J.R. Smith.
He was much more effective when collecting the ball off of movement, specifically curl screens that allow him to attack with momentum and his defender trailing. The more opportunities he has going downhill at the Cleveland defence, the better.
One of the bright spots for Toronto was Kyle Lowry. Last season's All-NBA Third Team'er looked at his very best in the first half. He led the bench unit to a second quarter rally, and it points to the potential of playing the right lineups.
The Raptors thoroughly outplayed Cleveland's second unit that consisted of Williams-Korver-Shumpert-James-Frye, and it should come as no surprise that the unit that made the run for Toronto had a frontcourt of Powell, Tucker, and Ibaka. This group cut an 18-point deficit to five, before Patterson and DeRozan checked in for Powell and Joseph.
The Cavaliers turned to their starting lineup of Irving-Smith-James-Love-Thompson, and the Raptors actually hung tight at 49-44 with 3:41 remaining in the quarter, before everything fell apart when their Lithuanian centre checked into the game for Ibaka. Subbing Ibaka was a necessity after he played the opening 8:19 of the quarter, and then Carroll also checked back in for Tucker. Those final few minutes resulted in a 13-4 run for Cleveland, and squashed any of the momentum Toronto had.
It was pretty smooth sailing for the Cavaliers after that, to the point where LeBron James felt comfortable enough to fake sip a beer. Fighting an uphill battle is not a great recipe for success for the Toronto Raptors in the playoffs, and if they don't make wholesale changes soon enough, their players will be on a beach sipping on their choice of beverage soon enough.