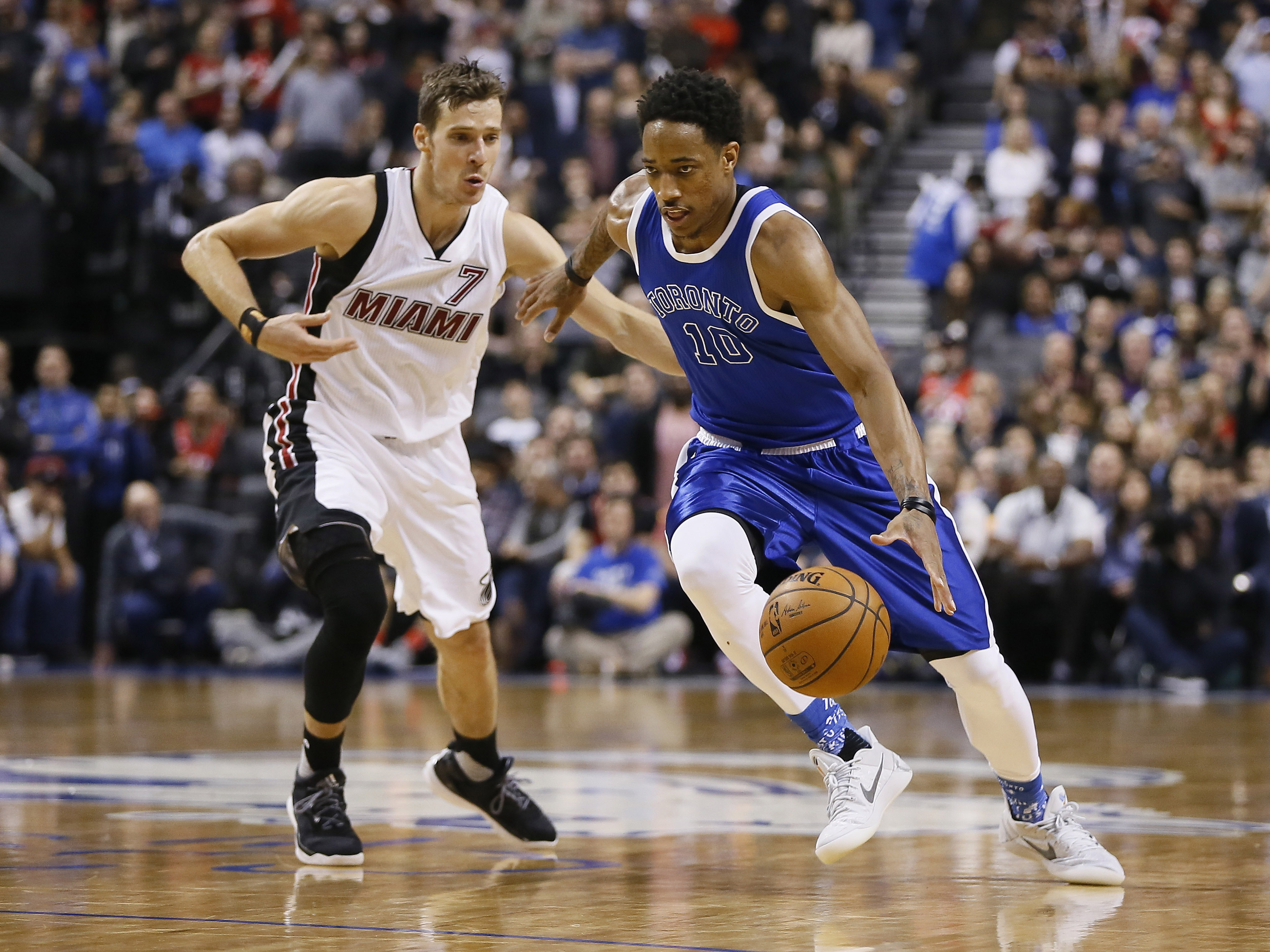 Toronto's last home game is over, the first that matters awaits
The Toronto Raptors won, for whatever it's worth, their sixth straight regular season home finale on Friday night in front of a sellout crowd at the Air Canada Centre.
They've played out the string of 41 home games, going 28-13. The next time they play at 40 Bay Street will be in Game 1 of the playoffs. In that magnified setting, the Raptors are a putrid 1-8 in the opening game, and win-less at home.
Despite winning a franchise-record 56 games last season, there was uncertainty over what to expect in the postseason following a listless sweep at the hands of the Washington Wizards the season before. 56 didn't matter, and the Raptors lost Game 1 to the Indiana Pacers.
Back then, DeMar DeRozan looked to calm the nerves of Raptors fans. "Nah, it's nothing to be worried about — we just had a bad game."
Is this season different?
The Raptors are now coming off a postseason run that gave them their first run to the Eastern Conference Finals, a trade deadline that addressed two major needs, and oh, Kyle Lowry is entering the playoffs fresh for arguably the first time ever. This team isn't just built to win a round, and Erik Spoelstra, an NBA champion as head coach with the LeBron James version of the Miami Heat, knows it.
"They're a championship contending team," he said before his Miami Heat squad took on the Raptors.
"They are where they are in the Eastern Conference for a reason. Lowry was out for two months and yet they're still there, almost in third place, pretty much sealed home court and you have to play rock-solid basketball to do that if you've had injuries. They've bolstered their lineup up-front, that gives them some versatility, some defence. Not only Ibaka, but Tucker has given them another wing defender and toughness and versatility."
Truth be told, Lowry missed 21 games while sitting out a bit more than a month. That the Raptors went 14-7 over that stretch is a testament to how much this team has improved. On paper, this is clearly the best roster assembled in franchise history. They are built like a swiss-army knife, in that they can go to any look at any time. Whether it's a three-guard lineup that featured Delon Wright, Cory Joseph, and Lowry against Detroit on Wednesday, or a front court of Valanciunas and P.J. Tucker to close out the game against Miami, Dwane Casey has the flexibility to go any which way he sees fit.
Considering that they likely won't know their first-round opponent till the final day of the season, their ability to be malleable will favour them against any of Atlanta, Milwaukee, Chicago, Indiana, or Miami.
They have now won 10 of their last 12 games, and peaking at the right time. Serge Ibaka and P.J. Tucker have found their niche, Cory Joseph is playing his best basketball of the year, and Lowry is averaging 19.5 points, eight assists, and six rebounds over the two games since his return. Everything is coming up roses for the Raptors.
Regardless of what kind of momentum they may have, Game 1 matters much more than it did last year.
With the Raptors now having their sights set on winning more than just a round, rest plays a key factor. When they played the first game of the Eastern Conference Finals, they were coming off two gruelling playoff series that meant they would be playing their 15th game in 31 days. The Cleveland Cavaliers on the other hand, were coming off eight days of rest and had played just eight playoff games prior.
If Toronto is going to give themselves the best chance of winning in the later rounds, setting the tone from the first tip-off matters. That's not something they're are accustomed to doing. Since the all-star break, they have a first, second, and third quarter net rating of -2.4, -0.5, and -2.8 respectively. You're probably wondering how the Raptors have collected 16 wins since that break, and it's because they have a fourth quarter net rating of +22.0.
If the Raptors' style is to hang with their opponents over three quarters before catching fire in the fourth, so be it. If that's what gets them the W in the playoffs, that's what matters. You won't find any style points handed out in the playoffs. Now, can they afford to go down by 20 in the first-half like they did against Detroit before storming back? Or wait for Serge Ibaka to get ejected for an attempted punch like they did against Chicago when they trailed by 15 heading into the fourth quarter? Probably not.
A 14-year wait to win a playoff series ended last year. The burden it presented has been lifted for much of this roster. They have proven they now know how to win a series, and one would think that by now, they've learned how to win a Game 1 that matters.