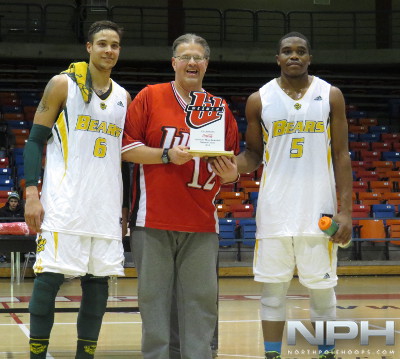 Ken Otieno Powers Alberta to Wesmen Classic Title!
Alberta had a rough start to the first half of the Canada West season, but in three games they took care of business against three formidable opponents in close games. The Golden Bears defeated, Lakehead, Brandon and Winnipeg in the final to claim the 48th Wesmen Classic Championship.
Kenneth Otieno, who earned MVP honours, had a strong final game scoring 30 points, almost half of Alberta's points as the Golden Bears defeated the Winnipeg Wesmen 64-62 in a close finish.
Despite the strong performance by Otieno, Winnipeg wouldn't roll over as Jelane Pryce continued to make big shot after big shot from deep. Winnipeg's own Jamar Farley had a great game as well hitting a number of three pointers in big moments.
Otieno had a chance at the line to make it a three point game, but would split his free throws and give the Wesmen one more shot with 11 seconds left to force OT or win the game. Farley was given the ball with a good look on a last second three but would miss it.
"I was standing there hoping it wouldn't go in, and I'm glad it didn't so we got the win" said Otieno as the game was hanging in the balance.
Every time Winnipeg would get close, Otieno would help Alberta extend their lead. The Golden Bears also played some strong defence throughout holding Winnipeg to 11 and 10 points in the first and third quarter respectively.
When asked what the difference was, Head Coach Barnaby Craddock said "Otieno was unbelievable, a fifth year guy who stood on his head really. They play fantastic defence. They're one of the top defensive teams in the country, so Otieno really was a guy that could create a shot for himself. We needed him to do that tonight and he did."
Alberta now looks to the second half of the season.
"It's a good start for us cause our first semester was rough and now we're trying to build off of these three games and go from there."
"We're hoping to get a little healthier which might help us moving forward" said Coach Craddock.
The Golden Bears are no strangers to the tournament and have now won it four times–1996, 1998, 2002, and 2014.
Tournament All Stars
Tournament MVP – Kenneth Otieno (Alberta)
Tournament All-Stars
DJ Jordan (Brandon)
AJ Basi (Manitoba)
Travis Krahn (Winnipeg)
Mamadou Gueye (Alberta)
Jelane Pryce (Winnipeg)