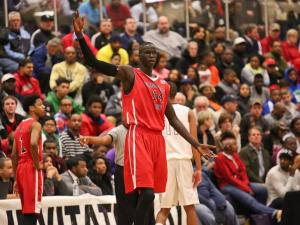 Orangeville Prep Making Noise Stateside
Orangeville Prep is making noise stateside at the HSOT tournament in North Carolina.
They will meet Wesleyan Christian in the championship game tonight, pitting 7'1 Thon Maker and 6'10 Harry Giles against each other–2 top-ranked prospects in the class of 2016.
Jason Jordan of USA Today previewed the match up.
Maker showed maturity in his response by downplaying the attention, and focusing on the team's goals.
While Maker and Giles are the big names in the U.S, don't be surprised if Jamal Murray steals the show, as he has done time and time again.