Andrew Wiggins Goes for 21, Brady Heslip Shines in Start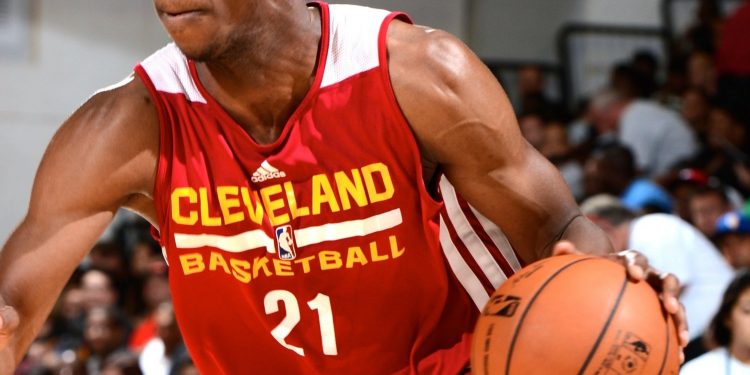 The Las Vegas summer league is all about pouncing on a great opportunity to impress scouts from all over the world. Baylor graduate Brady Heslip embodied this mind set as he started for the Minnesota Timberwolves yesterday, and made the most of his opportunity.
Meanwhile, Andrew Wiggins continues to thrive, posting his personal high of 21 points this summer.
Brady Heslip (Burlington, ON) PG/SG Minnesota Timberwolves
Brady Heslip was a surprise starter for the Minnesota Timberwolves on Thursday as they fell to the Sacremento Kings 100-86. Heslip had a superb game as he made 6 of his 9 field goals, including 4 of 5 from three-point range to end up with 16 points. Heslip was hot all game only taking one forced shot that was partially blocked by Nik Stauskas late in the shot clock. He did a terrific job of running the offence as he controlled the tempo of the game, got the ball were it needed to go and most importantly had ZERO turnovers. His defense was not the best as the opposing PG Ray McCallum had 13 points on 6 of 7 from the field, granted it wasn't all scored on Heslip. This is a very typical setting for Heslip, as he has always strived and fully taken advantage of big opportunities. Coming out of high school Heslip committed to Guelph and was supposed to play in the CIS, but he had a huge summer on the AAU circuit that year and earned a D1 scholarship. With the Senior National Team, the Burlington sniper remained consistent. Now, Brady is trying to do this at the pro level as his career is leaning towards Europe or D-League play, but with a big summer this time around he could land himself a job in the NBA.
Nik Stauskas (Mississauga, ON) PG/SG Sacramento Kings
In a winning effort, Nik Stauskas scored 4 points on 1 of 3 from the field (all three attempts were three pointers), had three rebounds and five assists to go with one turnover. Nik splashed his only three point make in the first quarter. He worked off the ball spotting up at the three point line most of the time and never really handled the ball. That didn't stop Nik from having five assists though as he moved well off the ball, and showed off his excellent feel for the game. There were numerous times throughout the game where Nik would make a great lead pass guiding his target towards the basket or the screen. His defense was solid exerting maximum effort whenever he was guarding Zach Lavine on the perimeter. Too be honest Nik looked tired, and without really handling the ball on the perimeter, he didn't look like he was in the flow off the game. Regardless, the Kings won and Stauskas will be heading to the quarterfinals of the NBA Las Vegas Summer League.
Andrew Wiggins (Vaughn, ON) SG/SF Cleveland Cavaliers
Andrew Wiggins 21 point effort was not enough as the Houston Rockets defeated the Cleveland Cavaliers 96-90. Wiggins was 3 of 5 from the field including 0 of 1 from the three-point line. He converted 15 of 20 free throws, adding 5 rebounds, a steal and a blocked shot. Wiggins started the first quarter hot hitting both his shots and going to the free throw line 4 times, nailing them all. He was able to get a lay up on a cut to the basket and hit a step back jumper. Wiggins made the most of his offensive touches attacking the rim relentlessly; his handle looked okay as he had a great crossover dribble on Nick Johnson, and split a few pick and rolls. But he also turned the ball over four times, getting his pocket picked by Johnson and dribbling the ball off a defender while trying to split the pick and roll on one possession. Defensively, Wiggins had a great game getting numerous deflections in the half court and even having a highlight chase down block on Johnson, following his turnover.
Overall, I think that Andrew Wiggins had a good showing at the Vegas Summer League. He averaged 15.5 points per game and never really forced anything as he played within the team concept and still was able to shine with some spectacular plays. He is still raw offensively especially with the consistency of his jump shot. Wiggins is also paper thin and needs to add 10-15 pounds of muscle moving forward. With all that being said, those are minor problems for such a driven and talented prospect in Wiggins. The jump shot will improve with practice and repetition and for his body; he will only get more mass in time. The only question left for Wiggins is will he be in Cleveland or Minnesota on NBA opening night.
Anthony Bennett (Toronto, ON) SF/PF Cleveland Cavaliers
Anthony Bennett finished off his Summer League run with a 11 point (4-11 FG, 2-5 3PT, 1-2 FT)  6 rebound effort versus the Rockets. Offensively Bennett was streaky. He air balled his first three point attempt then missed a turn around fade away jumper. He did eventually knock down a few shots but was never really able to find him rhythm in the game. Bennett's handle looks steady for a guy at his size and position. He displayed it against Danatas Montiejunas crossing over from left to right before dropping the soft lay up inside. Defensively, Bennett struggled against Montiejunas, who ended up with 21 points and eleven rebounds. Bennett was aware of his struggles on the defensive end and looked very frustrated. He also allowed an offensive rebound put back on a free-throw attempt by Montiejunas in final seconds of the game that came back to bite the Cavs after Joe Harris hit a four point play. Nevertheless, Bennett has had a strong showing at this years Summer League. He, Wiggins, and Heslip will now play on the consolation side of the tournament.