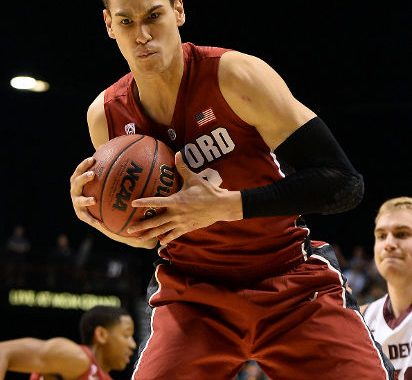 Brady Heslip Finishes Summer League of Strong, Dwight Powell Stars in First Start
As the NBA Summer League wraps up on the consolation side of the tournament, two Canadians were making noise. Brady Heslip had another fantastic game for the TWolves, while seldomly used Dwight Powell made a big splash in his first Summer League start.
Brady Heslip (Burlington, ON) PG/SG Minnesota Timberwolves
Brady Heslip continued his strong summer league play as his Minnesota TWolves beat the New Orleans Pelicans 97-78. Heslip had 15 points (5-8 FG, 3-5 3PT, 2-2 FT) two rebounds and one steal. Offensively, Brady was a huge part in Minnesota's 30-15 fourth quarter run as he had 11 points in the final Q. Heslip hit a variety of shots including a pump fake one-dribble pull up, a spot up three point jumper, and a catch and shoot jumper off the screen. Defensively, Brady competed hard and was very focused on getting to the right spots. He struggled keeping Russ Smith out of the lane, but then avians who hasn't? Smith is one of the most talented offensive players in the Vegas Summer League. In his final two games Heslip averaged 15.5 PPG, on 60% shooting for the field, and 70% shooting from three. The young man was on fire.
Dwight Powell (Toronto, ON) SF/PF Cleveland Cavaliers
In his final game of the Las Vegas Summer League Dwight Powell looked very impressive as his Cleveland Cavaliers beat the Miami Heat 95-90. Dwight Powell finished the game with 15 points (4-7 FG, 7-7 FT) nine rebounds, two assists and one blocked shot. Offensively Powell started off slow missing his first two jumpers in the first quarter, and didn't hit a field goal until late in the first half. However, Powell got to the freethrow line hitting on all four of his attempts and helped keep his rhythm going. Powell hit 4 of his next 5 field goals and like Heslip before him, he had a big fourth quarter scoring 9 of his 15 points during the last Q. Powell was on the perimeter most of the game, but when he had a mismatch he would take his man down to the block and show off his post up game. His jumpshot looked a little shaky, as Powell's real strength in the game was going to the basket. He did have a nice pump fake step back jumper that led to a three-point play which NBA TV announcer Rick Kamla described as, " a small forward move by a power forward." Powell also scored as the roll man on a pick and roll leading to a layup, and had a nice back door cut for the slam. Powell looks like he understands all the little tricks involved in scoring through the team offence, something only a four year polished college player would know how to do in his rookie season. Defensively Powell was active, hedging out hard on screen and rolls and fighting for position down low usually winning as he used his length and athleticism to grab nine boards. After looking pretty intimated his first few games out, Powell was able to finally showcase what he could bring to the table Friday night.
Myck Kabongo (Toronto, ON) PG Toronto Raptors
Myck Kabongo put in his best effort of the Summer League last night as his Raptors beat the Clippers 64 -60. Kabongo scored 8 points (4-9 FG, 0-3 3PT, 0-2 FT) added two rebounds, three assists and one steal. Offensively Kabongo was predictable as he didn't hit a shot from the perimeter. But, because of his great quickness, Myck was able to get to the rim and make his layups. His jumper needs a lot of improvement as he missed all his three point and freethrow attempts. Defensively, Kabongo worked hard and for the most part, stayed in front of who ever he was guarding. However, Kabongo did have some bad fouls, as he was trailing the play and bailed out the Clippers big men. All and all, I honestly believe that Kabongo is a jumper away from making the NBA. His quickness on defense is such an asset. While, on offense he runs the team well, makes the right passes, and can get into the lane at will, but is just too one dimensional right now.