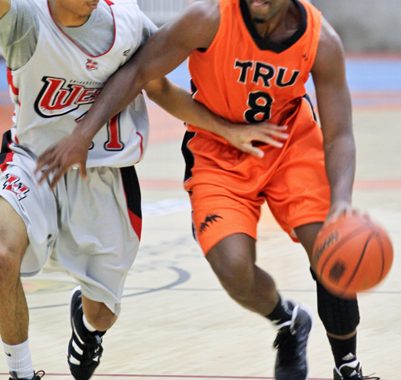 Ta'Quan Zimmerman Leaves TRU, Turning Pro
Ta'Quan Zimmerman is leaving the Thompson Rivers University WolfPack and turning professional.
"It was phenomenal to experience Canadian basketball," Zimmerman tells NPH. "I was proud to represent the WolfPack, TRU and play basketball with wonderful people on and off the court."
The native of Connecticut, who was a newcomer to the CIS this season but in his third year of eligibility after a stint at Monroe Community College, leaves the Canada West after just one season. And what a season it was!
He ranked ninth in the country in scoring with 19.6 points, to go with 4.4 rebounds and 2.8 assists per game and was named to the first team All-Canada West. He also led TRU to the first playoff appearance of its history.
"Everybody has goals and I'm no exception. I met many of them, but I'm always hungry for more, never satisfied," he says. "As soon as I meet a goal, I set a new one."
That new goal will not be in Kamloops, B.C.
Zimmerman said that, "I have a couple of opportunities at hand, but as far as decisions go, I am still weighing my best options."
Various clubs in Europe have expressed interest, but he hasn't confirmed anything yet. Regardless. he reflects fondly of his time in the CIS and with head coach Scott Clark's squad.
"What I cherish most will be playing basketball with all my teammates and just getting to know the Canadian lifestyle and people," he says. "One of my better qualities is having the ability to adjust to whatever situation I am in."
Just like he did at Monroe Community College and then at Thompson Rivers University. Zimmerman explains that wherever he plays next season, he wants to continue learning from others in his surrounding.
"Because I am willing to do that, provided the coach and team are also willing to teach me," he says, "I will have a chance wherever I go."
For further developments on this story, Follow Charles Blouin-Gascon on Twitter @RealCBG & NPH @Northpolehoops