Andrew Wiggins: "I Blame Myself for This Loss"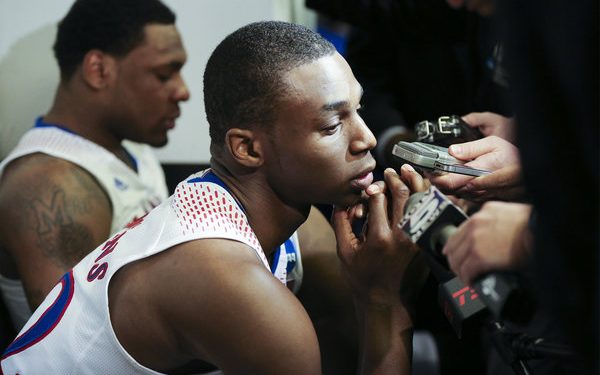 Failure is a key component to success.
Anybody that has ever reached the top of the mountain in their craft, needed failure to improve; they needed obstacles in their way motivating them to take the next step.
For Andrew Wiggins, he has been blessed with both the physical tools and ability to excel in the game of basketball.
As a result, the 6'8 wing has been showered with accolades for as long as anyone can remember.
But in the round of 32 in the 2014 NCAA tournament, Wiggins could not deliver for his Kansas Jayhawks in the 70-67 loss to Stanford.
"That's on me, I let my team down," said Wiggins in the post-game interview.
"It hurts…I wasn't there for my team. If I played better, we would have won."
After a fabulous season that saw the Vaughan, Ontario native average a team-high 17.9 points and 5.4 rebounds en route to BIG 12 freshman of the year and all-conference team honours, Wiggins finished his college career registering 4 points, 4 rebounds, 1 assist, 1 steal, 2 blocks and 4 turnovers, on 1-of-6 from the field.
As I watched the post-game interview of Wiggins, following a forgettable outing, I realized that this was the lowest that I had seen the 19-year old in the 4+ years of covering him.
Wiggins' beaming smile was non-existent. He was very critical of himself, and disappointed in his performance.
Did he have a poor game? Yes.
Was it solely his fault Kansas lost to a well-prepared Stanford squad with size? No.
You could argue the Kansas offense did not favour him, Joel Embiid's absence played a huge role, or that Wiggins did indeed lack a sense of urgency.
Or all of the above.
I'm absolutely baffled and amused by the thought of Wiggins returning to college for a sophomore season. I've been hearing "he's not ready…he needs to develop."
Under this premise, they should just cancel the 2014 NBA draft. Everyone needs to develop!
It's Wiggins' time, he is expected to declare, where he will likely be selected first overall, despite his shortcomings in the dance.
The NBA will offer Wiggins an opportunity to excel in the world of athleticism, free flow basketball and full-time preparation.
Immediately, there will be higher expectations, added media pressure and responsibility.
The transition is not always smooth. In fact, it certainly was not for fellow Canadian Anthony Bennett, the #1 selection in the 2013 draft.
Star athletes continuously experience challenges on and off the floor that will test their mental toughness. How they respond is the ultimate indicator of their desire to be great.
There will be failures throughout Wiggins' career that will be magnified; those are to be expected and embraced, as they are essential for his maturation both as a person and player.
Great success will follow.