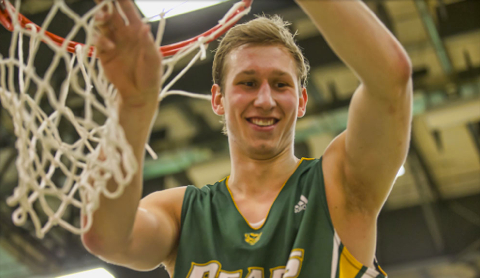 The CBG Bunch: Terry Thomas, Jordan Baker, Antoine Beaumier + more!
Welcome to The CBG Bunch, a specialized column dedicated to the CIS season. Every week, Charles Blouin-Gascon parses through the CIS box scores over Sunday brunch while looking for the CBG Bunch, a group of the top performers of the weekend's action.
This week in #badpuns, we pay homage to a rookie who's doing his thing in Waterloo, to an NBA Jam session in downtown Toronto, to a bad, bad man in Ottawa and to the most golden bear in the history of the University of Alberta.
But first! Apologies to the Thompson Rivers Wolfpack's Ta'Quan Zimmerman and the Laurentian Voyageurs' Tychon Carter-Newman—The CBG Bunch may well be the most powerful weekly CIS player recap in the history of mankind, but every week there can only be 10.
Myles Charvis, Waterloo Warriors at Wilfrid Laurier Golden Hawks: 23 points, 9 rebounds, 6 assists, 3 steal
Myles Charvis is just a rookie, but already this season he's had games that hint at possible greatness ahead. He wears the No. 6 jersey, and I don't know precisely why—only Charvis himself, his mother, and his hairdresser are privy to such insider information—but my guess would be that it's because his favourite player is LeBron James. Because against the school with which the Warriors share a parking lot—not exactly, but the Laurier and Waterloo campuses are very close to one another—Charvis did a little bit of everything. And not only did he do everything, he did it to the tune of those things being a percentage of 6, his and James's jersey number. Thirty-six minutes played? Six hundred per cent of six. How about nine rebounds? That's just 150 per cent of six. Charvis also had three steals (50 per cent of six). I know where you're going now. "Charvis scored 23 points, that's no round percentage of six! Gotcha!" Yeah, well just multiply two by three. SIX!
TELL ME I'M LYING!
Adam Chmielewski, Concordia Stingers VS McGill Redmen: 24 points, 6 rebounds, 8 assists, 2 steals, 1 block
Adam Chmielewski may well be the butterfly that shows the floating way for all his teammates. Better yet, he is the bee who stings the most among his Concordia Stingers—wow, I can't believe I didn't think of this #badpun first. His 14.5 points per game lead his team while his 36.5 minutes per game lead the entire nation. Chmielewski isn't the best shooter, but the third-year player makes up for that in versatility, ranking seventh in the CIS for assists notably. Losing the point guard for any long period of time would hurt head coach John Dore's team—better yet, one might say his loss would sting. Yikes.
Igor Lebov, Lakehead Thunderwolves at Brock Badgers: 11 points, 17 rebounds, 2 assists, 1 steal, 1 block
Igor Lebov is a third-year guard, but he may be my new favourite player. In his team's win against the Brock Badgers, and the CIS-reincarnated Wilt Chamberlain in Dani Elgadi at that, Lebov managed a god-like 17 rebounds—an insane amount for a man who's listed as a six-foot-five guard and in only 26 minutes of action. These 17 rebounds tell me that this young man isn't afraid to get his hands dirty, and no team ever has enough of those players.
This all reminds me of one of our modern times' greatest poet, the one who uttered the phrase "Why always Boris?" Lebov's name isn't Boris, it's Igor. And he's Canadian, not Russian. But anyone who reminds me of The Wire—the single greatest television show in history, and I will fight you if you say otherwise—is bound to be my favourite player.
Hey, these don't need to all make sense!
Antoine Beaumier, Laval Rouge et Or at Bishop's Gaiters: 26 points, 9 rebounds
Antoine Beaumier had his best weekend of the season, notching a pair of 20-plus-point games in a home-and-home against the Bishop's Gaiters. You could choose his performance in the second night, where he posted 23 points and 10 rebounds while playing the entire game and leading his team to a win, but I choose his 26 and 9 from the night earlier. Though Beaumier, a second-year player who shoots and rebounds great, amassed those in a loss, I think a 13-of-16 shooting performance is too much to overlook. And yet, it's still not enough to be crowned the best shooter of the week. Any other week, sure—but there's a bad, bad man playing in Ottawa.
Jasper Moedt, UFV Cascades VS UBC Okanagan: 29 points, 14 rebounds, 2 assists, 2 steals
Jasper Moedt is a grown man playing CIS basketball, for reasons that go far beyond the hardwood. But if all you see is a man who was once broken and who managed to pick himself back up, then you run the risk of missing out on a pretty great player. In his fourth year of eligibility, Moedt may be a bigger man than I am for what he's lived through in a not so recent past, but at six-foot-seven he's also literally a bigger man than I am. And Moedt uses that big frame to batter opponents all over the court, forming a lethal combo with that young hero from the old scriptures.
The UFV Cascades currently sit six points behind Victoria in the Pacific division of the Canada West conference. If they ever cascade to the top, Moedt will be in the middle of it. (What? You cascade down and not up? Meh. Carry on.)
Tommy Nixon, UBC Thunderbirds VS UNBC Timberwolves: 32 points, 10 rebounds, 2 steals, 3 blocks
Tommy Nixon is quietly enjoying a solid third season with the Thunderbirds. He started the first 11 games of the 2013-2014, but has come off the bench as a sort of super-sup these last five games. Coincidentally, or not, UBC has gone 4-1 in those five games—with the only loss coming when Nixon scored only five points. The following weekend, what did he do? A hearty 32 points, to go along with 10 rebounds. That's perhaps a season-long trend—the Thunderbirds are only 1-5 when the Vancouver native scores fewer than 10 points. #GiveMeTheGreenLight, coach!
Max Allin, Wilfrid Laurier Golden Hawks VS Guelph Gryphons: 35 points, 12 rebounds, 2 steals, 1 block
In his final season, Max Allin has scored in double digits in every single game but one—a 94-80 win against the Waterloo Warriors. He had his best night of the season, thus far, against the Guelph Gryphons, a team that he dismissed to the tune of 35 points and 12 rebounds—points and rebounds being two categories where Allin ranks just out of the top 10 nationally. During the off-season, he spoke to my colleague Elias Sbiet and explained that he wanted to take his game to new heights. You know what I hear when I hear this? In his final season of CIS basketball, Allin is going all in.
Alex Hill, Toronto Varsity Blues VS Laurentian Voyageurs: 36 points, 7 rebounds, 1 assist
I dubbed this contest the CIS Jam of the 2013-2014 regular season. Laurentian's Alex Ratte and Alex Hill are possibly the two most gifted shot makers in the country, draining on the regular shots that most of us know better than to even bother attempt. And Ratte didn't disappoint, bringing his scoring acumen to downtown Toronto and scoring a healthy 34 points.
But Hill was too much, with already his sixth (!!!) 30-plus-point game of the season. The fifth-year player scored the game-tying three-pointer with seven seconds left to play in the fourth quarter and buried not one, not two, not three, but four threes in overtime to lead his team to victory with a career-high 36 points. I can't personally confirm, but I'm told Hill was very much on fire by the end of overtime.
Jordan Baker, Alberta Golden Bears VS Calgary Dinos: 23 points, 9 rebounds, 5 assists, 2 steals
Let's take a moment, a serious moment at that, here to recognize the excellence of fifth-year Jordan Baker. In his team's win over the Calgary Dinos, Baker became the University of Alberta's all-time leading scorer, his 23 points breaking the 1996 record of one Greg DeVries.
Wait, Greg DeVries?? You mean this guy? Unfortunately, I don't believe so. That Greg de Vries—look at the difference in spelling—appears to have been playing NHL hockey, not CIS basketball, in 1996. While he was with the Edmonton Oilers, he probably wasn't a 1990s Bo Jackson and playing CIS basketball on the side of his NHL career.
Yeah, I got a little carried away. Jordan, congratulations! That's an incredible record, and you should be proud of it!
Terry Thomas, Ottawa Gee-Gees VS Queen's Gaels: 42 points, 4 rebounds, 1 assist, 3 steals
Once again, Terry Thomas wins this week's distinction of being named the one single ruthlessly efficient scorer by The CBG Bunch. If he impressed against the Ryerson Rams last week, Tweeds (check him out on Facebook!) was downright mean against the Queen's Gaels. In only 24 minutes—because that's all the Gee-Gees needed—Thomas managed 42 points on only 19 field goal attempts, and 15 field goals. This week, Thomas heads to Ryerson on Jan. 31 for a rematch of the match-up to end all other match-ups. Unless your wife goes into labour, you should head over to the Mattamy Athletic Centre.
(If you call yourself a basketball fan, no other reason than that of bringing a new life into this world shall be accepted for missing this game. And even then, it'd be nice if you could send a friend to the game to record the game just so you can give your son a glimpse of his future).
Follow Charles Blouin-Gascon on Twitter @RealCBG & NPH @Northpolehoops