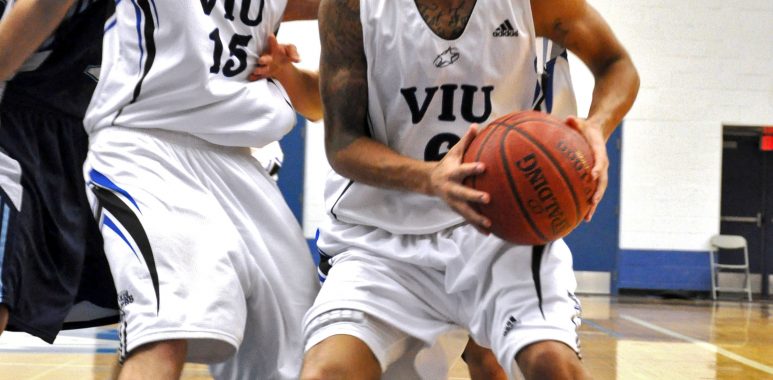 VIU Escapes Douglas with Tough Win, Remains Undefeated
The Vancouver Island University Mariners had everything to lose on Friday night.
They had an undefeated record. They presented perfection dating back to last season's national title. They came in ranked third in the CCAA's national rankings. And, they had something a little more tangible to lose – their pride and confidence.
But it's those last two that mattered most. Those two crucial facets of VIU's identity, the building blocks of their genetic makeup that make them so good in the first place, were what helped them walk out of their battle with the Douglas College Royals not quite unscathed, but still undefeated.
VIU left New Westminster with an 83-79 win over Douglas last night, though the outcome was in question up until roughly 19 seconds left in the game.
It was the Mariners' closest margin of victory so far this season. Close enough to have head coach Matt Kuzminski fairly disappointed upon its finish.
"I don't know, right from the get-go tonight – for the first time this year – I felt that the other team worked harder than us," said Kuzminski. "And that's something that we take a ton of pride in – being the hardest working team, defensive toughness. And for the first time I didn't feel that we dictated the game with our defense. It was disappointing for sure."
Everyone around the PacWest knows that VIU and defensive toughness go hand-in-hand like Snapchat and dumb faces, so it was shocking to see them have such an uncharacteristically-permeable showing.
But Douglas deserves some credit. VIU can drop a level all they want, but we're talking about a Royals squad that came into last night's game with a 2-3 record, and who are known for not being able to dig themselves out of deficits.
Douglas playing at their best, along with VIU playing at their worst, collectively made for a perfect storm of an upset.
After a stalemate 25-point first quarter, the Mariners opened up a 10-point lead towards the end of the first half. But in what remained a theme for the entire night, Douglas answered with a big three from Ethan McKean, and headed into the break down 47-39.
I can honestly say that I thought it was over at this point. I figured that VIU was too good, and that Douglas couldn't sustain the pace and level of play that they were currently operating on.
I was very, very wrong.
VIU loves to slow the game down, and as Kuzminski noted, their goal is to dictate the game through their defense. Well, the third quarter started out a little too sluggish, with the Mariners only scoring four points in the first five minutes.
Meanwhile, Douglas fought back with huge threes from McKean and fellow second-year guard Kristian Hildebrandt. Rookie point guard Grant Campbell went toe-to-toe with VIU's Brandon Jones, and poured in tough bucket after tough bucket – including a Ginobili-like fake pass en route to a wide-open layup. It took repeated unorthodox plays like that to get VIU off-balance defensively.
The Royals went on a big run thanks to a few inside buckets from another rookie, Lord Tweedsmuir product Bradyn Norris. A Hildebrandt three-pointer with 25 seconds left in the third tied things up at 59 heading into the fourth.
I could write a novel about the back-and-forth battle in the final quarter, but for the sake of brevity, lets fast-forward to the final minute and change.
Campbell hit a tough baseline floater to put Douglas ahead 76-75 with about 1:20 left. On the ensuing possession, Jones was fouled, and missed both free throws. But VIU, choosing to crank up their intensity at the eleventh-hour, grabbed the second miss and swung it to Jones, who was fouled again – this time making both freebies.
Then things started to get a little crazy.
Campbell came down and pulled an incredible spin move in the paint, laying in two of his 14 points on the night, and bringing Douglas within one. As Jones headed the other way, he made a crossover and was called for a carry.
The Douglas crowd went nuts at this point.
Tom Ghag hit a tough jumper for the Royals to take the lead back, 79-78, with 20 seconds to go. Jones was fouled again on a drive, and nailed both at the line.
This is the crossroads where VIU's poise and experience and tenacity and defensive prowess took over.
Campbell attempted another similar spin move, but barely came up empty, forcing Douglas to foul VIU's Harrison Stupich on the rebound. Stupich nailed both, and then McKean launched a DEEP potential game-tying three – and it rattled out.
"I guess a little credit can go to us for gutting out the win, but it was a disappointing performance," said Kuzminski.
Douglas missed two shots that could have vaulted them to overnight rockstar status, much like CBC's upset over Langara last year, but VIU made play after play in those final few possessions that reinforced their rightful place at the top of the PacWest standings.
Corralling a crucial offensive board, the made free throws, and some timely stops in crunch time all contributed evidence that the Mariners can – and will – step up and assume their aggressor role when need be.
"I was very happy to see that when we were down 10, that we were able to claw all the way back and take the lead at one point," said Royals head coach Denis Beausoleil. "That's with Andrew Baron fouling out with eight minutes left in the game. That's with no Andy Kaila. But that said, we win or lose with the guys on the floor. I thought other guys stepped up. Bradyn played well, Kristian played well. Very happy to see that we can get down against one of the better teams out there and still claw all the way back."
Despite struggling in the second half, Jones led all scorers with 19 points and added eight rebounds, but also turned the ball over eight times. Stupich chipped in 16 points and seven boards, and third-year forward Jason Fortin scored 14 points and grabbed nine rebounds – including the critical offensive board off Jones' missed free-throw late in the fourth quarter.
"Jones has gone through spells, last year included, where he has some struggles with turnovers," said Kuzminski. "Those kind of games seem to happen when we aren't playing well as a team and our energy is down – he'll try to do a lot of things on his own. He's a competitor, right, he really wants to win, and has some talent. But when he sees that we're not playing well, he tries to fix it.
"This kind of situation happened against Kwantlen last year, when we lost right before Christmas. We came out flat, Brandon tried to do a lot, and he ended up with a double-digit turnover game. But with Brandon, he always bounces back. I'm not worried about him. He puts in a ton of time and a ton of work, and he'll be ready [for tomorrow]."
Hildebrandt and Norris led Douglas in scoring with 16 points each, with Hildebrandt connecting on four of five three-point attempts. Campbell added 14 points and four steals, while McKean contributed 13 points and four long bombs of his own.
Kuzminski had high praise for a rookie-laden Royals roster that tested his patience for all 40 minutes.
"I thought they played well, I thought they played hard and that they were well coached. I thought that this year, they seem to have a lot more character. They move the ball well, they stick together. Last year with Douglas, you came in here and it was a lot of individuals, maybe some more-talented individuals. But I thought they played really well as a team tonight. They were gritty and they battled to the end."
As if last night's near-knockout wasn't taxing enough for the Mariners, they now face Langara tonight, in what should be the most provocative game of the PacWest's first-semester schedule.
"I would hope we respond well," said Kuzminski. "You know I think our guys aren't stupid. They know they didn't play well, and that they didn't perform the way that they wanted to. We have a lot of good leadership on our team, so I think we're going to come out with a lot of energy. I think Langara's a good team, a tough place to play in. This game's not going to decide the end of our season. We want to play well, we want to win, but the ultimate goal is to get better for the end of the season and tomorrow will be a great test for that."
On the opposite spectrum, Douglas has a chance to head into the break riding a wave of much-needed momentum. Will they build on their fantastic performance last night, or did it take too much out of their tank?
"If we come out flat, we don't deserve to win," said Beausoleil. "But if we come out and play how we've been playing lately, I'll be happy."
Langara hosts VIU, while Douglas remains at home against Camosun. Both games tip off at 3 pm.