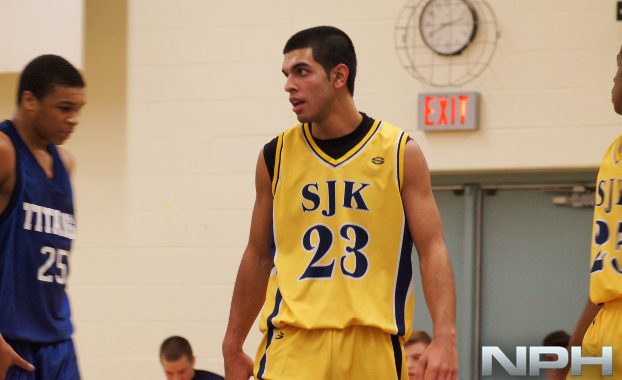 Saajan Arora Sniping Away At 7th Annual Vaughan Classic
VAUGHAN, ON–The standings are set for day 2 of the 7th Annual Vaughan Classic. Opening games did not present any surprises but there were a few players who are building reputations based off of their steady rate of improvement. Both of these players, Brandon Ramirez (Pope John Paul II) and Saajan Arora (St. John's Kilmarnock), are pieces of winning teams that will move into the Championship Quarters of this tournament.
An attempt made to project what the next round will look like would be foolish. But there is no doubt that the two names mentioned above will continue to play a big part on their teams.
Productivity and efficiency are elements of a student-athlete who is sure to receive attention from coaches and scouts. For the past three years Saajan Arora has built a reputation for being a spot up three point shooter. The 2013-2014 season looks to be introducing a new Arora, one that can create for himself off the dribble and is showing signs of providing combo guard skills.
Brandon Ramirez's footwork and mobility for his size and weight is intriguing. A youngster that can run the floor, provide a strong post presence, while rebounding and scoring in a variety of ways. He is a player that Pope John Paul II guards need to look for more in the half court set. He demands the attention of a help defender and provides opportunities for others to score out of these situations.
The worry for many of the squads that won their first games is that role definition between the players has not come together yet this early in the season. One can tell from watching a full day that the personnel of some teams are playing as individuals and this is not aiding in chemistry building.
For example, St. Edmund Campion and Pope John Paul are two teams that have depth on their benches in terms of athletically inclined players that can defend and use their speed in the open court to make quick runs; however based off of what was seen at Humber Classic and last night there is no rhythm or control.
Vaughan Classic November 29th schedule (Day 2)
Game 9 – 9:00am – Consolation Quarters – Emery C.I. vs. Loser Game 6
Game 10 – 10:30am – Consolation Quarters – Mother Teresa H.S. vs. Vaughan Road
Game 11 – 12:00pm – Championship Quarters- St. John's Kilmarnock vs. Sir Allan MacNab
Game 12 – 1:30pm – Championship Quarters – Vaughan S.S. vs. St. Andrew's College
Game 13 – 3:00pm – Consolation Quarters – Sacred Heart vs. West Humber
Game 14 – 4:30pm – Consolation Quarters – Martingrove C.I. vs. St. Elizabeth CHS
Game 15 – 6:00pm – Championship Quarters – Crescent School vs. St. Edmund Campion
Game 16 – 7:30pm – Championship Quarters – Brampton Centennial S.S. vs. Pope John Paul
The NPH team will be heading out to Windsor for the Freeds Tournament hosted by Catholic Central and make it's way back for the finals of the Vaughan Classic on Saturday night. Another full weekend in the gym to discover and track Canada's top teams and prospects.