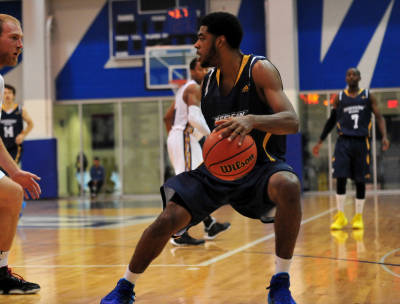 Adika Peter-McNeilly, Rams Overcome Strong Alex Hill Effort
TORONTO—The Ryerson Rams concluded the 2013 portion of their regular season in convincing fashion as they dominated their cross-town opponents, the Toronto Varsity Blues, by the score of 90-69.
Rams head coach Roy Rana was happy with the turnout. "It's nice to have a local game, where the Ryerson and the Toronto fans can come," he said. "Mentally, it's a tough game to prepare for."
The game had a 4 p.m. tip-off, which is about four hours prior to the typical Saturday game. But Toronto's Alex Hill showed no rust. "(He)'s been having a special season," Rana said, "he can really score the ball in so many different ways."
They were all on display in this game, en route to a game-high 35 points for Hill.
The Rams led for all of 39:47 of this contest, and the 13 seconds of Toronto's fame came in a first quarter where Hill was most dominant. He carried his team, scoring 16 of the Blues' 24 points in the first 10 minutes. "(Hill) shot the ball really well," Toronto head coach John Campbell said, "and that's obviously how we were able to stay in it."
With 2:57 left to play in the first quarter, Hill nailed a three-pointer from deep, probably from somewhere in Scarborough really, and gave his team an 18-16 lead. But two free throws from Ryerson's Juwon Grannum tied it at 18 apiece with 2:44 to play, and that was followed by a Yannick Walcott basket. And just like that, with 2:11 left in the opening 10 minutes, the Rams were back ahead. They would not trail again.
Point guard Jahmal Jones had a difficult game, going 0-for-10 from the field and scoring seven points to cool off after six straight games where the basket looked to be the size of Earth. Jones couldn't buy a basket against Toronto, so he made sure to set his teammates up for some.
Up 25-24 to start the second quarter, Rams turned to newcomer Adika Peter-McNeilly. The guard, who started this game, scored 11 of his team-high 20 points in the second quarter, including 3 three-point shots coming from Jones assists in transition.
"It's hard to guard," Adika says, of when he and Jones share the floor—and the ball. "We're both unselfish and we're both passing the ball… It opens things up not only for us two, but for everyone else."
The second half followed a similar script as the first. Toronto hung tough with Ryerson in the third quarter, even winning 22-21 that quarter, only to fall behind big in the fourth. This time, it was a familiar face leading the way for the Rams, third-year guard Aaron Best, who scored nine of his 17 points in the final 10 minutes of play.
The win showcased one of the Rams' strength this season, namely team depth. In beating the Varsity Blues, Rana played all 12 Rams who dressed up—and 10 scored at least two points. "That's our strength," he said. "If the third guys aren't ready to play, then we have the ability to bring somebody on the floor that is."
Hill scored 35 of his team's 69 points, which is not something unusual. The fifth-year player is among the most gifted in the CIS at scoring points, his 26.6-point-per-game average ranking third in the country. "His numbers are good, and he's shooting a bit more efficiently than he has in the past."
Beyond him, however, only one Toronto player scored in double figures—fourth-year Matt Savel, who chipped in 10 points. "We're disappointed," Campbell said. "Of late, we've played a little bit short-staffed and we're maybe not deep enough to play short-staffed but fatigue and results have affected our effort."
By comparison, the Rams were balanced offensively. Peter-McNeilly's game-high 20 points led the way, and another two scored in double figures—third-year Aaron Best, with 17 (i.e. including 9 in the final quarter) and second-year Grannum, with 12.
Both coaches reflected on the first half of the regular season after the game. "To go 8-1, you have to be happy," Rana said, "but at the same time I think we can do a lot better and we have work to do."
On the flipside, Coach Campbell shared his thoughts, "I think today, the positive was that we played a lot harder than we have in the past," he said. "But it's got to be more than just effort. Effort doesn't win you games, because everybody good tries hard."
The Varsity Blues and Rams see each other again in their first game after the holidays on January 5. That game, too, is set for a 4 p.m. tip-off.
NPH TOP PERFORMERS
Toronto
Alex Hill: 35 points, 4 rebounds, 3 assists
Matt Savel: 10 points, 2 rebounds, 1 assist, 2 steals
Ryerson
Adika Peter-McNeilly: 20 points, 6 rebounds, 2 assists, 2 steals
Aaron Best: 17 points, 5 rebounds, 1 assist, 1 steal
Follow Charles Blouin-Gascon on Twitter @RealCBG & NPH @Northpolehoops