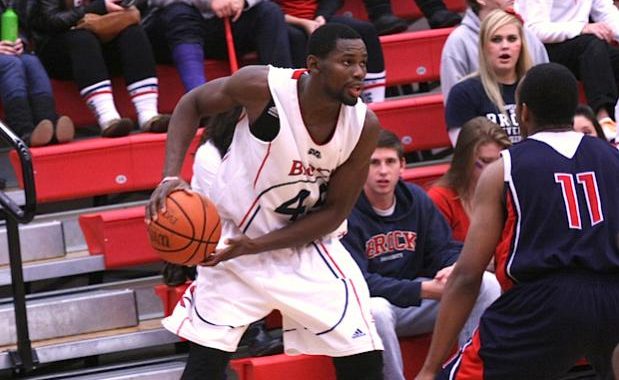 NPH CIS Team Preview: Brock Badgers
Last Season:
| | | | | | | |
| --- | --- | --- | --- | --- | --- | --- |
| Overall | Pct. | Conf. | Pct. | Streak | Home | Away |
| 10-16 | .385 | 8-13 | .381 | L1 | 3-9 | 7-7 |
Head Coach: Charles Kissi
Assistant Coach: Joel Whitty
Key Players: Isaack Egueh, Tshing Kasamba, Dani Elgadi, Rashed Morley
Incoming Recruits: 
Jeremy Angelini, 5-11 guard from St. Thomas More
Dani Elgadi, 6-7 forward from Waterloo Vikings
Josh Johnson, 6-1 guard from Holy Trinity Catholic in Simcoe
Oliver McMayoni, 5-11 point guard from Loyola Hawks
Rashad Morley, 6-7 centre from Niagara College (OCAA)
Adeel Sahibzada, 6-1 guard formerly of Waterloo and Centennial
Ryan Flanagan
Jovan Bailey
Departures: Jameson Tipping, Mark Gibson, Mike Luby, Didi Mukendi, Kek Biel, Brian Nahimana
Less than a minute into the fourth frame of the 2013 OUA quarterfinals, Brock narrowed the gap to seven breathing heavy at the Lancers heels.
But that was as close as they would come as Windsor responded with an 18-0 run that dominated the Badgers, putting a definitive end to their season and Brad Rootes' tenure as their head coach.
Now with Charles Kissi taking the head coaching helm and the majority of the Badgers' best moving on, Brock has a chance to start anew.
"I think it's a tremendous opportunity for everybody involved including myself to build something here and to continue to grow," Kissi said in a phone interview with NPH this week. "I never take away from what's happened in the past, they've done some great things here and I think it's part of my job to carry that on and to continue to build further. I'm big on sustained culture and success."
What's happened in the past includes a CIS national championship in 1992 and 2008 making Brock one of just four programs with multiple W.P. McGee trophies since the dawn of the 1990s. There is a strong history with the Badgers, that Kissi hopes to carry on and strengthen.
What's in the team's future is up to a new cast of characters, and some vital returning players that are poised to forge a new identity, one of "sustained culture and success" if Kissi's vision can come to life with Rootes pursuing a career with the Niagara Regional Police Service.
Much was made earlier this year of Kissi's tutelage under Toronto Raptors head coach Dwane Casey. Kissi laughs when he talks about Casey's influence and he more than appreciates the perspectives he might not have gleaned otherwise, but that was just one more helping hand along an ongoing path rather than a destiny and a destination.
"Not to take away from that experience, because it was great for me, but I came up through the grassroots level in rep basketball, spent a couple years at Ryerson as the head coach of the women's side and one year as assistant," said Kissi. "Throughout the past I've had mentorship and I'm mindful of not forgetting everyone who helped, but I have to continue to grow and develop in this role."
"I've learned from so many great coaches. People say, well, you got mentored by the Raptors so that's why you got here – that's just a part of why I got here."
Ask him and he'll tell great stories of the generosity of the Canadian coaching community, but more than reminiscing Kissi is just anxiously looking forward to the upcoming season. He'll get a chance to play against some of those mentors and expects a few bumps along the road as he grows into his new position and the team gels through the season.
Brock lost three starters before the start of the 2012-13 campaign, and will now miss four of their top five scorers from a season ago. Their leading scorer Jameson Tipping opted to leave school early, signing to play pro basketball for the National Basketball League of Canada expansion Brampton A's, and graduating seven-foot centre Mike Luby was drafted seventh overall at the NBLC draft by the Saint John Mill Rats. This roster turnover has left gaps in seniority that Kissi hopes will be filled by players like Jay Fast and C.J. Smith as well as Isaack Egueh.
Offensively Kissi hopes everybody can contribute, but the bulk of the scoring load is sure to fall on 6-5 wing Tshing Kasamba who averaged 10.8 points last year and looked improved when NPH saw him play at the North of the Border Basketball League in Hamilton this summer. Kissi said rookie 6-7 forward Dani Elgadi has looked great in practice and should contribute right away, and 6-2 sophomore guard Brandon John will be looked to to increase his offensive output.
The Badgers also picked up Rashad Morley, a 6-7 post presence who led the OCAA in total rebounds in 2011-12 and was named the OCAA West Defensive Player of the Year. "[Morley is a] great athlete, really big, strong kid and a great guy. He's part of our size and will play a big role in protecting the rim and providing presence inside," said Kissi.
Brock will host Saint Mary's, Regina, and York for their RBC Classic Tournament starting October 24th. On November 1st they'll play host to Ryerson to tip the regular season and begin a new journey with a young core and an inspired coach.
A fresh slate will provide opportunity for Kissi to get the Badgers back to winning ways.
It will be interesting to see what the first year head coach will be able accomplish with a new team…and eventually a new identity.