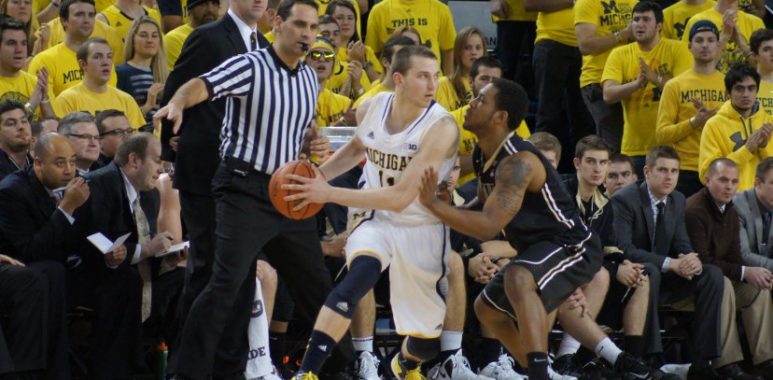 104 Canadians in NCAA Div 1 Mens Basketball as of 2013-2014 Season
The basketball season is right around the corner and you can expect NPH to have you covered from the high school level, all the way to the NBA, when it comes to Canadian basketball.
The middle ground would be university hoops, where there will be 104 Canadians on NCAA programs as of the 2013-2014 season.
Geographical Breakdown
The following numbers will illustrate the geographical break down of where this talent is coming from by province.
Ontario- 71

Quebec- 14
British Columbia – 8
Alberta- 6
Nova Scotia – 1
New Brunswick – 1
Saskatchewan – 1
Manitoba -1
*Kyle Wiltjer (Canadian-American, born and raised in Oregon)
The Following list is in alphabetical order
NAME | COLLEGE | HEIGHT | POSITION | YEAR | PREV. SCHOOL | HOMETOWN
Agunwa Okolie | Harvard | 6'8 | F | SO | Archbishop | Dennis O'Connor | Ajax, ON
Alex Hart | UC Santa Barbara | 6'11 | C | FR | Immaculata | Kelowna, BC
Ammanuel Diressa | Tennessee Tech | 6'4 | SG | SO | Eastern Commerce | Toronto, ON
Andrew Wiggins | Kansas | 6'7 | SF | FR | Huntington Prep | Vaughan, ON
Ben Millaud | St Francis | 6'1 | G | SO | Vanier | Montreal, QC
Braeden Anderson | Fresno St | 6'9 | PF | SO | Wilbraham&Monson | Calgary, AB
Brady Heslip | Baylor | 6'2 | SG | SR | New Hampton Prep | Burlington, ON
Brandon Bos | South Dakota | 6'3 | PG | JR | Markham District | Markham, ON
Braxton Bunce | Cornell | 6'11 | C | SO | Kelowna Secondary | Kelowna, BC
Chad Posthumas | Morehead St | 6'11 | C | SR | River East | Winnipeg, MB
Chadrack Lufile | Wichita St | 6'9 | F | SO | Coffeyville CC | Burlington, ON
Chris McComber | Columbia | 6'7 | F | FR | John McCrae | Ottawa, ON
Dallin Bachynski | Utah | 7'0 | C | JR | Southern Utah | Calgary, AB
Damien Rashford | Loyola MD | 6'4 | G | SO | Westwind Prep | Pickering, ON
Daniel Mullings | New Mexico St | 6'1 | G | JR | Laurier | Toronto, ON
Dejan Kravic | Texas Tech | 6'10 | F | SR | Westminster | London, ON
Denzell Taylor | Old Dominion | 6'6 | PF | FR | St. Benedicts | Brampton, ON
Donnavan Hastings | Long Beach St | 6'6 | SF | FR | Future College Prep | Brampton, ON
Duane Notice | South Carolina | 6'2 | SG | FR | St. Mikes | Woodbridge, ON
Dustin Triano | Gonzaga | 6'1 | PG | FR | New Hampton Prep | Tsawwassen, BC
Dwight Powell | Stanford | 6'10 | F | SR | IMG Academy | Toronto, ON
Dylan Ennis | Villanova | 6'2 | PG | SO | Lake Forest | Brampon, ON
Dyshawn Pierre | Dayton | 6'7 | F | SO | Anderson Collegiate | Whitby, ON
Emerson Murray | Seattle | 6'3 | G | JR | St George's | Vancouver, BC
Emmanuel Addo | Missouri St | 6'7 | PF | SR | Northern Colorado| Toronto, ON
Emmanuel Owootoah | Fresno St | 5'10 | PG | FR | Martingrove | Toronto, ON
Erik Nissen | Maine | 6'9 | C | FR | Kennebecasis Valley |Quispamsis, NB
Grandy Glaze | Saint Louis | 6'6 | F | JR | Notre Dame Prep | Toronto, ON
Grant Mullins | Columbia | 6'3 | PG |  SO | Notre Dame | Burlington, ON
Haboubacar Mutombo | Western Carolina | 6'4 | SF | FR | Notre Dame | Ajax, ON
Isaiah Watkins | Duquesne | 6'7 | PF | FR | St. Benedicts | Toronto, ON
Ishaq Pitt | Maryland-Eastern Shore | 6'3 | G | JR | St. John Vianney | Toronto, ON
Jahenns Manigat | Creighton | 6'2 | G | SR | Regional Elite Academy |Ottawa, ON
Jake Newman | Lafayette | 6'6 | G | FR | WRCA- Hun School | Surrey, BC
Jalyn Pennie | New Mexico St | 6'6 | SF | FR | Christian Faith Center | Ajax, ON
James Johnson | San Diego St | 6'10 | F | JR | Lethbridge Collegiate Institute | Lethbridge, AB
Jarryn Skeete | Buffalo | 6'3 | G | SO | Wasatch Academy | Brampton, ON
Jason Calliste | Oregon | 6'2 | SG | SR | Detroit Mercy | Toronto, ON
Jayde Dawson | Fairleigh Dickinson | 6'1 | PG | FR | Brooks | Montreal, QC
Jaylen Babb-Harrison | Eastern Kentucky | 6'4 | G | SO | J.Clarke Richardson | Ajax, ON
Jermaine Myers | Fordham | 6'0 | G | SO | Culver Academy | Ajax, ON
Joe De Ciman | Colorado St | 6'4 | G | SO | LeBuldus | Regina, SK
Jordan Bachynski | Arizona St | 7'2 | C | SR | Centennial | Calgary, AB
Jordan Robinson | Duquesne | 6'7 | PF | FR | Quality Education Prep | Toronto, ON
Josiah Moore | Tennessee Tech | 6'5 | G | JR | Norcross | Oakville, ON
JP Kambola | Marshall | 6'10 | SF | JR | St. Benedicts | Toronto, ON
Julian Clarke | Santa Clara | 6'5 | G | JR | Oakwood Collegiate | Toronto, ON
Junior Fortunat | Rider | 6'9 | F | JR | Roman Catholic | Montreal, QC
Junior Lomomba | Providence | 6'4 | SF | SO | Cleveland St | Montreal, QC
Justin Edwards | Kansas St | 6'2 | SG | JR | Maine | Whitby, ON
Kassius Robertson | Cansius | 6'2 | PG | FR | Thornlea | Thornhill, ON
Kaza Keane| Illionois St | 6'1 | G | SO | Christian Faith Center | Ajax, ON
Keanau Post | Missouri| 6'11 | C | FR | Southwest Illinois | Victoria, BC
Kenny Chery | Baylor | 6'0 | PG | FR | State Fair JUCO | Montreal, QC
Kemy Osse | Arkansas-Little Rock | 6'1 | G | SO | Archbishop Carroll | Montreal, QC
Kevin Blake | Elon | 6'2 | G | JR | Oakwood Collegiate | Toronto, ON
Kevin Pangos | Gonzaga | 6'2 | G | JR | Denison | Landing, ON
Kevin Thomas | Troy | 6'8 | PF | JR | Palm Beach St JUCO| Ajax, ON
Khem Birch | UNLV | 6'9 | F | JR | Notre Dame Prep | Montreal, QC
Kyle Wiltjer | Gonzaga | 6'9 | PF | JR | Kentucky | Portland, OR
Laurent Rivard | Harvard | 6'5 | G | SR | Northfield Mt. Herman | Saint Bruno, QC
Lenny Austin | North Dakota | 6'1 | G | JR | Vanier | Montreal, QC
Ludovic Ndaye | Cleveland St | 6'9 | F | SR | Westwind Prep Montreal, QC
Malcolm Duvivier | Oregon St | 6'1 | SG | FR | St. Michaels | Toronto, ON
Mangisto Arop | Indiana St | 6'5 | W | SR | St. Mary's Secondary | Edmonton, AB
Manroop Clair | Seattle | 6'1 | SG | SO | Hawaii | Surrey, BC
Marko Pirovic | Maine | 6'6 | PF | FR | Thornlea | Bolton, ON
Matt Willms | UTEP | 7'1 | C | SO | Findlay Prep | Leamington, ON
Matteo Bellucsi | High Point | FR | Webber Academy | Calgary, AB
Matthew Atewe | Auburn | 6'8 | C | FR | Notre Dame Prep | Brampton, ON
Matthew Taylor | New Mexico St | 6'4 | SF | FR | Future College Prep | Brampton, ON
Matthew Wright | St. Bonaventure | 6'3 | G | SR | Martingrove Collegiate | Toronto, ON
Maurice Walker | Minnesota | 6'10 | C | JR | Brewster Academy | Scarborough, ON
Melvin Ejim | Iowa St | 6'6 | SF | SR | Brewster Academy | Toronto, ON
MiKyle McIntosh | Illinois St | 6'6 | PF | FR | 22 Feet Academy | Pickering, ON
Miroslav Jaksic | Grand Canyon | 6'10 | C | FR | Walled Lake Western | Windsor, ON
Murphy Burnatowski | Colgate | 6'7 | F | SR | Nat. Elite Dev. Academy | Waterloo, ON
Naz Long | Iowa St | 6'4 | G | SO | St. Martin | Mississauga, ON
Negus Webster-Chan | Hawaii | 6'6 | SF | SO | Missouri | Toronto, ON
Nick Madray | Binghampton|  6'8 | PF | FR | Stephen Lewis | Mississauga, ON
Nick Wiggins | Wichita St | 6'7 | G | SR | Godby | Toronto, ON
Nik Stauskas | Michigan | 6'6 | G | SO | St. Marks | Mississauga, ON
Noel Jones | Syracuse | 6'6 | F | SR | Halifax Grammer | Halifax, NS
Olivier Hanlan | Boston College | 6'3 | G  | SO | New Hampton | Gatineau, QC
Patrick Steeves | Harvard | 6'7 | F | SO | The Hotchkiss School | Montreal, QC
Olivier Paul-Betu | UC-Davis | 6'2 | G  | SO | Worcester Academy | Montreal, QC
Renaldo Dixon | New Mexico St | 6'9 | F | SR | Christian Faith Academy | Toronto, ON
Richard Amardi | Oregon | 6'8 | PF | SR | Indian Hills JUCO | Toronto, ON
Richard Audu | Siena | 6'3 | G | SO | Regional Elite Academy |Mississauga, ON
Riley Barker | Portland | 6'9 | C | SR | White Rock Christian Academy | Surrey, BC
Shayok Shayok | UMKC | 6'7 | SF | JR | Bradley | Ottawa, ON
Sim Bhullar | New Mexico St | 7'4 | C | SO | Huntington Prep | Toronto, ON
Stefan Cvrkalj | Lehigh | 6'5 | G/F | JR | Bluevale Collegiate | Kitchener, ON
Stefan Jankovic | Missouri | 6'11 | F | SO | Huntington Prep | Mississauga, ON
Stefan Nastic | Stanford | 6'9 | C | JR | Thornhill Secondary | Thornhill, ON
Steven Manojilovic | Drexel | 6'5 | G | SR | Martingrove Collegiate | Toronto, ON
Tanveer Bhullar | New Mexico St | 7'2 | C | FR | Father Henry Carr | Toronto, ON
Tevin Findlay | Green Bay | 6'3 | SG | FR | IMG Academy | Mississauga, ON
Troy Joseph | Long Island | 6'6 | SF | JR | Pickering | Pickering High
Troy Reid-Knight | Maine | 6'0 | PG | FR | Thornlea | Thornhill, ON
Tyler Ennis | Syracuse | 6'2 | PG | FR | St. Benedicts Prep| Brampton, ON
Tyler Stone | Howard | 6'5 | SF | FR | Eastern Commerce | Mississauga, ON
Xavier Rathan-Mayes | Florida St | 6'2 | SG | FR | Huntington Prep | Markham, ON
Yohanny Dalembert | James Madison | 6'8 | PF | FR | Lower Merion | Montreal, QC