Drake as Global Ambassador for Toronto Raptors & 2016 NBA All-Star Game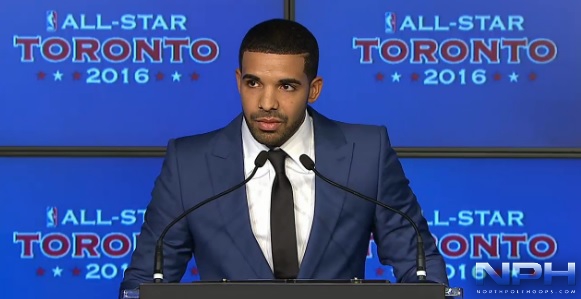 Major news broke out last week regarding NBA All-star weekend to be hosted by Toronto.
It is now official, as NBA Deputy Commisioner Adam Silver addressed a media frenzy at the Air Canada Centre, to make it so.
The NBA All-star festivities will bring in drastic economic growth, expected at 100 million dollars.
It will be the first time ever that the NBA all-star game will be hosted outside of America.
"It's a new day, new age, new branding…Drake will be an ambassador and help us forge new vision, new buzz, new excitement," said Tim Leiweke, MLSE president and CEO.
"This is a sport that's going to rock the city moving forward," he continued.
Toronto Raptors GM Masai Ujiri was also in attendance to address the media.
"This is remarkable for our basketball team. We have now a responsibility to grow our basketball team so it meets the momentum of the All-Star game. We promise to bring the best basketball, and play basketball the right away," referring to the Raptors.
As for Drake, the Toronto-based global icon will promote the Raptors brand, announced as the global ambassador for the franchise and the 2016 NBA All-star festivities.
"I love the city with all my heart, I'm excited to be a part of the team," Drake explained at the press conference. "Excited for the new vision, basketball in canada is bigger than ever before."
"I'm out here with the people, in touch with what they want to see, I want us to be one of the biggest teams in the league," continued Drake.
With strong player relationships around the league and Canada's biggest star on the cusp of entering the NBA, prior to a season at Kansas, Drake said, "Andrew Wiggins is a good friend of mine, excited to see him play this year, he's going to do phenomenal things."
Whether Wiggins ends up in a Raptors jersey in the near future or not, Drake will now undoubtedly act as an attraction to the Raptors for NBA stars around the league.