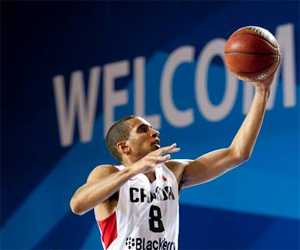 Canada advances to the Quarterfinals with a 94-85 win over the United States at FISU games
Kazan Russia-Team Canada headed into Friday morning's clash with the United States with an unblemished recorded of 4-0, and hadn't really been tested thus far in pool play.
The Canadians boasted an averaged win margin of 37.25 points in their four previous contests, and were looking to lock up top spot in pool C. They also had an opportunity to possibly eliminate the Americans (3-1) from the games with a win, as the USA had lost their previous match-up to Australia (3-1) and needed a win to give themselves a shot at finishing second in the pool.
Only the top two teams in each of the four pools would advance to the quarterfinals, and Canada ensured that they would be the top seed from pool C with a 94-85 win over the USA.
The USA came out aggressively to start the game, and Team Canada saw themselves on the wrong end of a 9-4 run. A combination of sharp shooting, and strong defending helped Canada get back in the game, and they took an 18-17 lead after the opening frame.
The Canadians extended that one-point lead after one quarter, to a 10-point lead by halftime. The sharp shooting Brady Heslip and Thomas Scrubb led the way with a combined 18 first half points.
The second half offered much of the same effort that Canada displayed defensively in the opening two quarters, as the red and white proved to be too much for the USA, as they cruised to a 5-0 record.
Brady Heslip led the way once again with another 20-point effort, 12 of which came from three-point land. Heslip now has a total of 18 three pointers in Canada's five games.
Team Canada now heads into the Quarterfinals as one of the favourties to win the gold medal. The last time Canada won gold at the FISU games was 30 years ago in Edmonton. They'll be looking to put an end to that drought beginning with their quarterfinal game on Sunday July 14 at 10:00 a.m. EST. Opponent to be announced.
The loss eliminated the USA from the medal round.
The game can be seen live online at www.fisu.tv.
Full box score available here.