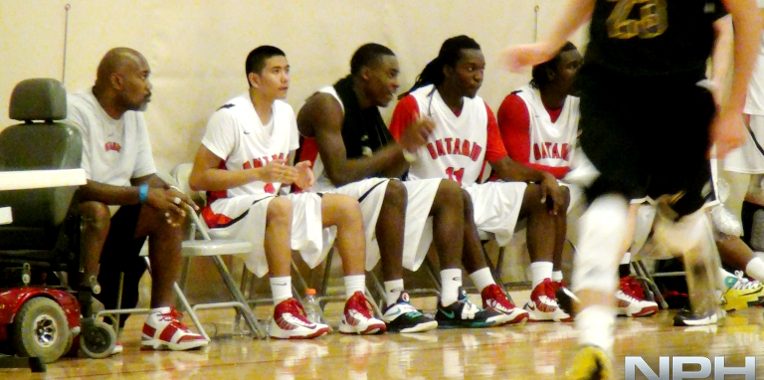 Team Ontario Alive In Indy – Brookwood, YAAACE & CIA Bounce [14U] Fall in Quarter-Finals
INDIANAPOLIS, IN–Years ago Canadian teams came on the AAU circuit to player high level competition but never really expected to win. This mindset is changing now as the overall development in our country is moving towards its peak. Nowadays, the mentality of teams is to win championships and continue to build a reputation for the teams and players.
In Indiana this week at the Adidas Invitational; Brookwood Bounce Elite 17U team, YAAACE 15U, Brookwood Bounce 14U and CIA Bounce 14U all played in quarter-final games of the highest bracket in their divisions, all went down in hard fought games. The only Leafers left standing are Team Ontario 17u and they are playing in the championship game of the Hoosier Shootout at 10:30 am.
Character and Identity have been important components to successful teams in the past. This years circuit is no different, the teams that are showing unification are presenting their team and each individual in a very positive manner. Three teams specifically did a great job at this, they are; Brookwood Bounce Elite 17U, under coach Joey Mckitterick; Team Ontario 17U, coached by Fatih Akser and YAAACE 15u, under the direction of Jordan McFarlane and Carlos Wadley.
It's only right that I begin with the eldest, Brookwood Bounce Elite 17U; a very well structured team that controlled the tempo in most games and got the shots that they wanted. The teams' demeanor showed that they were completely focused on gold, it was championship or bust. There were games where it was a fight to come back in the game but even when they won there were no celebrations after the wins of any pool play games.
The body language of a team like this shows that they are disciplined and can perform in pressure situations. Being an older team, they had a much better understanding of why it is important to communicate at all times on the floor. Brookwood has the "go-getter" mentality.
Brookwood's Noah Daoust, Nemanja Zarkovic, Tevon Walker and Alex Paquin have all picked up recent NCAA interest from the Adidas Invitational.
Team Ontario is rolling through the Hoosier Shootout looking like they had been together for years. The team came off a 10 day training camp prior to leaving for Indiana where conditioning, meal plans, skill work and offensive sets were introduced. Moreover, the addition of a few new young guys on the team makes things tricky as they are worked into the system.
Off the court the guys on this team are very fun to be around because of the sense of comradery that's been acquired, but once their on the floor they mean business. Through their offense one can tell that there is a lot of confidence and trust put in one another to make the right decisions. The relationships that have been built away from the hardwood are translating to game time situations.
One of Team Ontario's budding stars is Tyrell Gumbs-Frater. He glides through the air effortlessly and is a versatile scoring machine. While meshing into the system and finding a role for himself, he scored a game high 26 points.
"Whatever Coach and the team needs me to do, I'm going to go out and do it. My team has got me mentally stronger because they get on me and guide me, so now I'm looking to make better decisions and clean up shot selection."
Frater-Gumbs continues on the future.
"One of our goals is to win at Nationals, but from this experience we want to learn to fight hard in games and take pride on defense."
Team Ontario will be labeled as Team Together.
YAAACE has a sour taste left in their mouth after dominating all tournament long and then losing in the quarter-final after having built a 15 point lead on D1 Minnesota. Where they were two months ago and where they are now is a world of difference. Although they have a few pieces that will make highlight plays, you'll never see them get out of control or selfish.
This teams ball movement and fluidity offensively is impressive, the reason that they are able to build big leads; this along with a 2-2-1 press that stuns opponents. The main issues that need to be addressed before heading to Orlando for the AAU Super Showcase are keeping emotions in check and learning how to seal the deal. YAAACE is a team that's been a work in progress and game after game they have been getting better. The question still remains, will they become game closers?
CIA Bounce, Team Ontario, Team Toronto (formerly Triple Balance), Team Toronto Orange, Northern Kings, Advantage Titans, The Chosen Ones, UPLAY Canada, Blessed Sacrament, Can-Amera were all apart of the conglomerate representing The Great White North.
The best thing for these teams to do before heading down to their next tournament is watch over game tape and study each others mistakes with an open mind. One must be able to extract positive from every situation in order to better themselves.