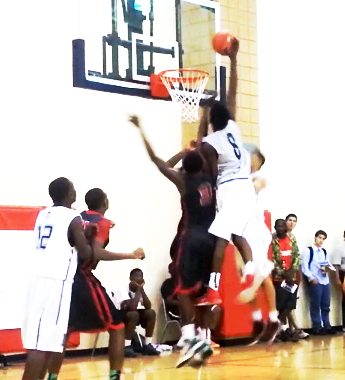 Montaque Gill-Caesar BREAKS OUT in Front of Packed House — Andrew Wiggins 2.0??
Follow Tariq_NPH & @NorthPoleHoops for all your #PeachJam Updates all week!
Montaque Gill-Caesar has glaring similarities to that of Andrew Wiggins and those that know him, know that the two players have taken the exact same path thus far. It's unfair to make the comparison to the number one NBA prospect in the world in Wiggins, but the truth is, it has already been made.
Both are Vaughan, Ontario natives who played for the Vaughan Secondary in Canada. Following their time as Voyageurs, they moved to West Virginia to attend Huntington Prep, while playing AAU basketball with CIA Bounce.
Aside from the same path, the 2015 prospect shares a similar skill set, hair cut and mannerisms. He walks like him and talks like him, it's quite striking.
Before long, Wiggins made his name on American soil and eventually shot up the charts to the number one spot, following a dominating performance at Peach Jam in the infamous Wiggins-Randle match up.
Now, Gill-Caesar seems to have created his first defining moment, as he registered a game-high 26 points in the CIA Bounce victory over favourites King James Shooting Stars moving the Canadians to a perfect 3-0. All this in front of a packed house with over 40 NCAA coaches in attendance.
MGC had college coaches in hysteria commenting, "that boy gets buckets" and "This kid is out here putting on grown man moves. Looks like he's 28."
In three games, the 6'6 wing is hovering around 25 points per game, and doing it from everywhere on the floor. Here, you will see arguably the play of the tournament, possibly of the year as Gill-Caesar punches one in on a put-back one hand hammer over two defenders!
Follow Tariq_NPH & @NorthPoleHoops for all your #PeachJam Updates all week!
[youtube]6vJ_D5RDAqs[/youtube]