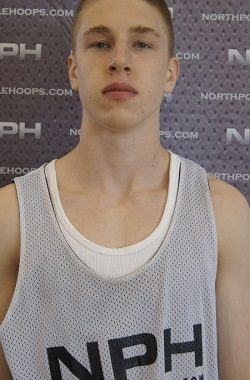 NPH BC Showcase Day Two Recap: Mason Loewen Steals The Show
RICHMOND, BC – Day two of the North Pole Hoops British Columbia Showcase opened with an inspiring talk from BC legend and former Canadian National Team member Randy Nohr, who spoke to the importance of communicating on the court, playing within your element, and maximizing opportunities.
Nohr's speech set the tone for the entire session, and the majority of the players in attendance took his message to heart.
Here's a look at some of the standouts from Saturday's action:
Jermaine Haley
– Fresh off an appearance at the Cadet Men's National Team tryout, the 2015 point guard was head and shoulders above the competition in his age group. In addition to creating offense for himself – on a number of creative drives and pull up jumpers – Haley displayed an outstanding court awareness that allowed him to set up teammates for easy looks.
Mason Loewen
– No matter how many times you see Mason Loewen play, his athleticism will always surprise you. Beyond being the most athletic guard in camp, Loewen excels at breaking down defenders off the dribble and finishing at the rim in a number of different ways. Loewen is also extremely unselfish, and creates numerous scoring opportunities for his team, both in the half court and in transition.
Corey Hauck
– Hauck was one of the most impressive guards on day two, running the pick and roll effectively and displaying an outstanding array of pull up jumpers.
Ethan Scott
– Scott displayed an uncanny ability to get to the rim, and either avoid contact completely for an easy finish, or draw just enough contact to get fouled and still get a good look at the basket.
Derek Safnuk
– The Saint Georges Small Forward displayed his high motor, continuously running the court, battling for rebounds and fighting for position.
Adam Karmali/Alex Coote/Mankaran Toor
– Heady point guards who controlled the tempo for their teams and acted as coaches on the floor. All three excel in half court and in transition, and showed an ability to affect the game on both ends of the court.
The final day in BC will bring the top prospects from camp into one showcase game and give a final opportunity for players to build a profile for themselves.
[youtube 50-FFxTDjwE]