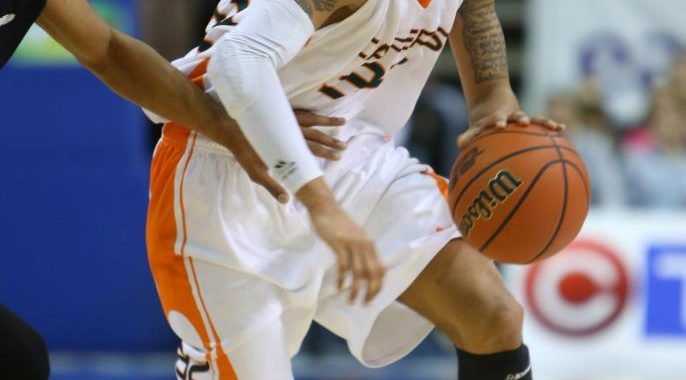 Cape Breton Meets Acadia in AUS Championship Battle
Halifax, NS—AUS Semi-Final Saturday at the Metro Centre never fails to disappoint, and with St. FX and Cape Breton adding another chapter to their historic rivalry you knew it was going to be a good one.  The Cape Breton Capers defeated the St. FX X-Men 80-70 and advance to the AUS Championship game.
Meshack Lufile spoke about the meaning of the victory "We lost to St. FX last year and we just wanted to come here and play as hard as we could and get the W and we've got to come here tomorrow with the same energy."
Heading into Semi-Final St. FX advanced after defeating Dalhousie 74-70 the night prior to face the 19-1, #2 ranked team in the country, Cape Breton and despite the difference in their records the game was closer than many thought it would be.
Right from the start it felt like it would be a back and forth contest. CBU had to deal with James Dorsey picking up his 2nd foul in the third minute of the first quarter. While the MVP was on the bench the Capers weathered the St. FX attack with offensive and defensive help coming from a number of players.
As soon as Dorsey checked back in, the momentum shifted right back to CBU as they had trailed by five heading into the second quarter. Dorsey made his imprint on the game in the second frame by knocking down deep back to back threes giving Cape Breton some breathing room. Jordan Tyrell knocked down a buzzer beater three to bring the X-Men within eight heading into the halftime break.
Meshack Lufile continued to have an impact on the game after registering twelve through two quarters. Every time St. FX would cut into the lead, the Capers would continue to push it back out to double digits.
Fifth year Senior Jeremy Dunn was working away at the CBU lead and made a couple of big threes to bring St. FX within four points.  Dunn and Vernon eventually helped take back the lead in favour of St. FX.
The AUS back to back MVP showed why he is so deadly and knocked down a back breaking three to give CBU a 71-68 lead, the Capers would pull away in the final minutes as St. FX was unable to get anything to fall.
Cape Breton showed that they are not just a one man team, that they've got a talented roster with a number of players who are able to step up at any point.
Cape Breton Head Coach Matt Skinn spoke after the game about his team.
"I think that's the misconception that people have about our team really, we average 87 points per game and James averages just 20, so that's almost 70 points a game that is not James Dorsey. I think we have the depth to do it and I thought that Meshack, AJ and Sean really stepped up today and helped us."
Sean McCormick continues to step up night in and night out, he finished with 19pts on 8/11 shooting while playing good defense and doing what was asked of him.
"We got here and we knew what we had to do, that's about it" said McCormick after the game.
Skinn spoke about McCormick and his role "He's our glue guy every game, Jeremy Dunn is such a terrific player and he ended up having 23 points, but I really thought he made him work for all of them and he (Sean) made two or three key plays that put us over the stretch"
NPH Top Performers:
Cape Breton:
Sean McCormick – 19pts, 9rebs, 2asts, 2stls
Meshack Lufile – 18pts, 6rebs
James Dorsey – 14pts, 9rebs, 7asts, 4stls
St. FX:
Jeremy Dunn – 23pts, 8rebs, 2stls
Tyrell Vernon – 19pts, 5asts, 3stls
In the second game of the double header, another rematch from last year's semi-final had nationally ranked Acadia facing off against Saint Mary's after their upset win over UPEI the night before.  The Acadia Axemen would defeat the Saint Mary's Huskies 74-55 to advance to the Championship to face the Cape Breton Capers.
From the start both teams battled as Saint Mary's relied on their three point shooting to keep it close. Riley Halpin had eight points in the opening quarter for SMU and allowed the Huskies to be within striking distance of the Axemen.
The lead would go back and forth in the first half until the Axemen closed the second quarter on a 6-0 and took a 35-27 lead into the locker room.
Acadia never really looked back as they continued to keep a comfortable lead heading into the final frame. Tyler Scott, Anthony Ashe and Owen Klassen were the main producers for the night.  Halpin did not give in as he added 13 points in the second half and finished with a game high 21 points in the loss.
Anthony Ashe spoke about making it back to the championship game for a third straight year. "We feel blessed that we're here but we've done a lot of hard work to deserve it"
With the victory Acadia will face Cape Breton in the championship game for a chance to be back to back AUS champions.
NPH Top Performers:
Acadia:
Tyler Scott – 19pts, 6rebs, 3stls
Anthony Ashe – 15pts, 13rebs
Owen Klassen – 13pts, 12rebs, 2asts, 1stl, 1blck
SMU:
Riley Halpin – 21pts, 8rebs
Harry Ezenibe – 1opts, 5rebs, 3asts