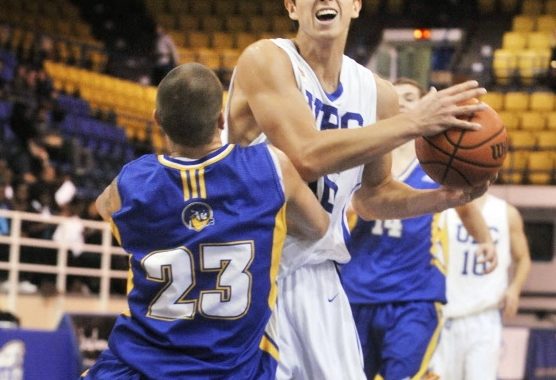 UBC Thunderbirds, Victoria Vikes Punch Ticket to CIS Final 8…Meet Tonight in CanWest Championship
'Birds Ignite Big Home Crowd
UBC 68  Fraser Valley 61 – Overcoming a halting, nervous opening half, where they trailed 34-26, the T-Birds earned their berth in the CIS Nationals with a surging 2nd half in front of a large, boisterous home crowd at War Memorial Gym .
The turning point came with an incredible 5 fouls assessed to the Cascades in the opening 1:10 of the 4th stanza, and UBC spent the rest of the quarter at the foul line.
On the night, the 'Birds shot 20 of 29 from the stripe compared to just 4 of 8 for UFV. UBC were led by the 18 points of strong forward, Tommy Nixon, and 15 points/10 rebounds from 5th year guard, Doug Plumb.
With the game on the line in the last 1:45, it was T-Bird rookie, Conor Morgan's big block which turned aside UFV's most dangerous attack. Neither team shot it particularly well from the floor, with the T-Birds hitting on 39%, while Fraser Valley was a paltry 35%.
The Cascades leading scorer, Sam Freeman (21 ppg) tried to test an injury at the team shoot-around earlier in the day, but he was unable to answer the bell, and his points were sorely missed. A measure of the UFV difficulties was the 7/38 shooting of 5th year stars, James York and Kyle Grewal.  Grewal scored 14, while Kevon Parchment had a 13 point/13 rebound double.
 Vikes Batter Winnipeg On the Boards
Victoria 72  Winnipeg  59 – The Vikes took away much of the penetration offense of Winnipeg's fine point man, Andrew Cunningham, and the Wesmen had trouble cracking the code to ring up enough points to stay with Victoria.  Meanwhile, Chris McLaughlin flexed his muscles in the post, attacking the rim time and again against the  over-matched Winnipeg D.  McLaughlin, the 6-10, Ontario product counted 23 points and claimed 15 rebounds for a dominating double dip.  Victoria's 2nd team CW all-star, Terrell Evans slashed through the Winnipeg defense for 19 points as UVic hit 49% from the floor compared to just 39 % for Winnipeg.
The Wesmen got 17 points from Steven Wesley and 10 from Benny Iko, but their offense was stop and start for most of the game. The Vikes control on the boards – 46-25 – was too much for Winnipeg to overcome.  The Vikes go back to the Nationals for the 1st time since they got all the way to the Final in 2006 before losing to Carleton   Box Score 
Saturday's 3rd place game –   Winnipeg vs  Fraser Valley is at 6 pm. Neither team is a likely qualifier for the CIS nationals, even with a win.  The Canada West title match is at 8 pm, both can be seen on Canada West TV