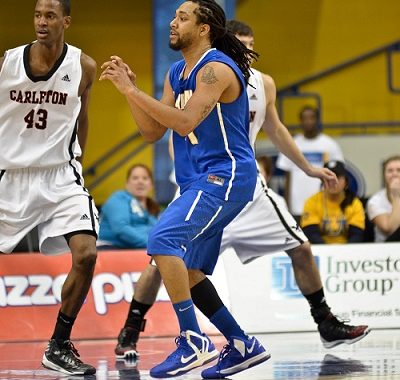 Joseph Jones Leads Lakehead Over Windsor, Thunderwolves Book Fourth Straight Ticket to CIS Final 8
TORONTO, ON–The Lakehead Thunderwolves booked their ticket to the 2013 CIS Final 8 with a convincing 78-64 win over the Windsor Lancers.
Lakehead bounced back after a disappointing showing last night against the Carleton Ravens, dominating their OUA West rivals the Lancers. "We played with a lot more confidence," Greg Carter, of Lakehead, said. "We weren't complacent and we didn't stop attacking."
Ottawa may be a far destination from Thunder Bay, home of Lakehead University, but the Thunderwolves players are probably used to the journey by now. It's the fourth year in a row that the team will be among the final eight in the country. "They've all been special," Greg Carter said, "we've just come up short in all of them."
The game was close in the first half, with Lakehead leading 19-12 after 10 minutes of play and then 34-29 at halftime. Josh Collins, the fourth-year Lancers point guard, tested out his ankle but it was clear that he was limited. "It doesn't really matter," a dejected Collins said. "At this point, the season is over for us, so I will have plenty of time to rehab it."
For the game, he played only 11 minutes, and his absence hurt his team. "We played poorly. We didn't play our best, and a lot of this had to do with adjusting to losing Josh (Collins)," head coach Chris Oliver said. "In a lot of ways, he's the heart and soul and the leadership of our team."
Without Collins, Windsor was lost. That showed in the second half, where Lakehead ran away with the game. The Thunderwolves stayed agressive on defense and took care of the ball on offense with only four turnovers compared to 13 in the first 20 minutes.
Six of the Thunderwolves are in their fifth and final season, and the team showed poise and control to secure the win. Carter is one of them. "In the second half, I felt like, 'This is it'," he said. "I made sure I made every possession count."
Offensively, Lien Phillip and Rotimi Osuntola Jr. lead the Lancers with 15 and 13 points. Phillip, meanwhile, also added a game-high 12 rebounds. Ismar Seferagoc, with 10 points, was the only other Windsor to score in double figures. Oliver was disappointed–Collins and Phillip both play with a lot of emotion, but it wasn't enough.
"Unfortunately, not all of our guys followed that emotion," Oliver said.
For Lakehead, fifth-year Joseph Jones was stellar with a game-high 23 points. Third-year Dwayne Harvey, with 14, and fifth-year Ben Johnson, with 11, also scored over 10 points.
Next up for Lakehead is the CIS Final 8, and their goal is simple. Jones said that, "Our goal right now is  just to get focused and try to win the national championship."
TOP PERFORMERS 
Windsor
Phillip Lien: 15 points, 13 rebounds, 1 assist, 2 steals
Rotimi Osuntola Jr.: 13 points, 5 rebounds, 1 assist, 1 steal
Lakehead
Joseph Jones: 23 points, 4 rebounds, 4 assists, 4 steals
Dwayne Harvey: 14 points, 4 rebounds, 4 assists
Follow Charles Blouin-Gascon on Twitter @CeeeBG & NPH @Northpolehoops