ACAA Women's Basketball – Tommies shooting for the top again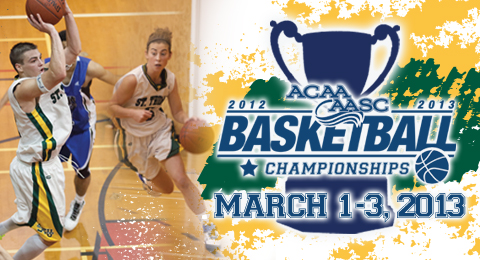 The host St. Thomas Tommies have won 70 consecutive ACAA matchups, and head coach Fred Connors has his team firing on all cylinders once again as they completed another undefeated season. While St. Thomas won't tip off until Saturday, their opponent will be determined via Friday's quarterfinal matchups.
The CCAA women's basketball championships will be hosted by the Dalhousie Agricultural Campus Rams in Truro, N.S. However, the Rams have forfeited their place in the tournament, meaning both finalists in the ACAA championships will earn berths to the CCAA championships in two weeks time
(3) University of King's College Blue Devils vs. (6) UNB-Saint John Seawolves
Mar. 1, 11 a.m.
The University of King's College (14-7) swept the series against UNB-Saint John (9-12), with the average margin of victory being almost 19 points.
Blue Devils head coach Jenn Bennett has her squad coming into the ACAA championships riding a five-game winning streak. As well as having won nine of their last 10 games overall after a slower start to the season.
In terms of scoring, the Blue Devils have a three-headed monster in the form of Bhreagh Moore (15.5 points per game), Sarah MacDonald (13.6 PPG) and Wendy Margetts (12.8 PPG). They can be tough to stop if all three are clicking.
The Seawolves may want to pay special attention to Moore as she torched UNB-Saint John both times she played them, averaging 25.5 points per game in leading the Blue Devils to victories.
It's not easy to focus on just one of those three, especially when Margetts led the ACAA in rebounding for the season with an average of 10.5 rebounds per game and a staggering 15 double-doubles this season.
Double teams can open up either Moore or MacDonald, but King's College also features many secondary scoring options.
Krista Mooney had three double-doubles for the Blue Devils this season, while Madison Jennex can change a game by using her speed to cause turnovers.
Meanwhile, Kyla MacRae and Katie Locke also know how to find the net to round out the ACAA's third best offence with an average of 69.3 points per game.
Meanwhile, the Seawolves come in having won three of their last four, after losing four straight games before that. Two of those losses coming against the Blue Devils at the start of February.
UNB-Saint John has depth on its squad, as the Seawolves finished fourth in the ACAA with an average of 68.6 points per game. Their top scorer, Christie Smith, only averaged 12.1 points per game.
Smith is the Seawolves' biggest all-around threat, as she also led the team in rebounds (an average of eight per game) and assists (2.5 per game). She rarely leaves the floor as she averaged 32 minutes per game this season.
Alongside Smith, Rachel Jefferson forms the other half of UNB-Saint John's formidable duo, averaging 11.9 points per game this season. She can also rebound, having averaged just short of four per game. Her biggest skill apart from scoring is her ability to shut opponents down, as she led the ACAA in blocks this season.
Jefferson is also a player who can get a possession going the other way in a hurry, leading the Seawolves with 3.2 steals per game.
After Smith and Jefferson, an additional eight Seawolves are averaging at least five points per game. UNB-Saint John clearly knows how to score.
However, they'll go up against a Blue Devils squad that owns the stingiest defence (60.6 points per game allowed) out of the four teams playing on Friday.
(4) Holland College Hurricanes vs. (5) Mount Allison Mounties
Mar. 1, 1 p.m.
The Hurricanes (11-10) and Mounties (9-12) engaged in what turned out to be a playoff preview last Saturday in Charlottetown, with Mount Allison withstanding a late Hurricanes comeback to win 64-61.
Holland College comes in having hit a rough patch, winning just two of their final nine games.
The lineup for the Hurricanes could have many different looks when they take the court. Part of that hinges on the health of point guard and team captain Steph Hiltz.
The Halifax native and former Dalhousie Tiger has battled injuries throughout the second half of the season. When in the lineup, Hiltz can take a game over for the Hurricanes, as evidenced of her 38-point outburst against UNB-Saint John in her return after missing nine games.
In the event that Hiltz's playing time is limited, the bulk of the scoring will be spread out between Jennifer Hinds (10.2 points per game), long-range threat Christina Medley (8.9 PPG), Marissa Penney (8.7 PPG) and Megan Spicer (9.3 PPG). Spicer has provided a spark for the Hurricanes since joining the team in January after being a CCAA All-Canadian in soccer.
Down low, Hinds is the primary rebounder, and she's coming off her best statistical game of the season with a 22 point, 17 rebound effort against Dalhousie Agricultural Campus.
The biggest cause for concern in the Hurricanes camp is turnovers, as they've averaged close to 32 per game during their recent slide. They'll need to limit that number if they want to be successful.
Mount Allison is one of the streakiest teams in the ACAA having lost three straight, followed by a four-game winning streak, only to drop back-to-back games and split their final regular season games.
The Mounties are led by the Mack Attack, MacKenzie McHatten and MacKenzie Gray.
Gray is far and away the team's leading scorer, averaging 14.5 points per game. However, the Woodstock, N.B. native can get the job done wherever she is, as she led the Mounties in rebounds (9.1) and steals (1.9) per game.
Gray seems to love playing the Hurricanes, as she averaged almost 19 points per game and 11 rebounds per game against Holland College, including two double-doubles.
McHatten has a strong presence on the boards, going over 10 rebounds in five different games this season including a 15 point, 15 rebound performance against the Hurricanes last Saturday.
McHatten, also of Woodstock, N.B. has also increased her scoring as of late, averaging almost 14 points per game in Mount Allison's final three regular season games.
In the backcourt, Rothesay, N.B.'s Kayla Robichaud is one of the team's primary ball distributors. Rothesay has proven to be an offensive threat as well as she went over 20 points twice early in the regular season. While her point production has dropped as the season progressed, don't be surprised if her number gets called as the attention given to Gray and McHatten may open up some strong looks for the diminutive guard.
Maddyson McDonald is the other primary scoring option for the Mounties, averaging 9.1 points per game this season. She averaged close to 13 points per game against the Hurricanes this season.
Their three games yielded a point differential of just 18 in favour of Holland College, so this is shaping up to be a tight matchup with the winner likely playing St. Thomas in the semifinals on Saturday.
The lowest remaining seed from Friday will play the top seeded St. Thomas (21-0) at 1:30 p.m., while the highest remaining seed will play the second-seeded Mount St. Vincent Mystics (17-4) and 3:30 p.m.