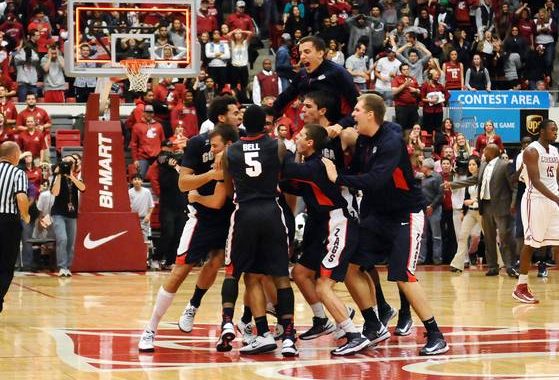 Kevin Pangos Saves The Day, Kelly Olynyk Career Night in Gonzaga Victory Over WSU
One night after Anthony Bennett put on a show in the UNLV victory, fellow Canadian and former U17 Team Canada teammate Kevin Pangos steps up in the biggest moment of the game for a coast-to-coast drive to the bucket to defeat the Washington State Cougars 71-69!
Prior to that game-winning bucket, Pangos was struggling from the field shooting 1-11. But in big moments, big time players step it up.
Last time KP went up against the Cougars, he dropped 33 points including nine threes in the second game of his NCAA career! This time around, he wasn't on fire from deep but his production was equally felt.
Pangos finished with eight points, two rebounds and four assists as the #10-Ranked Gonzaga Bulldogs moved to 9-0.
Fellow Canadian 7'0 forward Kelly Olynyk (Kamloops, BC) showed an increased confidence in his game, scoring in a variety of ways including attacking the basket or nailing the jumper.
Olynyk had a career night, registering 22 points, seven rebounds, two assists on 10-14 from the field.
Both Pangos and Olynyk are a part of the Canadian national program and clearly an integral part of the Gonzaga Bulldogs' success.
BIG thanks to Pash Bains of @DriveBasketball for the following video, who was in attendance to catch the madness! 
[youtube SpEBG-B0Yi8]