The Evolution of Anthony Bennett: League Ready.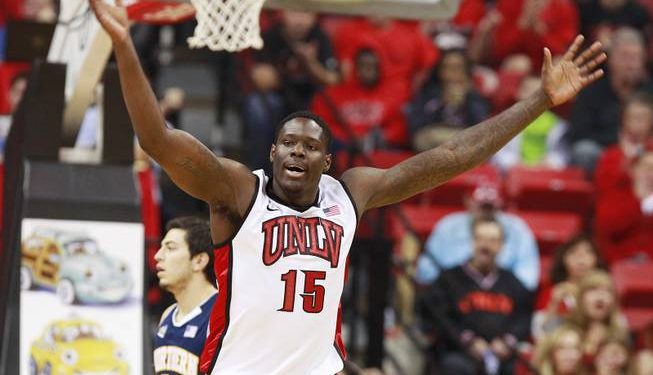 As I watched freshman Anthony Bennett (Brampton, ON) in a full game with the UNLV Rebels, I learned a lot about his continued development and his overall star power.
Bennett is an interesting character, he possesses a swagger that you can't teach. He is energetic, uplifting, but not cocky. As a matter of fact…quite humble.
As his Rebels were down 28-22 at halftime to the Portland Pilots, teammates walked to the bench with their heads down, while AB waited for them clapping in hopes of providing a spark. And that he did.
In 29 minutes, Bennett manufactured a game-high 18 points, six rebounds, three steals and one block on 6-11 shooting from the field. He posted an efficient stat line that he made look easy. The truth of the matter is, he could have registered a 30-piece if he had the necessary touches, but he didn't need to.
The UNLV Rebels have enough talent to contribute as a team and get the job done…which is what they did.
As an exclamation mark, Bennett creates a poster on 6'11 Thomas Van Der Mars to end the game.
[youtube 7Eu1Y9xSFTE]
My question for the Brampton native as he entered his freshman year was not whether he would be a pro or not, but rather when it would be.
The 6'8 specimen has put this curiousity to rest. There is no doubt in my mind that Bennett is ready for the league and for multiple reasons; physical gifts, work ethic, intangibles, production and overall resume.
There is nobody in America that one could say has a more impressive build. At 6'8 with his combination of muscle mass, strength, speed and athleticism, Bennett is a freight train, a man child or simply put…a BEAST.
Compliment the aformentioned with his budding skill set. I have had the pleasure of witnessing the evolution of Bennett from bulky shoulders and unlimited upside at Harold Brathwaite Secondary in Brampton, to the man and player he is today. Bennett has gradually added pieces to his game every year.
The NPH #1-Ranked Prospect in the class of 2012 was raw talent up until his junior year at Findlay. Throughout that summer, he exploded on the AAU scene and triggered American recruiting websites to move him into the top 10. Shortly after, he was named an All-American.
Bennett now possesses a face up game which includes a mid-range jumper that extends to the three point line. He has a post game which he can use to abuse weaker defenders. He runs the floor in transition and finishes above the rim with consistency. He is able to handle the ball to a certain extent (which has also improved). He can play and defend multiple positions.
Anthony Bennett is averaging over 18 points, eight rebounds and two blocks per contest.
On top of all this, "ROBO"  is a team player that really enjoys being on the floor, to the point where his passion and love for the game is contagious.
Case closed; Anthony Bennett is LEAGUE ready.