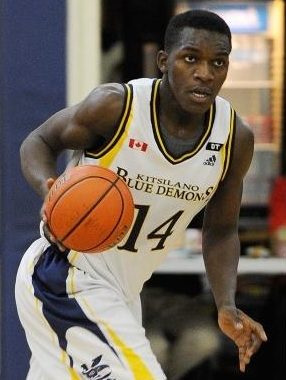 Telus Classic: Can Anyone Beat Kitsilano? St George Growing Pains. Is Sardis For Real? How Fun is Palmer to Watch?
Vancouver, BC– Easily the premier pre-season tournament in BC, the Telus Basketball Classic brings together 16 of the top teams in the Province for a four-day single elimination test. After two days of play, at various locations throughout the Lower Mainland, the semi-finals are set. Today, White Rock Christian (#3 Provincially-Ranked) will take on Vancouver College at 5:45pm and Kelowna will square off against  Kitsilano (#1 Provincially-ranked) at 7:30pm. Both semi-final games will be played at Winston Churchill Secondary, with Saturday's finals to be played at UBC's War Memorial Gym.
Before we get started, be sure to check out Andrew Wadden's feature on Chairman & Co-Founder of the Telus Classic, Howard Kelsey, as part of our NPH Trailblazers series.
With the sixteen team field now whittled down to four, lets try to answer some of the questions that came up over the first two days of the 2012 Telus Classic.
Can anyone beat Kitsilano? The number one ranked team in the province cruised through the first two rounds of the tournament defeating St Thomas Aquinas 121-48, and using a dominant second half performance to beat Burnaby South 86-70. The Blue Demons have size, shooting, depth, and solid guard play. Their only challenge this season came in an 89-81 victory against #2 ranked Yale last weekend. The Vancouver Sun's Elliott Pap gives us a look at Luka Zaharijevic and a very talent Kits team. 
How will Kelowna match up against Kits? In last night's win the Owls zoned and pressed St. Georges's into 30 turnovers. Kelowna head coach Harry Parmar told NPH after the game that his veteran team — with  seven returning players, including the current starting five who all saw major minutes last season — is very versatile and certainly isn't committed to one style of play, at either end of the court. The only thing that Coach Parmar would commit to was his dislike of 6-6 2014 forward Buzz Truss' haircut: "it's bad…and I tell him that all the time." Parmar said with a smile.
How quickly can Saint George's come together? The #7 ranked team in the province has looked shaky to start the season. However, despite their 30 turnovers vs Kelowna last night, the Saints were right there at the end of the game with a chance to tie. We may get our answer as early as next week when the Saints travel to Langley to take on #4 ranked Walnut Grove Tuesday night. Saints head coach Bill Disbrow is preaching patience and, given his track record, we should listen. Last night's game was well covered: Saint's Alum Amrit Gill checks in for NPH; The Province's Howard Tsumura weighs in; and The Vancouver Sun's Elliott Pap gives us his thoughts.
Is Sardis for real? Although the #9 ranked Falcons dropped Wednesday's quarter-final game to White Rock Christian, they have posted a number of impressive early season victories, including wins over WJ Mouat, Terry Fox, and Pitt Meadows. The Province's Howard Tsumura profiles head coach Kyle Graves and 6-7 2014 forward Hayden Lejeune, "who might be the best player you've never heard of…"
How fun is RC Palmer to watch? We haven't had a chance to check out Paul Eberhardt's Griffins, but they are right at the top of our list of teams to watch. Palmer averaged 97 points in their two games at the Telus Classic with Antonio Jhuty putting up 33.5 a game. Don Fennell of the Richmond Review previews the Palmer Griffins and gives us a look at one of the top seniors in the province, guard Jamie Madewan.
There is no question about it, Burnaby South's Martin Bogajev is a gamer. The 5-11 2014 point guard impressed us with his play at last week's Yale Big Ball Tourney (where he was named to the tournament all-star team), and in last nights loss to Kits he did a bit of everything including trying to draw a charge on 6-8 Luka Zaharijevic, and standing toe to toe while jawing with 6-6 Jonathon Kongbo.
The question is, how far can Bogajev lead his undersized South squad this season?
For more information on the Telus Basketball Classic please check out the tournament home page