Alberta Golden Bears Take Down UBC in Canada West Battle!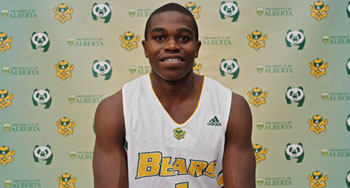 Edmonton, AB – A much anticipated match up of the top two teams in the Canada West lived up to its billing as the Alberta Golden Bears hung on to take a thriller from the UBC Thunderbirds 68-66 Saturday night.
With the win, Alberta remains at the top of the Prairie Division with a 7-1 record in Canada West play. The loss drops UBC to 6-2, but the Thunderbirds still hold a one game lead over Victoria and Fraser Valley for top spot in the Pacific Division.
For Alberta, third year guard Kenny Otieno continued his solid play off the Golden Bears bench, leading the way with 21 points. Through eight games, the 6'2" Otieno is averaging 17.4 points (on 51% shooting), 6.5 rebounds, and 2.9 assists per game. Although Otieno has yet to start a game, he is averaging 31.5 minutes per game, second only to guard Jordan Baker.
Baker, the Bears 6'7" do-it-all guard, struggled shooting the ball in the first half but finished the game with 12 points, 5 rebounds, 5 assists and 3 steals. For the season, Baker leads Alberta in points (17.8), rebounds (7.5), assists (4.4), steals (2.5), and trails big man Rob Dewar by only one block. If there is a weakness in Baker's game it may be his free throw shooting (62% for the season), and it almost cost Alberta on this night.
With just over thirty seconds to play in the game, and the Bears leading by two, Baker used a high screen to get by Doug Plumb, but was fouled going to the hoop. Baker missed both free throws – his only attempts at the line for the game – setting up a frantic final possession for UBC that included three attempts behind the arch, four offensive rebounds and two misses within five feet of the basket. In the end, Alberta escaped with the 68-66 win, but result showed just how evenly matched these two teams are.
UBC returns to War Memorial to host the Calgary Dinos and the Lethbridge Pronghorns in back to back games next weekend (November 30th and December 1st).
Alberta, in their final games before the semester break,  travel to Prince George to take on UNBC on Thursday night, then to Calgary to take on Mount Royal on Saturday (December 1st).
NPH Top Performers
Alberta Golden Bears
Kenneth Otieno – 21 Points (8-11 shooting; 2-4 from three), 3 Rebounds, 2 Assists, 1 Steal
Jordan Baker – 12 Points, 5 Rebounds, 5 Assists, 3 Steals
Rob Dewar – 11 Points, 9 Rebounds, 1 Assist, 3 Blocks
Youssef Ouahrig – 10 points, 4 Rebounds, 7 Assists, 2 Steals
UBC Thunderbirds
Doug Plumb – 23 Points, 7 Rebounds, 2 Assists
Brylle Kamen – 10 Points, 8 Rebounds, 1 Steal