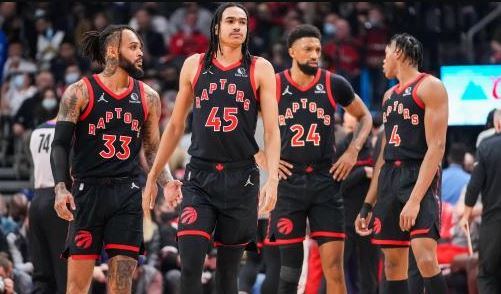 Western Road Flows – The Raptors learn lessons the hard way while battling the West
The High 5 – Week in Review – Week 5
The High 5 is where I review the last week of Toronto Raptors basketball including how the team did, who were the impact players as well as some news and notes from around the league.
The Thumb – How was the week?
Toronto hit the road for a tough Western Conference swing. This was a good test for the young Raps as they continue to build camaraderie in the face of difficult opposition. Bodies were still moving in and out of the lineup but on the whole, the Raptors are steadily getting healthier.
Trent Jr. and VanVleet are building chemistry in the backcourt and the forwards are learning how to properly space themselves on offense. Siakam's touch has come around quicker than expected giving Coach Nurse another primary scoring option. His return has shifted everyone down a peg on the pecking order allowing the Achiuwa's and Boucher's of the world to play a more comfortable and appropriate role.
Toronto had a chance in Portland, struggled mightily in Utah but picked up a dub in Sacramento. Sunday nights game was, expectedly, a wash, leaving Toronto with a losing record for the week.
Despite the standings the Raptors are learning to play together. Players are finding each other in their shooting pockets and improved passes, screens and off the ball movement has led to more fluidity on offense. It's coming along, it just needs time.
Experience is the best teacher.
Week Record (1 – 3) Season Record (8 – 10)
Toronto Raptors v Portland Trailblazers L 118 – 113
First stop on the road trip was in Portland where Toronto visited an old friend, Norm Powell. The Raptors, in their red jerseys, looked like the home team on Portland's red accented court. Toronto used excellent spacing and ball movement to give room to their shooters, especially Anunoby who was lights out from distance. Portland shot their way back and took a lead into the break. In the second half, Toronto's shooting dried up while McCollum and Lillard kept cooking. The teams traded runs down the stretch with the starters playing heavy minutes, but Toronto came up empty.
Toronto Raptors v Utah Jazz L 119 – 103
The Raptors picked up a few injuries keeping their roster in flux when they visited the Jazz in Salt Lake. Utah ran a masterclass in spacing, the floor never looked bigger. Toronto relied on their defense to keep the game close. It seemed that their intensity surprised the Jazz on occasion which led to turnovers. They also milked the pick and roll for easy looks both for the shooters and the rollers. However, the Jazz are on another level and by the 4th quarter this one was over.
Toronto Raptors v Sacramento Kings W 108 – 89
After a poor performance in Utah, Toronto had a chance for retribution against Sacramento on Friday. The Kings always seem to be in rebuilding mode, they are loaded with inexperienced talent. With a tired roster, Coach Nurse tinkered with combinations to keep the Kings off balance. The Raps used their defense and transition attack to do considerable damage, at one point stretching their lead to 30. Siakam and Trent Jr. were dangerous, VanVleet dropped bombs from deep and the bench provided a nice boost. This was a good old-fashioned beat down.
Toronto Raptors v Golden State Warriors L 119 – 104
The Warriors gave Toronto a rude welcome by blitzing the Raptors right from the tip. By the middle of the first quarter, they built a 20-point lead before Toronto started to chip into the deficit. The Warriors made it look easy on offense. Their pace of play was tough for the Raptors to match. They also forced Toronto into difficult shots, the Raps had to work hard for points. They fought uphill all game but could never make it close.
The Index – The Leader – Player of the Week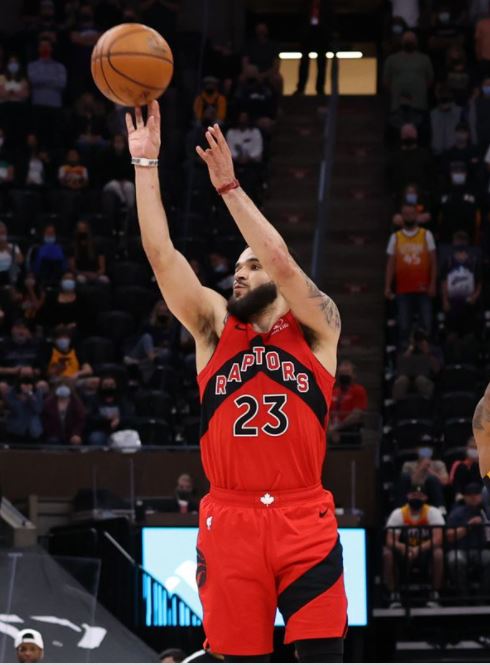 Fred VanVleet
Gary Trent Jr. nearly stole this honour but his poor game against Golden State removed him from contention. Instead, the Player of the Week goes to Fred VanVleet after another impressive string of games. He did not have a standout performance but rather filled in the gaps when his team needed it. If the Raps needed buckets, he showed off his range, if they needed D, he came up with steals and deflections, if they needed playmaking, he found teammates. Most importantly, he played with a champions intensity. VanVleet is an elite point guard, he has been consistently solid all season.
| | | | | | | | | |
| --- | --- | --- | --- | --- | --- | --- | --- | --- |
| | Points | Rebounds | Assists | Steals | Blocks | FG | 3PT | FT |
| v POR | 16 | 6 | 7 | 2 | 1 | 6/13 | 4/8 | 0/0 |
| v UTAH | 24 | 4 | 4 | 3 | 2 | 7/17 | 3/8 | 7/8 |
| v SAC | 13 | 3 | 6 | 2 | 0 | 5/14 | 2/7 | 1/1 |
| v GS | 17 | 4 | 7 | 1 | 1 | 6/18 | 3/12 | 2/2 |
| | | | | | | | | |
| Weekly Avg | 17.5 | 4.25 | 6 | 2 | 1 | 24/62 | 12/35 | 10/11 |
| 4 Games | | | | | | 39% | 34% | 91% |
| Season Avg | 19.3 | 4.9 | 6.8 | 1.7 | 0.6 | 43% | 39.5% | 84% |
| | | | | | | | | |
Honourable Mention: G. Trent Jr., OG Anunoby, P. Siakam
The Middle – The Enemy – Best Opposing Player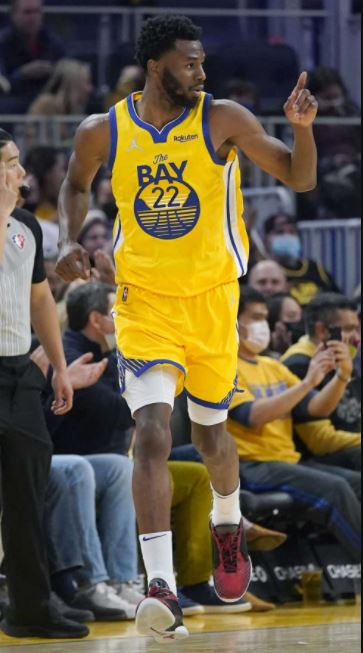 Andrew Wiggins – Golden State Warriors
Wiggins is finally starting to realize his potential in Golden State. He started the night on fire by scoring 11 points within the first 5 minutes and continued to sprinkle his offensive punch throughout the game. Wiggins oozed confidence, he took advantage of the gravity that Curry attracted and knocked down daggers from deep. He was active on the glass and made quick cuts when the defense took their eyes off him. The Maple Mamba played loose and free; his talents shined in an impressive win.
| | | | | | | | | |
| --- | --- | --- | --- | --- | --- | --- | --- | --- |
| | Points | Rebounds | Assists | Steals | Blocks | FG | 3PT | FT |
| v TOR | 32 | 7 | 3 | 0 | 1 | 12/20 | 6/8 | 2/2 |
Honourable Mention: D. Lillard (POR), CJ McCollum (POR), D. Mitchell (UTAH), J. Poole (GS)
The Ring – The X Factor – Standout Performance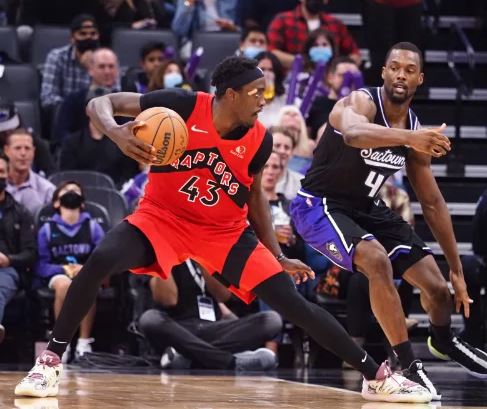 Pascal Siakam v Sacramento Kings
Anunoby nearly picked up this award after the 3-point clinic he put on against Portland. However, the real standout performance was Pascal's game against Sacramento. Siakam was in his bag, he looked comfortable and scored in a variety of ways with little resistance. The Kings had no answer, the only way they could slow Pascal was by sending him to the locker room for stitches. There has been a number of Band-aid games in the history of the Raptors. Both Kyle Lowry and Fred VanVleet come to mind as players who performed at a high level after drawing blood. You can now add Siakam to that list.
| | | | | | | | | |
| --- | --- | --- | --- | --- | --- | --- | --- | --- |
| | Points | Rebounds | Assists | Steals | Blocks | FG | 3PT | FT |
| v SAC | 32 | 8 | 1 | 0 | 2 | 10/12 | 3/3 | 9/10 |
Honourable Mention: Anunoby v POR, Trent Jr. v UTAH
The Pinky – The Unsung Hero – Key Contributor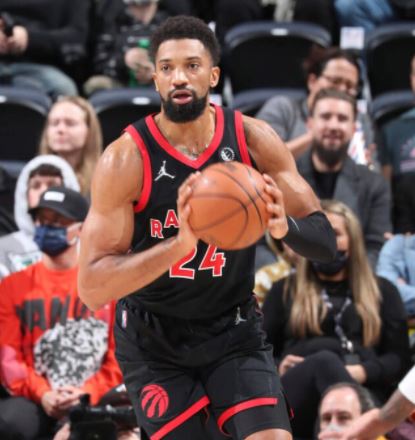 Khem Birch
Though his stats won't show it, Birch is developing into a reliable supporting big man. Birch understands his role and how to put himself in positions to succeed. He knows he can support simply by setting a hard screen, making a swing pass, or by being a release option for slashers. His growing synergy with VanVleet has given the Raptors a pick and role threat and his hustle and activity on the glass gives the team multiple efforts. This man takes his lunch pale and hard hat to work.
Honourable Mention: S. Mykhailiuk, C. Boucher
Around the League
Culinary Practices – In an effort to help a visibly heavier Zion Williamson return to game shape, the New Orleans Pelicans have increased their focus on his health and diet. In other words, no more junk food.
The Crypt – In a sign of the times, Crypto.com has secured the new naming rights for the former Staples Center in Los Angeles.
Return to Normal – The Grizzlies are set to become the first team that will no longer ask fans to provide COVID verifications (Test or proof). This is a risky move, even if they are 27th in fan attendance.
Dead Man Walton – It a move that surprises no one, Sacramento finally pulled the trigger and fired head coach Luke Walton. The Kings had a 6 – 11 record as of firing, but really, they have been losing for years. It's time for major changes in Sac-town.
Everyone loves Dirk – The Mavericks will rightfully retire Dirk Nowitzki's number 41 after an unparalleled career in Dallas. Don't be surprised if he gets a statue soon.
Fined – The Timberwolves are being fined $250000 for holding offseason workouts at the home of team owner, Alex Rodriguez. It feels like they would have gotten away with it had they not posted their workouts all over social media.
Up Next
The road trip continues for Toronto as they make their way to Memphis for a game against the Grizzlies on Wednesday night. From there, they head to Indiana to take on the Pacers on Friday. Finally, the Raptors return home for a Sunday game against the Celtics. With a little luck, this could be a bounce back week.