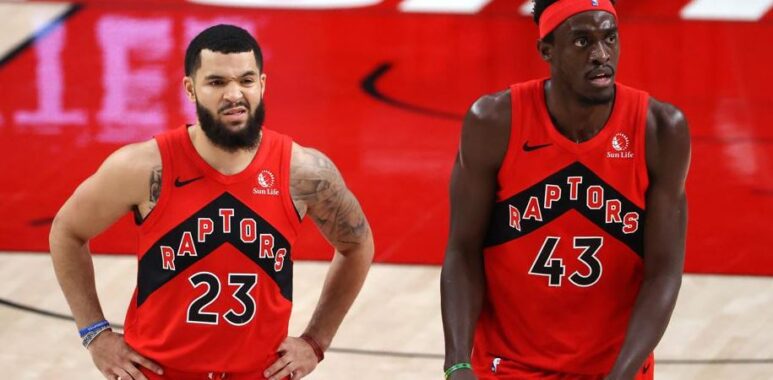 Eating Losses – Even home cooking can't cure Toronto's woes
The High 5 – Week in Review – Week 6
The High 5 is where I review the last week of Toronto Raptors basketball including how the team did, who were the impact players as well as some news and notes from around the league.
The Thumb – How was the week?
The losses are starting to become a concern as Toronto continues to stumble down the Eastern conference standings. They salvaged a win in Memphis but showed up flat and disengaged against the Pacers. Finally, they lost what looked to be a winnable game against Boston at Scotiabank on Sunday night dropping their home record to a dismal 2 – 7.
The positives this week would include VanVleet's elite play and the reintegration of Siakam. Trent Jr.'s shot making ability and the way Barnes looks when he is aggressive. Good steps, but not enough.
Some would say that a lack of a healthy roster and constant lineup rotations have slowed the development of chemistry. Others may point to inexperience or poor bench production. Regardless the reason, the Raptors need to regroup and learn how to compensate. This team still hasn't figured out how to maximize their talents and until they do, they will continue to falter. They have already played 1/4 of the season.
Week Record (1 – 2) Season Record (9 – 12)
Toronto Raptors v Memphis Grizzlies W 126 – 113
The Raptors visited Memphis to write another chapter in the book of Naismith against the Grizzlies. Memphis used a combination of size in the middle and athleticism at the point to build a lead. The Raptors had the defensive ability of a sieve in the first half, the Grizzlies got what they wanted and electrified the crowd in the process. They provided no shortage of material for the highlight reel. Toronto fought to snatch a lead in the 4th with physical basketball. It was exciting blink and you missed it action. Raptors showed some serious grit taking this one.
Toronto Raptors v Indiana Pacers L 114 – 97
The Raptors finally wrapped up their longest road trip of the season with a visit to Indiana to face a team they've already beaten twice before. Toronto continues to give opponents a healthy dose of the pick and roll. The Pacers battled back by committee with a simplified attack which worked at keeping Toronto restrained. The Raptors played suspect defense again and needed a big second half effort to get back in the game. Their heart was in it, but their tired bodies betrayed them down the stretch. They looked like a team ready to go home.
Boston Celtics v Toronto Raptors L 109 – 97
The Raptors were finally back in Toronto after an extended leave to take on the Celtics. The Celtics have improved since they last played, while the Raptors continue to move bodies in and out of the lineup. This time, Trent Jr. was off which gave Mykhailiuk the start. Toronto looked focused and ready to compete, but they still were down 3 heading into the break. The teams battled with the C's retaining a slim lead. Toronto turned to their bench but didn't get much. Eventually, Boston started hitting shots and their lead grew as the game wore on.
The Index – The Leader – Player of the Week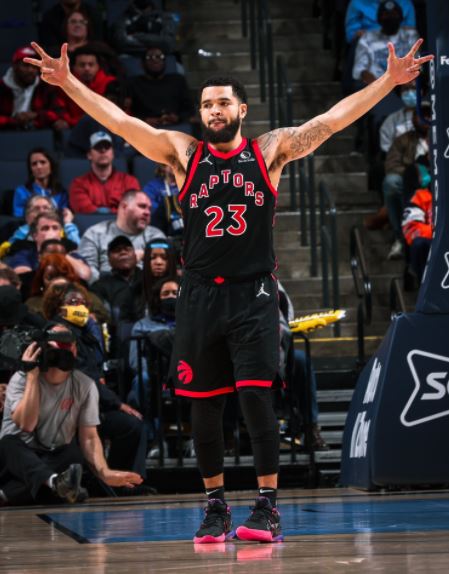 Fred VanVleet
With each passing game, the Raptors are looking more and more like Fred's team. He is supplanting all others to become 'the guy'. The only concern is all the attrition he is enduring as a result of logging so many minutes, a category he leads the league in. Fred is finding his big men on rolls, sticking jumpers, and nailing rainbow triples from deep. His one-on-one moves look polished, and he continues to grab his fair share of rebounds and assists. This is the culmination of years playing alongside Lowry, Fred is building an All-Star campaign.
| | | | | | | | | |
| --- | --- | --- | --- | --- | --- | --- | --- | --- |
| | Points | Rebounds | Assists | Steals | Blocks | FG | 3PT | FT |
| v MEM | 23 | 6 | 7 | 2 | 2 | 9/14 | 3/7 | 2/2 |
| v IND | 26 | 5 | 4 | 1 | 1 | 10/21 | 4/10 | 2/3 |
| v BOS | 27 | 6 | 3 | 2 | 0 | 8/16 | 5/10 | 6/7 |
| | | | | | | | | |
| Weekly Avg | 25.3 | 5.6 | 4.6 | 1.6 | 1 | 27/51 | 12/27 | 10/12 |
| 3 Games | | | | | | 53% | 44% | 83% |
| Season Avg | 19.7 | 4.9 | 6.7 | 1.6 | 0.7 | 43.7% | 38.6% | 84.6% |
| | | | | | | | | |
Honourable Mention: P. Siakam, S. Barnes
The Middle – The Enemy – Best Opposing Player
Domantas Sabonis – Indiana Pacers
Domantas took on the entire Raptors frontcourt and didn't flinch. He inhaled rebounds on both ends while also leading his team in points. He was an immovable object in the paint with a soft scoring touch. The Raptors closed around him, but Sabonis just overpowered their swiping hands. By the end of the game, his arms were marked with scratches and bruises, but he took home the W.
| | | | | | | | | |
| --- | --- | --- | --- | --- | --- | --- | --- | --- |
| | Points | Rebounds | Assists | Steals | Blocks | FG | 3PT | FT |
| v TOR | 23 | 18 | 2 | 0 | 0 | 8/15 | 1/3 | 6/7 |
Honourable Mention: J. Morant (MEM), M. Turner (IND), M. Smart (BOS)
The Ring – The X Factor – Standout Performance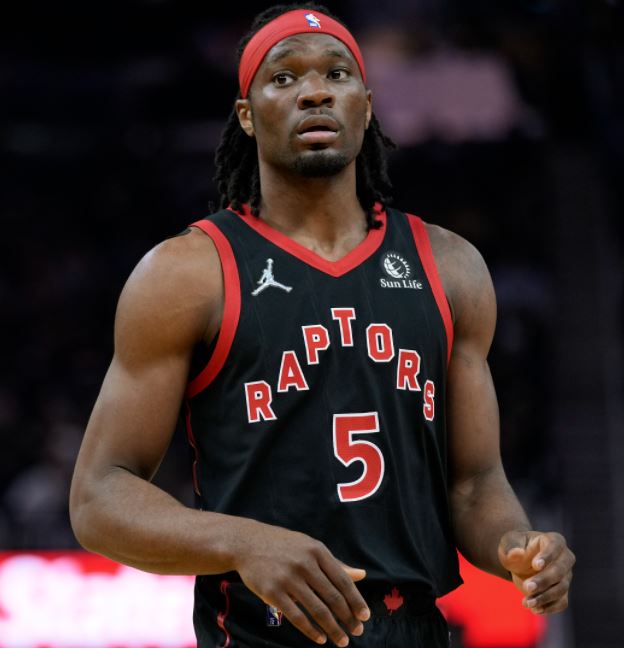 Precious Achiuwa v Memphis Grizzlies
Precious needed this game. The young forward was feeling a little heat due to some poor play, and in truth, for much of this game he was a nonfactor. However, in the 3rd, Precious went Super Saiyan and exploded for a monster run. He scored 17 points, stepped into 3 triples and completely shifted the momentum of the game. Most importantly, he didn't force any action and instead let it come within the flow of the offense. The key is extending this to something beyond a quarter.
| | | | | | | | | |
| --- | --- | --- | --- | --- | --- | --- | --- | --- |
| | Points | Rebounds | Assists | Steals | Blocks | FG | 3PT | FT |
| v MEM | 17 | 4 | 2 | 1 | 0 | 7/11 | 3/3 | 0/0 |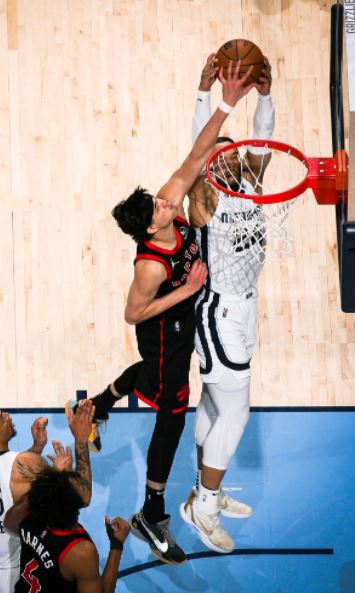 If we were to give out a standout moment, it would most certainly go to the returning Yuta Watanabe who met Memphis' Dillon Brooks at the summit for a monster block. A successful challenge confirmed that yes, it was indeed a poster.
Honourable Mention: VanVleet v MEM, VanVleet v IND, Siakam v IND,
The Pinky – The Unsung Hero – Key Contributor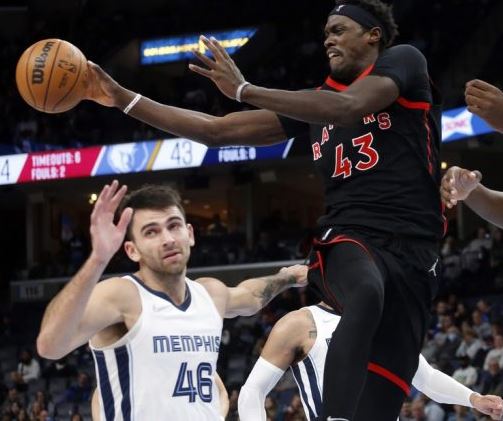 Pascal Siakam
Pascal has been the subject of unwarranted online criticism. Such is the fate for many max contract players who don't immediately live up to expectations. The reality is, Siakam is slowly rounding into form. Points don't tell the entire story, and though his ppg has taken a dip, he is still grabbing boards (team high 12 against IND), sharing the rock, and playing strong defense. When he does decide to shoot, he has been scoring with more confidence and has clearly improved his deep range. Siakam will continue to ascend, and he will lift his teammates in the process.
Honourable Mention: S. Barnes, G. Trent Jr. S. Mykhailiuk
News and Notes
Supporting the Dragon – The Raptors announced that guard Goran Dragic has left the team to tend to personal matters in his home country of Slovenia.
Around the League
Fisticuffs – The league had a few dust ups over these past few weeks but none more eyebrow raising than the one between LA's LeBron James and Detroit's Isaiah Stewart. While battling for rebounding position, LeBron swung his arm into the face of Stewart busting the young big man open. Stewart was bleeding everywhere and was all kinds of heated. He spent a good 20 minutes trying to get at James. For the beef, LeBron was giving a game suspension, while Stewart had to sit for 2.
Bad week for the King – LeBron James knocked down a big triple against the Pacers and broke out the VanVleet big ball dance. And just like the Toronto guard, LeBron was hit with a $15000 fine.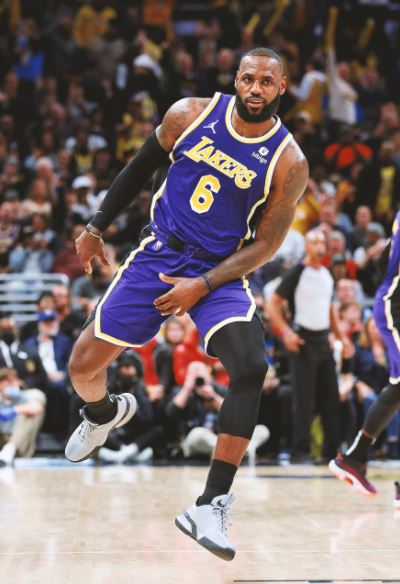 Freedom – Boston's Ernes Kanter is set to become an American citizen. Upon doing so, he will be changing his name to Ernes Kanter Freedom. Kanter has been an avid advocate for human rights and continuously voices his opinions on talk shows, social media posts and even with the shoes he wears.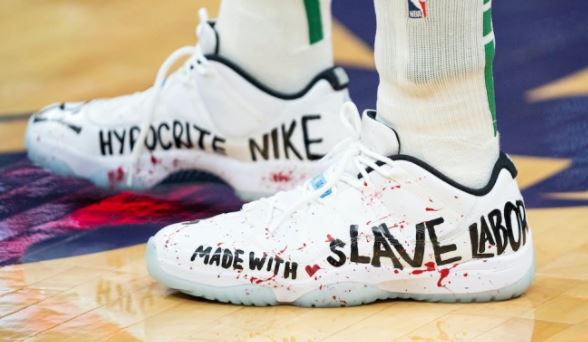 Rip the dancefloor – Congrats to Iman Shumpert who became the first former NBA player to win Dancing with the Stars. Iman may have gotten some help from his wife Teyana Taylor who is a dancer and choreographer, his performances were electric.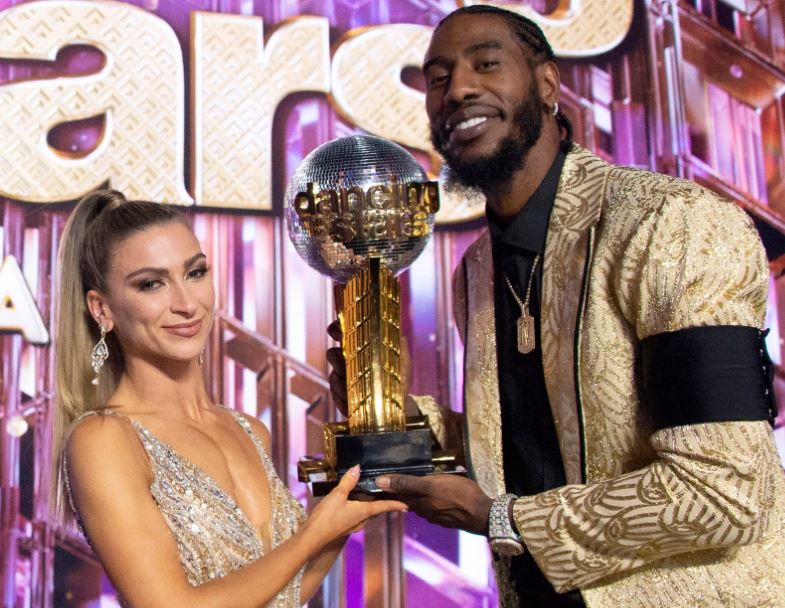 Up Next
The Raptors continue their home stand with a Tuesday night rematch against the Memphis Grizzlies. The Grizz took a big hit when they lost their All-Star guard Ja Morant due to injury. On Thursday, the Raptors get their first taste of the defending champions, the Milwaukee Bucks. They wrap up their week with a Sunday night game against the Washington Wizards.