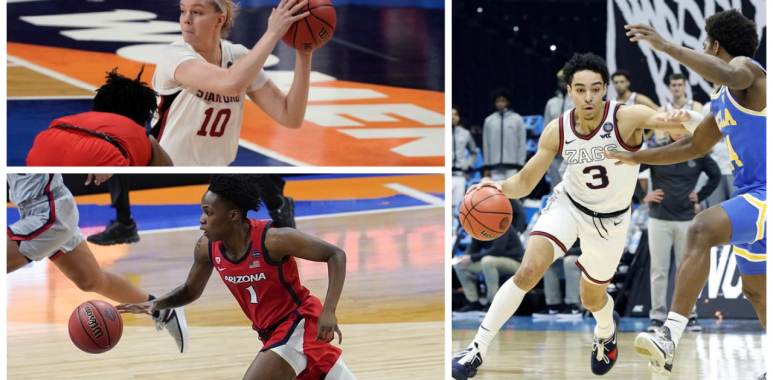 Canadian Final Four Recap: Jerome and Stanford are champions while Pellington and Nembhard come up just short
Well, we knew at least one Canadian would leave the men's and women's final four a champion thanks to all four women's teams having one. The fact that the one Canadian was Alyssa Jerome as a member of the Stanford Cardinal was surprising though. 
Congratulations to Canada's @alyssjerome on a National Championship! #WFinalFour pic.twitter.com/ljNt0XOFiV

— Mark Bayne (@bayner) April 5, 2021
Jerome played an important role off the bench in the Cardinal's first championship since 1992, ending her senior season in style. On the other side of the court, Arizona's Shaina Pellington put on a show for the tournament cinderella Wildcats. 
Shaina Pellington is making things HAPPEN 🔥

The Canadian makes it a five-point game 🇨🇦pic.twitter.com/hPOaaZq6eO

— CBC Sports (@cbcsports) April 4, 2021
The Pickering Ontario native was a key bench contributor all season for Arizona, helping them reach the championship game in a surprising run that included the upset of heavily favoured Connecticut and Canadian Aaliyah Edwards in the semi-finals. Pellington saved her best game for the championship, dominating off the dribble with 15 key points that were integral to keeping the Wildcats in the game.  
ANDREW. NEMBHARD. ICY. ❄️ pic.twitter.com/MyRt0fE1iX

— CBS Sports (@CBSSports) April 4, 2021
Unfortunately for Pellington and her signature performance, it just wasn't quite enough to complete their run with a championship. 
As for the only men's participant, Andrew Nembhard, his Gonzaga team fell short of their undefeated season. After an all-time national semi-final against UCLA that featured an iconic buzzer-beater from Jalen Suggs to end overtime and the biggest shot of Nembhard's career in that same overtime, the Zag's came out flat against Baylor in the championship game.
In a matchup between the best two team's all season long, it was clear early on that on this night, only one of them had their best stuff. Unlike his brother Ryan who captured a national championship at Montverde earlier in the weekend, Andrew's team just didn't have enough. 
🇨🇦 ties in the NCAA Championship game tonight. The obvious @AndrewNembhard but my guy @graymatt_ a grad assistant with @BaylorMBB has spent time with @CanBball over the years, even training Nemhard in the summers.

Good Luck to both! #MarchMadness

— Jevohn Shepherd (@JevohnShepherd) April 6, 2021
Baylor taking home the title wasn't a complete loss for Canadian hoops though. Graduate Assistant and Canadian Matt Gray was a member of Scott Drew's now national champion staff for the Bears. 
It wasn't the weekend Candian Hoops fans expected but as always, March Madness delivered. I know for me, after losing it for a year, I'll never take it for granted again. 
Canadian Results
| | | | |
| --- | --- | --- | --- |
| Name | School | Final Four | Championship  |
| Laeticia Amihere  | #1 South Carolina | 18 minutes, 6 points, 6 rebounds and 2 assists in a loss to #1 Stanford | Out |
| Aaliyah Edwards | #1 UCONN | 33 minutes, 8 points, 7 rebounds, 2 assists in a loss to #3 Arizona | Out |
| Alyssa Jerome | #1 Stanford  | 2 minutes, 1 block in win over #1 South Carolina | 5 minutes, 4 rebounds, 1 assist in a win over #3 Arizona |
| Andrew Nembhard | #1 Gonzaga | 42 minutes, 11 points, 8 assists in win over #11 UCLA | 39 minutes, 9 points, 4 rebounds, 4 assist in loss to #1 Baylor  |
| Shaina Pellington | #3 Arizona | 7 minutes, 2 points, 2 rebounds, 3 assists in win over #1 UCONN | 30 minutes, 15 points, 7 rebound, 3 steals in a loss to #1 Stanford  |