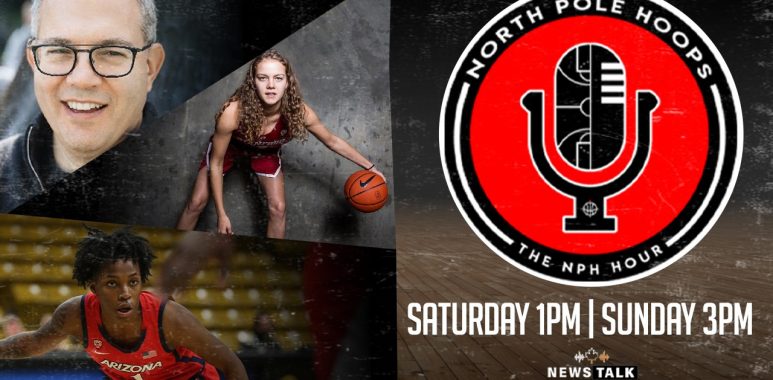 High school
NBA
NCAA
Raptors
Team Canada
USPORTS
Women
The North Pole Hoops Podcast is Here!
Today is a special day for North Pole Hoops and Canadian Basketball.
At 1 PM EST,  through the Airwaves of Sauga 960AM, the NPH Hour debuted. Now, you can catch the entire show on our YouTube channel.
It will also re-air Sunday on Sauga 960AM at 3 PM EST.
In the debut episode of @NPHShowcase Hour on @sauga960am host @_jasonthom talks to @alyssjerome of the @NCAA Champion Stanford Cardinals and @Shainap_14 of the Arizona Wildcats. Also, a chat with a doctor on the frontlines! Tune in!! 🎙 @nphscouting @canbball @ASPphysician pic.twitter.com/GekVRqqQxW

— @Sauga960AM (@sauga960am) April 9, 2021
In this episode, host Jason Thom opens the show with a monologue on where basketball in this country currently finds itself thanks to COVID-19. Then, Thom is joined by Dr. Andrew Morris, a Professor of Medicine at the University of Toronto and the Medical Director of the Sinai Health System-University Health Network Antimicrobial Stewardship Program. Dr. Morris is an infectious disease specialist.
More than just a doctor, Dr. Morris is also a longtime basketball coach in the community. Together Thom and Dr. Morris talk COVID-19, its impact on the basketball community and when we could see some return to normalcy.
From there Thom takes us on a journey to the NCAA Women's Basketball Final Four.
First being joined by newly crowned National Champion and also one of Dr. Morris' former players, Alyssa Jerome. In the show, Jerome talks about her journey to Stanford, their season, Canada Basketball and more.
Finally, Thom got to talk to Shaina Pellington of the Arizona Wildcats. Pellington stole the hearts of Canadian hoop fans with her 15 point performance in the national championship game against Jerome's Cardinal.
In this interview, Pellington reflects on her journey to Arizona, the difficulty in her transfer from Oklahoma, her strength to fight against racism and homophobia and much more.
It's a jam-packed episode to launch the NPH Podcast and you can find it all here: