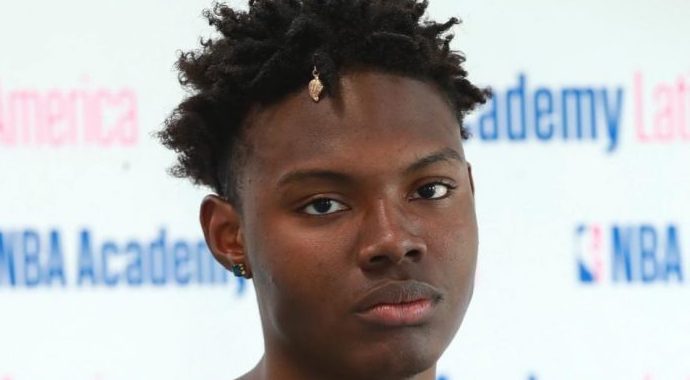 Montreal's Tre-Vaughn Minott commits to South Carolina…
Tre-Vaughn Minott has committed to the South Carolina Gamecocks after landing in S.C. late Thursday afternoon to join his new program for second semester.  Minott received his clearance from the NCAA and enrolled in the school on Wednesday the same day the Gamecocks started SEC conference play with a convincing win against Texas A&M.
"This is a great opportunity and I'm excited to be down in Columbia putting in the work with their great coaching staff," said Minott.  "Above all, I want to get better and help this team win a championship."
The Montreal big man is the 7th ranked player in Canada in the North Pole Hoops' 2021 rankings and had spent the last year-plus at the NBA Academy in Mexico City but spent some time back home in Quebec during the current Covid-19 pandemic.  At 6'10 241lbs he looks to make an immediate impact as he joins a program with a history of Canadian success stories including the team's current leading scorer AJ Lawson who competed against Minott in their days in the National Preparatory Association.
Minott started his high school career with the Saint Laurent Express under now retired Head Coach Akram Sleiman before moving onto the Champlain Cavaliers program led by Head Coach Dan Martin.  He also has represented Canada in age group competitions and is primed to make an impact at the next level
It's a perfect situation for the soon to be 20-year-old Minott who will not use up a year of eligibility due to NCAA rule changes related to the coronavirus.  Minott knows there is lots of work ahead of him to reach his ultimate goals but is ready for the challenge.
"I want to be up there with guys like Joel Embid. Reviving the form of the traditional big is something I take on as a challenge. I don't want it to die. It's a part of me and what makes me the player I am," Minott said in an interview for an article on North Pole Hoops back in August Tre-Vaughn Minott, Next Big One From Montreal.
Minott is another in a long line of players from the province of Quebec that are making an impact south of the border both in the high school and post secondary ranks and it is a wave that is only going to get bigger.
(Flashback to a much younger, raw Tre-Vaughn Minott matched up with current University of Northern Colorado big man Kur Jockuch and Drake University's Okay Djamgouz in Season2 of the National Preparatory Association)