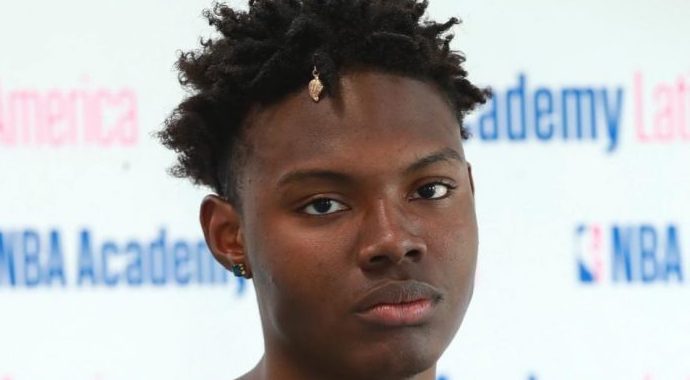 Tre-Vaughn Minott, Next Big One From Montreal
Are you keeping count of the talented Canadians coming out of Montreal? The numbers continue to surge as they further establish the hotbed in Canada. Putting on for Montreal, Quebec this time is near 7'0 Tre-Vaughn Minott.
Minott sits at the number 7 spot within the top 10 of North Pole Hoops' National Player Rankings.
The big man has had his share of high level experience with the Canadian National Team, the NBA Academy Latin America and before leaving home, with St-Laurent during their year in the National Preparatory Association in Canada and at Champlain in the CEGEP league.
Minott finds credence in the productivity of this recent season with the Academy and hopes to be invited to the NBA | FIBA Basketball Without Borders Global Camp in 2021. His frame of mind falls in line with a lot of the pros and high major college prospects we've been around.
Big T-V pointed out, "When I arrived at the Academy, I knew I was in a special place and I couldn't remain complacent."
He continued, "If I'm not better than yesterday than I didn't do something right. A lot of people around me in my inner circle have told me for years that I could be a special player and now I'm seeing it in myself.
There was a game last summer where Rutgers commit Cliff Omoruyi and Minott matched up and Minott had 20 plus points . It was the battle of the summer for the Canadian guys that were being tracked for the North Pole Hoops scouting team. It was during that particular game that Minott's confidence shot up.
He has started to hear from the likes of Providence, Tulsa, Dayton and SMU. New Mexico and ASU have also reached out.
"Clemson is always a school that I've liked," were T-V's words when asked if he had a dream school. It's a team in the ACC that he can see himself contributing for as they climb in the conference.
"Wherever I go to school it needs to be somewhere that needs me and not wants me. If I'm going to continue on this path I need game reps against high competition."
There's a strong sense of maturity and being able to analyse between hype and what has substance. He knows where his game is at now and knows that there's a long road ahead. Having a sense of identity is one thing that will keep him on the right path.
"I want to be up there with guys like Joel Embid. Reviving the form of the traditional big is something I take on as a challenge. I don't want it to die. It's a part of me and what makes me the player I am."
Minott is eager to get back to the NBA Academy in Mexico, however as it stands due to COVID-19 numbers in Mexico, he is at home training and keeping his body in tip-top shape. There's no certainty as to when the team is getting back together but Minott is excited to take on the challenge and handle the pressure of being the face of the program.