Elias Sbiet Moves on to Next Level, Hired as Basketball Player Agent by Tandem Sports + Entertainment/You First Sports
North Pole Hoops is excited to announce NPH President & Director of Basketball Recruitment Elias Sbiet has accepted a position with Tandem Sports + Entertainment/You First Sports as a player agent.
Tandem/You First is ranked as a Top-20 sports agency in the world, and represents players including 2019-20 NBA Rookie of the Year Ja Morant, Brooklyn Nets center Jarrett Allen and NBA Champion Serge Ibaka.
Over the last decade, Sbiet helped build North Pole Hoops into a leader in Canadian basketball, and as the Director of Basketball Recruitment, brought global credibility to the NPH scouting department.
"I'm so fortunate to have been involved from the foundation level all the way up in this operation," Sbiet said. "To have a hand in molding NPH and the careers of student-athletes has been truly the most gratifying. There was a clear void that needed to be filled in Canada and it was based on the needs of student-athletes at that time. Fast-forward to now, they have it all."
Entering this season there are 20 Canadians in the NBA, which is second only to the USA.
This move for Sbiet is a natural progression as his role with NPH over the last decade has been heavily involved with mentorship, guidance and helping high school student-athletes transition to college.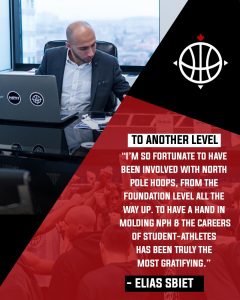 "There were other groups that approached me, but this was the group that I connected with most based on moral compass, level of professionalism and ability to get the job done at the highest levels."
"I haven't met the entire team yet considering the times we're in, but everyone I've spoken to virtually echo the same vibe and collaborative approach. We all understand that it's a player run industry and that the player always comes first."
In his new role as a professional basketball agent, Sbiet will utilize his talent and skill set to help manage the careers of the country's rising stars with values of diligence, sacrifice, and being committed to the growth process at the forefront.
"On behalf of the NPH family, I'd like to congratulate Elias on taking this step in his career," stated North Pole Hoops CEO Tariq Sbiet.
"It's bittersweet. I couldn't be more excited for Elias, as a brother, and partner for the last 10 years."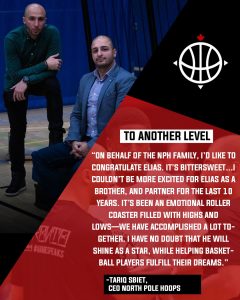 "It's been an emotional roller coaster filled with highs and lows—We have accomplished a lot together. I have no doubt that he will shine as a star in his own right, while helping basketball players fulfill their dreams."
Canadian basketball is truly only scratching the surface, despite the progress this sport has made in the last 10 years.
Witnessing the excitement and inspiration at the grassroots level that the pros have provided, there is tremendous ground to cover to create more opportunities coast to coast. As a result, the NPH scouting department has expanded with personnel.
"You can't replace somebody like Elias…he has put his heart and soul into this company," said Tariq."It will be a collective effort with a combination of bright, young talent, mixed with veteran leadership."
Elias will be eyeing the 2021 NBA Draft, while also working with professional players in the NBA and overseas.
While NPH has witnessed 10 straight years of Canadians drafted to the NBA, this company is proud to graduate one of its own to the next level.