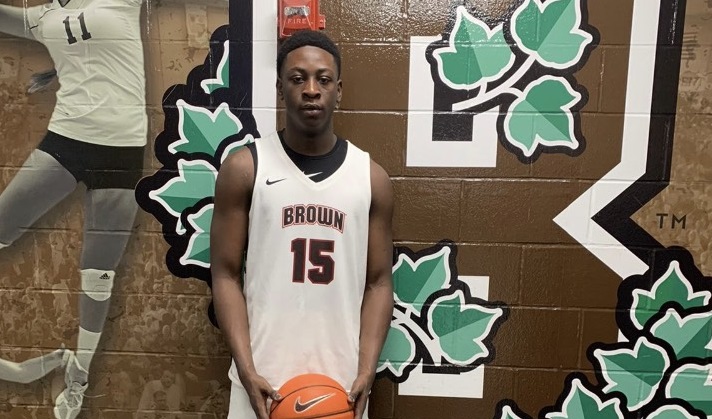 Nana Owusu-Anane Canadian Forward Commits to IVY League's Brown University
When you find the right fit you just know. That's the feeling Nana Owusu-Anane got when he made the decision to commit to the Brown Bears of the IVY League.  This Burlington, Ontario product sparks another wave of talent reigning from what is known as the Golden Horseshoe, in the province of Ontario. Jamal Murray, Simi Shittu, Ignas Brazdeikis, Abu Kigab and other Canadian pros and college players come from this region.
The Brown staff has high hopes that he will come in and play a very versatile role for the Bears since Owusu-Anane has the physicals, IQ, athleticism to guard all positions. Offensively, from the 3-5 spots he is working on securing a bag of skills to hone in on over the next few months before basketball resumes.
Prior to making the decision Dartmouth, East Carolina, College of Charleston and Duquesne were the schools left to choose from once he had cut his list. More than 25 schools had inquired and were looking to have him on their roster for the 2021-2022 season.
Owusu-Anane commented on his choice in a phone interview today.
"It was the best blend of academics and athletics. Coach Antone Gray spent a ton of time and effort recruiting me and made sure I knew everything I needed to know about the school, as that's important to my family. From a basketball standpoint I had watched enough film to understand where I could fit and how I can impact the team."
His prep school Coach Alexander Popp believes he can impact the game as a freshman based on the following.
"His defensive intangibles, good combination of hands and feet and communication. His ability to vocalize and communicate. His offense is catching up, but he can hang is hat on his defense as of now. He'll be able to find himself opportunity to get experience right away.
In continued conversation with Owusu-Anane he dove a little further into what the Brown coaching staff and coach specifically Head Coach Mike Martin saw in him.
"They placed emphasis in my versatility through the recruitment process. My role would be a huge one and both ends."
In the meantime, the Canadian 6'9 forward has expressed that his job at the prep level is not yet complete. His competitive nature came out when he began speaking about the upcoming season, or what's going to be left of it post COVID-19. The intense competitive side is an area that has shown throughout his career and is the type of attitude that can help Brown continue climbing from the middle of the pack in the IVY League.
"Our team wants to win a NEPSAC championship. I'd love to leave on a high note. There's tough competition in the league so its no easy task.