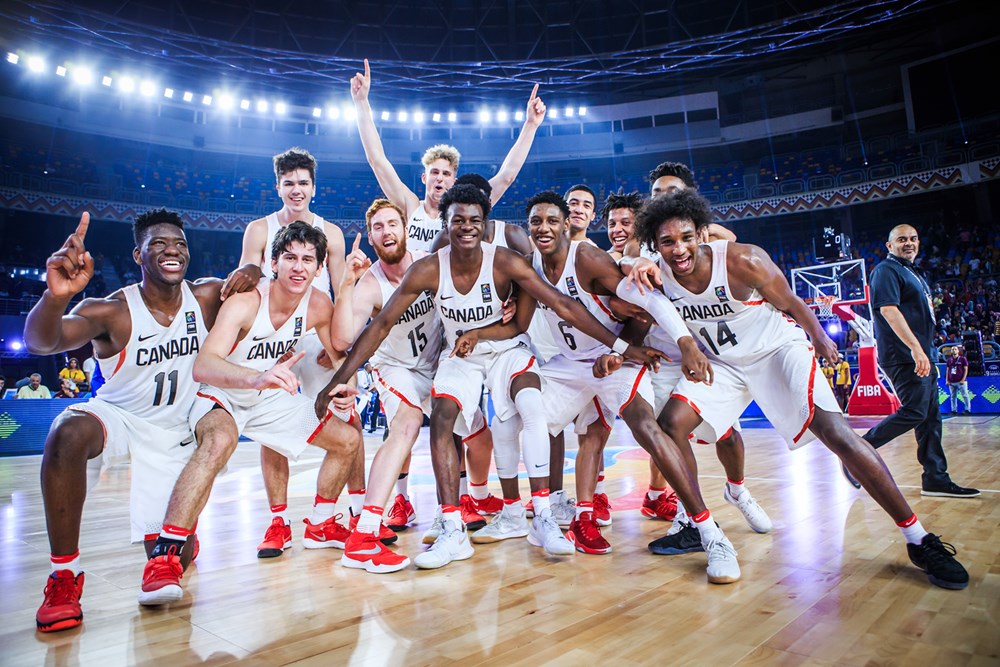 High school
Junior Team Canada
Team Canada
The Team That Put Canada Basketball On Top of the World
The last few months seems to have changed the definition of time.
To think about how much has happened in just the first six months of 2020 is staggering.
So I guess it should come as no surprise when I say with disbelief that it has been a full three years since Canada's U19 Men's Basketball team travelled to Cairo, Egypt and shocked the world.  A team comprised of under-celebrated players left their home country in the days leading up to Canada's 150th birthday and returned home with out first FIBA gold medal in an international competition, ever.
What is surprising to me is how it seems like this accomplishment has been forgotten.
Or, at the very least, undervalued.
This gold medal was the proof that Canada Basketball's focus on strengthening the age group programs was working, albeit, in waves.  Sure Canada was still coming up short to the powerhouse USA but we were definitely gaining ground on our european counterparts.
It became evident at first back in 2010 when another Roy Rana coached squad brought the bronze medal home with them from the U17 World Championship for Men in Mannheim, Germany.
But a gold medal?  In a worldwide competition?  Where we also played (and beat) the United States of America?
Impossible.
That's the way it seemed during the training camp I attended at the University of Toronto's Mississauga campus in the weeks before their departure overseas.
Expectations were never talked about publically but there was a feeling within the team and staff that anything less than a podium finish would be considered a disappointment.
But a first place finish?
Doubtful.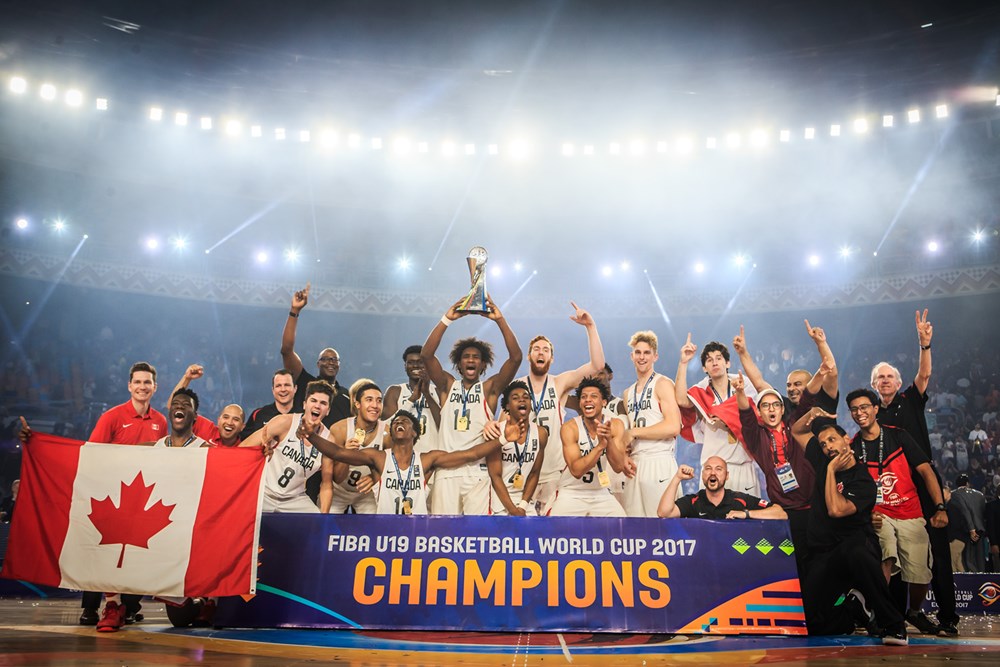 Courtesy: FIBA.com
Per usual, much of the talk surrounding the team was about who wasn't participating in the event.  But the coaching staff focused on putting together the right mix of personalities both on the court and on the bench.
Rana was joined by his protege Jamie McNeilly who is now one of the NCAA's top up-and-coming coaches under Buzz Williams at Texas A&M.
Dr Paul Weir made his Canadian National Team debut and could now go down as the most succesful coach in international competition if he decides to now focus solely on his NCAA head coaching duties (hard to top a 6-1 record and a gold medal, right?)
Mike Meeks provided the same sort of rock solid assistance that he brought as a defensive anchor in his playing days.
While mentor coach Steve Konchalski was there to share the knowledge he had gained through his decades of work that has earned him the title of Canadian basketball coaching royalty.
And University of Manitoba Head Coach Kirby Schepp was there to provide his expertise despite the fact that he was not able to make the trip overseas due to surgery on his knee.
Last but not least, the support staff of James DePoe and Krisjon Vargas who were so much more than a training staff to both the staff and the players having built relationships with so many of them for years prior to the event.
But it was on the court where the intrigue lied.
RJ Barrett was the team's go to scorer despite playing against competition almost a full two years older after turning 17-years-old literally on the eve of training camp.  Those that knew RJ since he was a child knew what he was destined for, but no one knew for sure that the biggest stage he had ever played on would also serve as his coming out party as the Most Valuable Player of the tournament.
Most interesting was the pairing of Barrett with the brash, yet endearing swagger of the fiery Abu Kigab.  The St Catharines native was one of the team's oldest and most important players but was still coming into his own as a true leader.
Anytime you get a group of teenagers together for just a few weeks to buy into something bigger than their individual selves is a tough thing to ask.  But the close relationship between Barrett and Kigab would serve as an integral focal point of this team and the way their skills complimented one another would truly be special throughout the tournament.
This team was also the first opportunity for the world to see what many in Canada already knew: Atlantic Canada has some ballers!
A year prior, Nova Scotia had ended a 30yr drought by winning the U17 Canadian National Championship and this U19 World Cup squad had two players that were going to have to play huge rules in order for the team to find success.  (spoiler: they did just that)
In hindsight, the tournament was a launching pad for both of these Atlantic provinces products.  Last year Darling led all Canadian-born NCAA players in scoring with the Delaware Blue Hens (21 ppg) while Wigginton opened eyes at both the NBA Summer League and NBA GLeague before beginning his international career in Israel.
But much like the NBA Champion Raptors (who were still a few years away from forming) what made this team special was the depth, versatility and unselfishness of every player on the roster.
Emanuel Miller probably had the largest upside of any player on the team not named RJ due to his ability to lockdown players one-on-one while making a positive impact on literally every aspect of the game.
Danilo Djuricic was on his way to Harvard with a mental game and basketball IQ that was very much beyond his years.
Noah Kirkwood (now at Harvard alongside Djuricic) was entering his prep year was probably Canada's best kept secret and able to play spots one through four on the floor.
While Grant Shephard, Jordan Henry, Anthony Longpre, Prince Oduro and Amidou Bamba rounded out a collection of players that left Canada not knowing what was ahead.  And returned a member of a team that will forever go down in Canadian basketball history.
Follow along on the North Pole Hoops Instagram account starting on Canada Day as we start up a game-by-game lookback on the march towards a FIBA World Cup gold medal that almost nobody saw coming.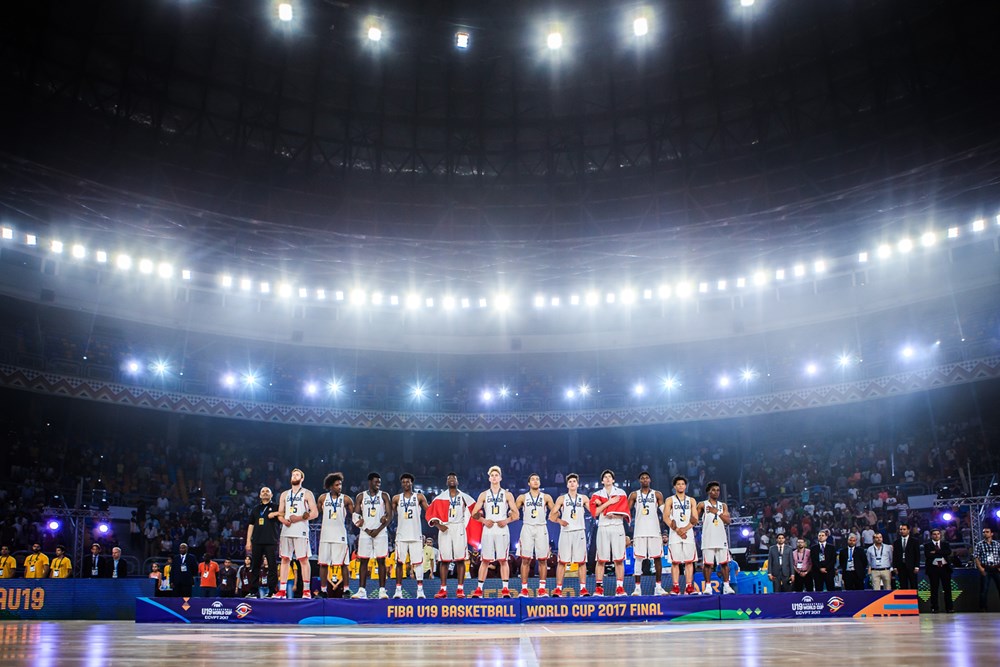 Courtesy: FIBA.com