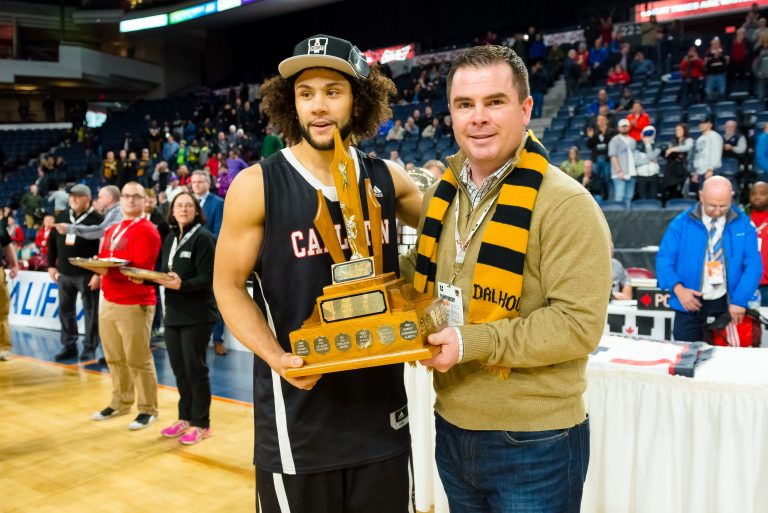 The Paradox of Basketball in Canada – Going Further by Coming Home
Photo Courtesy: GoRaven.ca
We've all been there.
Spending hours shooting in the driveway, playing outside until the lights went out. Practicing what we just saw on TV and picturing ourselves on the court. Imagining that "this is my Last Dance."
For many Canadians growing up in the early 2000's, the goal was to become the next Vince Carter. We all wanted to fly like Vince, stick our arms in the rim like Vince, and play for the Raptors – just like Vince.
And it goes without saying, becoming the next Vince Carter could never be possible if we didn't first make it to a Blue Blood. Taking college visits, committing to an elite program, and playing in front of thousands of screaming college fans was all a part of the process. Just as long as it wasn't in Canada. Becoming a professional basketball player just didn't seem possible if the color on your jersey was Varsity Blue and not Carolina Blue.
That said, what may have been true 20 years ago no longer holds. With the remarkable rise in talent, advent of elite prep schools across Canada, and the recently founded CEBL, Canada now has all of the pieces needed for elite players to pursue a career in basketball within our borders.
And this is becoming more and more evident to Canadian players; this year alone, a record 16 players have transferred from D1, D2, and JUCO schools to come back home and play for U Sports programs. 
NCAA –> U Sports
| | | | | | |
| --- | --- | --- | --- | --- | --- |
| Name | Commitment | Level | Previous Program | Hometown | Commitment Date |
| Mychael Paulo | McMaster | USPORTS | Montana State (NCAA DI) | Etobicoke, ON | May 28, 2020 |
| Tyrese Potoma | Saskatchewan | USPORTS | Cleveland State (NCAA DI) | Regina, SK | May 14, 2020 |
| Josh Inkumsah | Ottawa | USPORTS | Purdue Fort Wayne (NCAA DI) | Barrie, ON | May 13, 2020 |
| Brandon Kenyon | McMaster | USPORTS | IUPUI (NCAA DI) | Caledonia, ON | May 13, 2020 |
| Antoine Vernon | St. Francis Xavier | USPORTS | Oregon State (NCAA DI) | Hamilton, ON | May 11, 2020 |
| Jevon Brown | Brock | USPORTS | Binghampton (NCAA DI) | Toronto, ON | Apr 22, 2020 |
| Jeremiah Usiosefe | St. Francis Xavier | USPORTS | Western Illinois (NCAA DI) | Hamilton, ON | Mar 6, 2020 |
| Daniel Cummings | Carleton | USPORTS | Tennessee State (NCAA DI) | Toronto, ON | Jan 8, 2020 |
| Alex Comanita | York | USPORTS | Northwestern State (NCAA DI) | Toronto, ON | Dec 19, 2019 |
D2 –> U Sports
| | | | | | |
| --- | --- | --- | --- | --- | --- |
| Name | Commitment | Level | Previous Program | Hometown | Commitment Date |
| Jusuf Sehic | Thompson Rivers | USPORTS | Simon Fraser (NCAA DII) | Burnaby, BC | Apr 6, 2020 |
JUCO –> U Sports
| | | | | | |
| --- | --- | --- | --- | --- | --- |
| Name | Commitment | Level | Previous Program | Hometown | Commitment Date |
| Jalen Sykes | Windsor | USPORTS | St. Clair College (JUCO) | Michigan | Jun 4, 2020 |
| Kenny Chambers | UPEI | USPORTS | North Arkansas (JUCO) | Missouri | May 29, 2020 |
| Diew Moses | Lethbridge | USPORTS | Southeastern (JUCO) | Calgary, AB | May 13, 2020 |
| Marquavian Stephens | Saskatchewan | USPORTS | Southwestern College (JUCO) | Michigan | May 9, 2020 |
| Jevon Westcarth | Lakehead | USPORTS | Jacksonville CC (JUCO) | Ottawa, ON | Apr 20, 2020 |
| James Woods | Calgary | USPORTS | Central Wyoming (JUCO) | Surrey, BC | Mar 21, 2020 |
*transfer lists as of June 16th, 2020
From the outside looking in, the move back to Canada could be misperceived as a player simply realizing that they made the wrong choice by opting for the American post-secondary route. But this is rarely the case. In reality, student-athletes are oftentimes realizing that the best way for them to achieve their long-term goals involves taking a step-away from the higher level in the short term.
It also helps that now there are successful case studies to look at, such as Kaza Kajami-Keane. 
And his  resume speaks for itself: back-to-back U Sports titles; Final 8 MVP; NBA G-League Finalist; playoff MVP for the championship team of the top pro league in the Netherlands (the DBL) and a key piece to Canada's Senior Men's National team that went 10-2 during the FIBA World Cup Qualifying windows.
His basketball journey has taken him from Ajax to Germany and everywhere in between. Despite this, Kajami-Keane credits his decision to transfer to Carleton University from Cleveland State (after initially playing at Illinois State) as the biggest reason why he's playing professionally today.
TRANSACTION ALERT: The @ott_blackjacks have signed @CanBball SMNT guard, @KazaKeane10. He averaged 12.7 points, 3.7 rebounds,
4.5 assists, 1.7 steals and 24.9 mins in 111 games played as a pro in Germany, Netherlands and the @nbagleague.#OurGame
Details: https://t.co/nrS6bGhs7E pic.twitter.com/6UDZ0hNg43

— CEBL (@CEBLeague) June 11, 2020
"There's no doubt that going to Carleton is probably what's helped me the most as a pro", says Kajami-Keane.  "At Carleton, we were taught to do the little things. To get little advantages that over time lead to big advantages. When you're playing professionally, everyone is so talented so the little things make all the difference."
Given Kajami-Keane's success today, it's hard to imagine that at one point just a few years ago, he was considering to stop playing for good. Today, the Ajax native is often the first to admit that in addition to reinvigorating his play on the court,  his time as a Raven had an equally large impact off the court.
"Coming back to Carleton helped me grow a lot as a person," says Kajami-Keane . "I was spending a lot more time in the library, academics were a very big part of our lives – the coaches instilled in me that there is more than basketball. They genuinely cared about developing leaders off of the court."
With considerably less regulations on when and where its players can play, U Sports also allows players and coaches to train together as much as they'd like during the off season. As a D1 athlete, Kajama-Keane  and his teammates at both Cleveland State and Illinois State weren't able to receive more than 1 hour of dedicated coaching a week during the summer. Coming back to Canada, the player credits his summers with his team practicing, playing in open gyms, and receiving physical therapy as a key component in his development.
Kajami-Keane's path is one that has been replicated since, with the Carleton being the destination for many of the best student-athletes that are "bouncing back".  But what about players that have landed at a different U Sports program? Many have achieved similar success.
On the West Coast, Jadon Cohee's journey may have included different schools, but has led him to a similar outcome – a professional career in one of the world's top leagues. Coming out of high school, Cohee didn't consider many Canadian schools during his recruiting process. Like many of the top players coming out of our country, it was NCAA or bust for the star player coming out of British Columbia. Cohee would go on to play two seasons at Seattle University, after which he sat out a year to transfer to Southern Utah University. After a strong outing in his first year at Southern Utah, Cohee had over 40 offers to finish out his eligibility at another D1 program.
After coming off a series of injuries, Cohee understood that his last few years as a collegiate athlete would be pivotal in achieving his professional aspirations. The school he went to was more than a name. His decision was made on coaching, the style of play, and his ability to rehab his body.  And his decision was one that surprised many; despite fielding offers from top D1 schools like Louisville and Oregon, Cohee chose to return home to play at the University of British Columbia.
"In my mind, UBC was the best school for me to transfer to, for a lot of reasons", says Cohee. "For starters I knew Coach Hansen and knew that he would work with me better than any other coach. He helped me break down the game to another level, helped me see the game in a different way."
And like Keane, Cohee's development as a player was matched by his growth as a person.
"My time at UBC really taught me how to be a leader, how to communicate, and how to change my message depending on who I'm talking to," Cohee states. "It forced me to learn how to get the best out of my teammates."
It doesn't stop there.
"I learned what it means to be a pro at UBC. I was dissecting film, learning from elite guards all over the world, and getting the right medical attention. A lot of this is similar to what I'm doing today."
Elias Sbiet, Director of National Scouting for North Pole Hoops has been on both sides of the table. He was there to witness the initial uptick of Canadian players leaving home to play in the United States. Now, he's seeing the trend reverse with more and more players deciding to come home to play instead.
"One of the things that has surprised some people is that these players aren't just coming back and dominating. They are actually coming back and getting a lot better. They're improving themselves." says Sbiet.
"At the end of the day, the players that are serious about the game have to look at the intangibles and not just a school's name. Are you going to a team that plays your style? Does the coaching staff truly believe in you and will they dedicate the time needed to help you  develop?"
For the RJ Barrett's and Jamal Murray's of the world, sure that can happen at the Duke's and Kentucky's. Unfortunately, those examples are few and far between. The average collegiate player most likely won't go pro and because of this, should consider factors that go beyond the school's brand.
Having played in both the NCAA and U Sports, Kajami-Keane has a unique vantage point on what both leagues can offer.
"What I would tell players that are deciding between the two is this: don't knock anything before you see for yourself. If you're going to a low major that has okay academics, but you have an offer from McGill, go take that offer. Because once you're done playing that degree will mean something for the rest of your life."
With the lines between Canada's elite schools and mid-major NCAA schools becoming increasingly blurred, Sbiet believes more and more players will be making the jump back to Canada.
"Next season I anticipate even more prospects coming back to U sports. The grass was not greener on the other side."
Now the question becomes, will the preference to play in the NCAA over U Sports ever change? In all fairness probably not, and we're not saying that it should.
The NCAA is an incredible platform and at the highest level, the world is your oyster. That said, we don't believe that the NCAA is always a better option than U Sports. And we think the gap is a lot closer than it looks. Today, the bridge between Canadian Prep schools and professional basketball no longer needs to run through the US, the entire process, end-to-end, can happen right here at home.