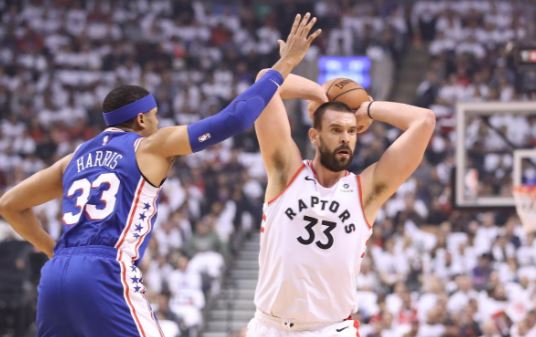 Raptors Playoff Recap – Round 2 – Game 2 – The High 5 – PHI 94 @ TOR 89
The High 5 is where I give my reaction to the night's games. This includes a look at the players who made a difference in the outcome and some unique details that caught my attention.
The Thumb (Story of the Game)
The Toronto Raptors were looking to take control of their second round series with another win against the Philadelphia 76ers on Monday night. Philadelphia made some shrewd adjustments between games and came out with a fantastic defensive effort. They were always aware of Kawhi's presence, they were diligent in their close outs and they relied on their length and athleticism to chase the Raptors out of their comfort zone. Coach Brown used his time outs well and called for subs whenever there was a break in the action to slow the tempo, stunt any Raptor momentum and to ensure that his defense was always set. This strategy hindered Toronto's ability to get their offense going which resulted in an uninspiring first half. Coach Nurse must have torn a strip off his team because Toronto came out for the third with renewed energy and attention. Within minutes, they had whittled Philadelphia's lead down to a single point. However, early in the fourth, the Raptors were let down by their bench who couldn't match the production of Philly's reserves. They were also hilariously out rebounded for the game, missed some wide-open routine shots and hurt their own cause by picking up a couple of technical fouls. Some may argue that Toronto was victim to a cruel (inconsistent) whistle, but the reality was the Raptors played terrible. Despite their poor effort, the Raptors still had a chance to tie with seconds on the clock. Off a broken play, the ball somehow found its way to Toronto's best shooter, Danny Green, for a clean look but his shot rimmed out. Philadelphia mucked up the game enough to scrap their way to an ugly win and steal home court advantage.
Philadelphia 94 Toronto 89.
The Index (The Leader)
Pascal Siakam faced his toughest defensive opposition of the post season as the 76ers stayed glued to the young forward, keeping him from breaking out for another big game. Aside from putting Embiid in the spin cycle early, he had to work hard for every point. Pascal gritted his way through a poor shooting night, only hitting 9 of his 25 shots for 21 points. Siakam had 7 rebounds, 3 assists, 4 steals and a block. Siakam went through some growing pains tonight, but to his credit he did not give up and seemed to get better as the game went along. Pascal no longer has the benefit of flying under the radar and will have to step his game up under the spotlight.
The Middle (The Enemy)
Ben Simmons played an excellent game. His stat line may not show it, but his game high 44 minutes reflects how his Coach felt about his play. However, tonight the enemy credit goes to James Ennis III. Ennis was pivotal for Philadelphia's bench and a key reason why Toronto's reserves were out played. Ennis scored 13 points, grabbed 6 rebounds, had 2 assists and a block. His scoring was unexpected, but it helped quell Toronto's momentum and his energy galvanized his teammates. Great game from the young forward.
The Ring (The X Factor)
Even with the added attention, Kawhi Leonard was still able to gut his way to another strong game. He fought through double and triple teams, struggled to find a rhythm from deep (3/10), but was still dangerous from the midrange. He put the team on his broad shoulders and carried the Raptors down the stretch with tough drives and And-1 finishes. Leonard led the Raptors with 35 points, 7 rebounds, 6 assists and a steal. This was a professional performance from Kawhi, he was the only reason why Toronto had a punchers chance to win the game.
The Pinky (The Unsung Hero)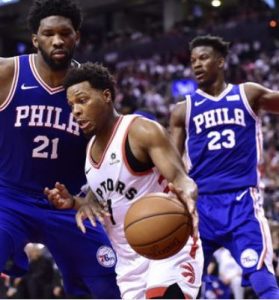 Kyle Lowry must be exhausted after grinding through a frustrating game. He was working the officials, selling contact and forcing the action to pressure them to make a call. This sometimes resulted in ugly misses and demoralizing blocks, but Kyle adjusted his play after realizing that the refs were not going to reward his theatrics. He stayed with is jumper and knocked down a few shots for 20 points to go with 5 rebounds, 5 assists and a steal. Kyle was huge down the stretch, he nailed two key three pointers to cut into Philadelphia's lead and fought hard until the final whistle.
Player of the Game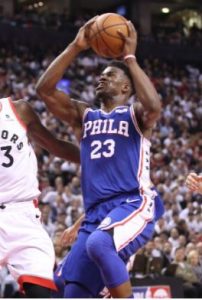 Jimmy Butler redeemed his poor Game 1 performance with a fantastic Game 2. With Embiid under the weather, he stepped up as Philly's best player showing off clutch shooting, timely three pointers and solid defense. Jimmy is great at using his body to protect the ball and force smaller defenders on his hip to set up his leaning jumper. He didn't shoot well (9/22) but still managed to lead the 76ers in scoring with 30 points. Butler also pulled down 11 rebounds, dished out 5 assists and blocked a shot in the win. This was a strong bounce back game for Butler, he is a dangerous weapon that the Raptors will need to control.
Game Notes:
Another Round for Milos! – Canadian tennis superstar Milos Raonic was in attendance to take in this game.
Bench Issues – The Raptors bench was demolished by the 76ers. Philly's reserves scored a combined 26 points compared to Toronto's 5. Woof.
Unsteady Freddy – Last year Fred VanVleet couldn't contribute due to injury, this year he is healthy but has been severely under performing. Fred gives up a lot on defense and if he isn't hitting his shots, he is a liability against the size of the 76ers.
Glasswork – The Raptors were decimated on the glass tonight losing the rebounding battle 53 – 36.
Where's the foul? – Toronto made 13 of 15 free throws, Philadelphia went 24 of 26.
Moose Sighting – Former Raptor Greg Monroe made an appearance to spell Joel Embiid and was excellent in his time.
The T-Shirts make sense – The Raptors released their second promotional T shirt for Game 2, this time featuring 5 different Raptor players including Kyle Lowry, Jeremy Lin, OG Anunoby, Malcolm Miller and Patrick McCaw.
The series now shifts to Philadelphia for Game 3 on Thursday night. Raptors will be looking to bounce back in what should be another highly competitive game.