If Stars Align, 2019 NBA Draft Could Feature Over 10 Canadian Selections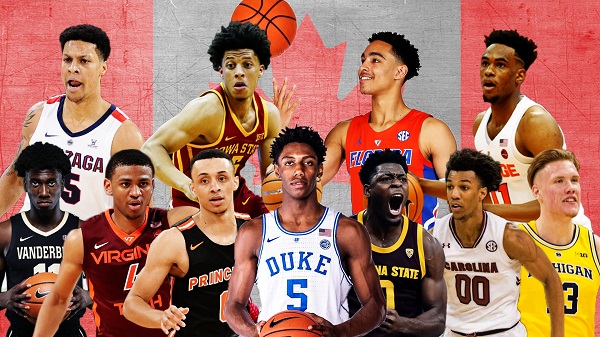 If stars Align, the 2019 NBA Draft could feature over 10 Canadian Selections.
Exactly how many will be drafted in June is to be determined, as its heavily based on production, along with team success. As we know, NBA careers can be made in as little as one game during the NCAA's March Madness tournament, due to the massive microscope this event demands.
Heck, there are names outside of the following 11, building cases, putting up considerable production in major conferences, that perhaps are popping up on the NBA radar for the first time.
As we've entered conference play in the new year, and team / player scouting reports are at a premium, it will be interesting to see which players slow down, and which continue to elevate production.
If you are looking at the glass half empty, then It could end up less than 10 selected from the North when its all said and done.
Regardless, a very special moment is upon us leading into June, and those in Canadian basketball circles understand what we're talking about.
The "Golden Age of Canadian basketball" will not be measured as just one moment in time, but a collection of elements taking place simultaneously, to help lead Canada to prominence on the world stage.

Take, for example, the record-breaking 133 players suiting up for men's NCAA Division-1 teams this season.
Then there is the NBA, where there are more Canadian players than any other country outside the United States.
And at the 2019 NBA Draft, there is a good chance we will see a Canadian selected first overall for the third time since 2013 (RJ Barrett).
The best part is, the projected numbers show things are trending up:
27 Canadians have been drafted in NBA history

18 of those have been drafted in the last 8 years
10+ potential picks in 2019 NBA Draft
This record-breaking draft class will be led by RJ Barrett, a FIBA U-19 World Champion, current Duke Blue Devil and widely expected to be the top pick in the next NBA Draft.
RJ's impact on the game here in Canada will eventually rival that of Drake's influence in hip-hop. The same way Drizzy shaped the mindset and culture for a city and country, Barrett will have the same impact on the sport as a whole in Canada. RJ will be shaking up the corporate world, and particularly in Canada, because even at the young age of 18, Barrett is a household name globally, and one that has the star power & personality to demand attention at the highest levels.
Yes, Canada is a hockey country, but RJ and this wave will show that there is room for basketball to co-exist.
We believe that Barrett will become a transcendent figure for Canadian basketball, on and off the hardwood.
What has been a guiding light for Barrett coming out of the great white north, is the road that has been paved multiple times before him. We at North Pole Hoops have categorized the Canadian NBA impact into eras, with Steve Nash spearheading the first wave.
The Steve Nash era, is coupled with what we are calling "the lost generation" composed of countless unrecognized individuals that came prior and have contributed to the game in a big way (more to come on NPH in the future).
Without knowing where we came from, it is impossible to truly understand where we are, and we are going, within this "Golden generation".
1.0 – Steve Nash – MVP Status –

The Lost Generation

2.0 – Tristan Thompson, Cory Joseph – Championships

3.0 – Jamal Murray, Shai Gilgeous-Alexander, RJ Barrett & 2019 Draft
Steve Nash has been the ultimate trailblazer for Canadian basketball reaching the highest heights as a back to back MVP.
Since Nash, a new milestone was hit with Tristan Thompson becoming the first ever Canadian lottery pick in 2011. Both Thompson and Cory Joseph shortly after became champions with the Cleveland Cavaliers and San Antonio Spurs respectively. In 2013 & 2014, 
More history was made with Anthony Bennett and Andrew Wiggins being selected as the first ever #1 overall picks from the North.
Enter the third wave.
A few years later, with the 7th overall pick in the 2016 NBA Draft, the Denver Nuggets selected Jamal Murray…a Kitchener-Waterloo product obsessed and addicted to the pursuit of excellence. Murray's mental game and confidence is something previously unseen from Canadian ballers before him in the new era, and alongside Shai Gilgeous-Alexander & RJ Barrett, this trio is spearheading what we at North Pole Hoops are calling "3.0″–the new wave of Canadians en route to the NBA.
Overall, this group is stronger in terms of the impact they are having on their respective teams in the NCAA and NBA.
If you take Shai Gilgeous-Alexander's rookie season as a sample; after being drafted 11th overall out of the University of Kentucky 'SGA' has won over head coach and former NBA All Star Doc Rivers and earned himself major minutes and the support of his veteran teammates. He did this by combining his maturity and on court pace with his freakishly long body type and hybrid skill set. Both Murray and SGA are playing considerable roles on winning teams–top clubs in the Western Conference.
As the season has progressed, Murray (in his third year) is beginning to play like an NBA All-star with multiple offensive explosions in the 40 and 30 point mark. What's more impressive is the history being made for Denver with Murray, alongside Nikola Jokic leading the franchise to its best start ever, while maintaining the number one spot in the Western Conference.
When I was at the NBA Draft over the last few years, I was asked by different members of the media what the reason for the explosion of talent was. Before answering, they made the prototypical reference to the "Vince Carter Effect."
Not to discredit that era, Vince had a huge impact but the high school talent in this country was here all along–all they lacked was exposure to the U.S market and infrastructure for consistent elite competition. The names listed above had to leave to the U. S to get that competition and "respect" from decision makers and influencers at the highest level (NBA personnel, college coaches, media, etc)
Players like Thompson, Joseph, and Wiggins were indicators of what was yet to come.
To reiterate, the third wave is of a different calibre; evidence of this can be found weekly in the NCAA ranks, as our Canadian boys are collecting player of the week honors in conferences all over America, and leading their respective programs in various statistical categories–at a rate never seen before. To obtain the full scope, dive into the Canadian NCAA Stat Tracker
A significant difference with the third wave is that they are developing holistically in Canada; through the prep school infrastructure that is only four years old, the club system in leagues with stronger competition, the full time skill development trainers and of course the National programs improvements and evolved efforts starting with Canada Basketball's Junior Academy–an initiative spearheaded by Rowan Barrett Sr, that has left a massive impact on this year's special freshman class in the NCAA.
Everything in our landscape is happening at a younger age for Canadian student-athletes — participation, education, competition, identification, and beyond.
All Roads lead to 2019 NBA Draft
CLICK TO VIEW FULL CANADIAN NCAA STAT TRACKER
This is special. No, I mean really special.
To put things into perspective…the highest number of Canadians ever selected in one draft is four, in 2014–Andrew Wiggins, Nik Stauskas, Tyler Ennis, Dwight Powell.
If the stars align In 2019, North Pole Hoops projects up to as many as 11 Canadians hear their names called by NBA Commisioner Adam Silver.
In alphabetical order, the following are Canadian prospects on NBA radars, followed by a group of stock risers:
Andrew Nembhard – Florida

AJ Lawson – South Carolina

Brandon Clarke – Gonzaga

Ignas Brazdeikis – Michigan

Jaelin Llewellyn – Princeton

Lindell Wigginton – Iowa State

Luguentz Dort – Arizona State

Nickeil Alexander-Walker – Virginia Tech

Oshae Brissett – Syracuse

RJ Barrett – Duke

Simi Shittu – Vanderbilt
–
Patterns over a 13-year span
–
Below provides historical context on NPH Top 5 Canadian prospects–the Top 5 pattern since 2011 has indicated NBA / G-League level prospects. From 2011-2016, each class averaged between 1-2 NBA players (current active).
In 2017, there is a clear progression on the amount of NBA level players (#1 Nickeil Alexander-Walker, #2 Shai Gilgeous-Alexander) along with #6 Oshae Brissett, #7 Lindell. #9 Marcus Carr is currently sitting out at Minnesota, but we feel has a chance to blossom and find himself on the NBA radar, which would be a total of five NBAers in the class.
Now as we shift our attention to 2018, this special class makes another spike with 7 on NBA draft boards (#6 Ignas Brazdeikis & #7 Luguentz Dort included).
How it will all play out is to be determined of course, however this data provides a sense of the direction our country is heading toward.
Given they continue developing, you could expect more pros to be coming out of Canada, like the leaders of each respective class to name a few–Quincy Guerrier (2019), Addison Patterson (2020), Muon Reath (2021), Caleb Houston (2022) and Elijah Fisher).
2019 NBA Draft Potential
RJ Barrett | 6'7 | Freshman | Guard | Duke | Mississauga, Ontario
Remember when Wiggins came out? He was assigned the title of prodigy, yet at times plays like its a burden. In RJ's case, he embraces and has taken the bull by the horns.
RJ Barrett is the blockbuster deal in the draft. Several sources in the NBA have told NPH, that with a number one pick, RJ makes the most sense for an NBA franchise due to his versatility and scoring ability. As tempting as it is to take Zion Williamson at number one for ticket sales, still Barrett brings forth a multitude of elements that will help an NBA franchise win and sell at the same time.
He's really positionless. He can be the creator for teammates or go get his own. Coach Mike Krzyzewski can play him from one to three and have confidence that he'll be equally effective, but thrive as a combo guard. 
When draft day comes along and calls come in, for an in depth look at Canadian prospects from a young age, the one thing that is evaluated thoroughly is the mental side.
How have they dealt with pressure? How do they carry themselves in the community? How do they deal with winning and losing? (along with a variety of other intangibles) The past has certainly taught us a great deal about the present, and future in terms evaluation, with more and more emphasis focused on the mental and off the floor. In the NBA, everyone is talented, so that alone is not enough to not just survive in the league. The next wave is here to thrive.
Barrett scores very high when those areas are evaluated. Plain and simple, he is a winner. He's won individual awards and championships at every level.
The intangible of being a winner at all levels is not to be underestimated. It has essentially formed into a gene in his body, its a part of his makeup as a human and athlete.
Montverde Academy – Undefeated season 35-0

Canada Basketball U19 World Championship

Geico

National Championships – Champions and MVP

Hoop Hall – Champions and MVP

Going down as the

winningest

high school player of all time
Chances are, this is another winning season for RJ Barrett and Duke, the way that they are dominating competition.
You know who else places high value on winning? The NBA.
Nickeil Alexander-Walker | 6'5 | Sophomore | Guard | Virginia Tech | Toronto, Ontario
Nickeil Alexander-Walker has been working in silence over the summer. You won't find him posting a tonne on the Gram or tweeting a bunch, he just stays locked in and focused, and this is his breakout season before being drafted.
NBA uppers are seeing the impact Shai Gilgeous-Alexander is having on the LA Clippers and they'll consider the cousin to bring some of the same to the league.
As Virginia Tech plays tougher competition ahead in the ACC, that's when he has a tendency of rising to the occasion. As it stands, 50% of the time the possession is in his hands, he scores at least one point, good for highest on Virginia Tech and a great overall rating compared to the best at the college level.
Most of his play making comes from being an excellent pick and roll player. He's also done so much film study his shot selection has improved significantly. The efficiency that NAW is playing with has been outstanding, shooting 58% from the field and 48% from three-point range on almost 19 points per game.
Simi Shittu | 6'10 | Freshman | Hybrid Forward | Vanderbilt | Burlington, Ontario
Simi Shittu is a major piece to the best recruiting class Vanderbilt has ever assembled in school history.
He's a fine mold of what the NBA likes these days at 6'10.
He can play inside and out. Shittu has had enough experience throughout his young career to post guys up or operate with a long first step from the perimeter.
The fact that he's lean, runs the floor so well, switches direction and is getting comfortable shooting the three brings his stock up tremendously.
Coach Bryce Drew will also be putting him in situations where he's allowed to handle the ball. With all that size, Shittu is trusted and able to do that and pass the ball very well. During his days at Vermont Academy Coach Alex Popp also allowed him to be himself, and experiment.
Shittu's had a heck of a bounce back after coming off an ACL injury and is one of the more versatile players that could enter the draft at his size. His NBA upside is tremendous considering the room he has to harness his skill set as a hybrid forward.
Luguentz Dort | 6'4 | Freshman | Guard | Arizona State | Montreal, Quebec
Luguentz Dort has started off the season a man possessed. He's ASU's best recruit since James Harden and is set for a stat stuffed season.
NBA scouts have known about Luguentz for years and have been tracking him aggressively as he molded his game and got his 3 ball to go.
From a physical standpoint, Dort is the Zion Williamson of the guards in the NCAA. Comparing his strength, girth and athleticism, not many match up with what Dort brings to the table as a guard at the college level.
Dort's super athletic and violently powerful finishes are jaw droppers. He is a ruthless competitor and has continued to make improvements in his ball handling, enabling him to create his own shot with separation moves.
He started off by setting a school record for freshman on season opening night with 28 points.
He will play both guard positions in the NBA, but the transition of positions that he has made since he was 14 years old has been incredible and something we haven't quite seen before–initially as a power forward type, and ultimately transforming his game year to year, evolving into what we see today.
Based on Dort's growth pattern and what we've seen so far in college, his playmaking ability continues to make strides.
Oshae Brissett | 6'8 | Sophomore | Forward | Syracuse | Mississauga, Ontario
From the days of watching Oshae Brissett  as a sophomore in high school alongside Justin Jackson (Lakeland Magic, G-League) he was a very dynamic forward. He operated from the wing and created his own shot.
After playing in the post at Findlay Prep and a bit at Syracuse as a freshman, he took the whole summer to return to his high school sophomore season position on the wing. The wing position will make up for most of the draft based on the way the NBA is using versatile forwards in the league.
A locked in summer of development has improved Brissett's outside shooting plus he already had a handle that was underrated in my opinion. He's really good at creating out of the triple threat.
With a versatile skill set like he has, a lean and much more powerful frame this season, it will be tough to pass up on him in this year's draft.
Ignas Brazdeikis | 6'8 | Freshman | Wing | Michigan | Oakville, Ontario
Quickly becoming the man for Michigan and an early candidate for freshman of the year in the BIG 10 conference.
We saw that in the pounding that Michigan put on Villanova. It's as if Brazdeikis had played in the last season's NCAA championship game and still had the taste of the loss in his mouth.
In that game "Iggy" finished with 18 points and 7 rebounds.
There's been a big change in his body, speed, and stamina. He's always been strong, but the strength now is more man strength and with that comes a great deal of confidence for a freshman, something he never lacked to begin with. One thing he has done at a high level his entire career in every environment, is put the ball in that basket.
When Coach Jeff Meyer was at Michigan (currently at Butler) as an assistant coach and recruiting Brazdeikis, he always told me, "he has Hardenesque footwork and ability to finish down the lane."
He's not all razzle dazzle, but one that knows how to put the ball in the basket and make efficient basketball plays. Brazdeikis' IQ has a lot to do with that.
I wouldn't be shocked at all to see him go as a one and done or pop up in the first round. The way he's started as a freshman allows us to project high.
Jaelin Llewellyn | 6'3 | Freshman | Point Guard | Princeton | Mississauga, Ontario
I know right? A point guard from Princeton is going to the NBA?
He's just a different kind of cat, and a big part of the new wave. He goes against the status quo and does things his way. Many told him that he would have to go to a power five conference to make it out and receive the nod from the NBA. He had other plans. Heck, I wouldn't be surprised if he has a stellar season, gets on draft boards and still opts to stay and finish his degree. He's just different.
Super smooth, change of speed and direction, effortless leaping ability and comes up with dazzling plays.
Llewellyn has a silky style of play. He slides through traffic, spins off defenders and rises for above the rim finishes in traffic. The game looks really simple to him, almost as if every move is premeditated.
When a player has this type of feel that Llewellyn has and is able to implement it in high pressure and high speed situations, he's in a category of his own, he's special.
Take for example his NCAA debut on December 9th against St. John's at the most famous arena in the world, Madison Square Garden. Llewellyn finished the game with 17 points, 4 assists against an 8-0 team, Princeton took the L, but nonetheless an important mark for the program to know they have freshman they can rely on.
Bouncing back from a stress fracture on the tibia, he was off resting his leg. With no ligament damage and a healed tibia, he's off to the type of start expected for this NBA prospect from Mississauga, Ontario.
To start your season off with a bang like that, was impressive taking into consideration nerves freshman would typically have. There's a lot of work to be done, before cementing himself on the board, but one thing is for sure, we have not seen a PG like him from Canada.
AJ Lawson | 6'7 | Freshman | Guard | South Carolina | Brampton, Ontario
When South Carolina went all in on recruiting AJ Lawson, Coach Frank Martin and Chuck Martin mentioned on multiple occasions that there will be minutes available for him to play right away. They also mentioned that if he wants it and works for it there's a starting position for him. Well all that came true and Lawson is averaging 28 minutes a game and in prime opportunity to develop into a league bound guard. 
Early in the season he's risen high on Coach Frank Martin's list and is being trusted with the ball in his hands. 
Lawson has thrived in being a transition style player with a mean isolation game. At South Carolina he's learning how to play more half court basketball and gaining an understanding for angles on the defensive end. 
Once he gains more strength, and learns to utilize his fast twitch reactions on the defensive end, he becomes a real problem–SEC play will give a stronger eval as to where his game is at with regards to the NBA.
Lawson's growth is arguably the fastest out of any Canadian on this list, specifically with regards to filling his upside a combo guard, and the fact that he is a "late bloomer". With full confidence from the coaching staff Lawson's early play has won him the keys to the program and its becoming evident that the Gamecocks will go as far as Lawson takes them.
The true upside lies in the fact that he can undoubtedly run the lead guard position full time and make teammates better due to his unselfishness and likability. Growing up he made a reputation as a bonafide bucket getter and long term in the NBA, he will ultimately play both guard positions, giving teams versatility at 6'7.
Andrew Nembhard | 6'4 | Freshman | PG | Florida | Vaughan, Ontario
Starting PG of the Florida Gators.
Soft spoken, composed, mature beyond his years. Not only is this young man a class act citizen, he's a top notch PG in every aspect of the position.
His pace and control of the floor, ability to read plays before they happen and feed teammates right where they want it in the pocket are what make him top shelf. It's not just his game, he affects everyone else's in a positive way.
Coach Mike White is extremely happy with his Canadian freshman PG, stating in an article by Thomas Goldcamp on 247 sports, "We have a bunch of guys who want to play 30, well here's how you play 30." This was in reference to Nembhard's even keel games to start the season.
We project that by end of season Nembhard could be somewhere in the ball park of a double-double with points and assists to go with about five rebounds per contest. He will need to be more assertive scoring the rock but as a playmaking, visionary lead guard, we haven't seen any better from this side of the border, not named Steve Nash.
A playing weight at around 200 lbs is likely what he'll enter the NBA at. This is the next step in his development. 
It could be this year, it could be the next; one way or another we'll be seeing Nembhard walk across that stage in New York.
Lindell Wigginton | 6'2 | Sophomore | Point Guard | Iowa State | North Preston, Nova Scotia 
Lindell Wigginton is back like he never left, and this year has help from a fellow Canadian in Ottawa's Marial Shayok.
Wigginton had already flirted with the league last year, putting his name in and removing it before the deadline.
Strength, explosiveness, athleticism, toughness and defensive lock down ability make for an efficient overall game. That sums up Wigginton.
There isn't enough of a sample size of games for this season, however using last year's numbers as a freshman where he shot 43% from the field. Wigginton had his best percentages as a spot up and coming off of screens.
The success of the Cyclones will play a huge part info draft stock, and so far ISU is off to a solid start at 11-2, as we enter BIG 12 basketball.
Bet you didn't know he's Canadian
Brandon Clarke | 6'8 | 215 lbs | Forward | Gonzaga | Vancouver, British Columbia
We can't claim him under Canadian development, but he does have Canadian citizenship and blood–potentially someone for the National team to consider.
Enter Brandon Clarke.
He was born in Vancouver, British Columbia then moved to Phoenix, Arizona when he was 2 years old.
We really like his defensive instincts and timing. Moreover, offensively he finishes really well around the hoop thanks to his footwork and ability to use the rim to protect his shot.
His most recent heroics were in the game that sealed Gonzaga at number one in NCAA rankings (at the time) when they gave Duke their first loss of the season.
This cat is averaging 17 points, 8 rebounds and 3 blocks on a RIDICULOUS 70% from the field.
We're not as familiar with Clarke therefore would be tough to project. Based on team standing, usability and production he's going to get enough TV time to build a case for his stock in the 2019 NBA Draft.
–
Raising Stock
While the names above have been swirling around NBA circles, the group below are building their stock as pros for the NBA and EuroLeague.
Full List of 133 Canadian men in the NCAA
Marial

Shayok

(Iowa State) – Ottawa product, Virginia transfer breaking out

Eugene Omoruyi (Rutgers) Endless motor, fierce competitor, plays bigger than he is. Leads Rutgers in scoring and rebounding. Arguably the most improved, has virtually doubled his figures in both categories as a junior.
Kyle Alexander (Tennessee) – Late bloomer with NBA physicals. Emerging prospect for Top 5-ranked Volunteers, has progressed year to year. Could break out in second half of season, with his team on the big stage.
Mfiondu Kabengele (Florida State) sophomore out of Burlington, ON quietly building resume for #11-ranked FSU.
Marcus Ottey (Illinois-Chicago) High flyer that has elevated his game and skill set. Having his best year for UIC as a junior.
Godwin Boahen (Illinois-Chicago) Tough as nails PG complimenting the UIC Canadian duo with Ottey.
Koby McEwen (Marquette Transfer – Out this season) Starred at Utah State and has been atop of the Canadian basketball ladder since early high school days, coming up with Jamal Murray.
Marcus Carr (Minnesota Transfer – Out this season) Will be one of the best Canadian prospects going into 2019-2020 season with the Golden Gophers. Elite playmaking point guard with NBA potential
Isaiaha

Mike (SMU) – Loaded with upside, progressing by game, break out season scheduled for

2019-2020

Jalen Poyser (St Bonaventure) UNLV transfer, playmaking guard with size.
Cody John (Weber State) Smooth combo guard, junior out of Mississauga has taken his game to new levels, more than doubling his scoring production from last season. Could lead his squad to the big dance in the unpredictable Big Sky conference.
Kimbal McKenzie (Bucknell) Leading Bison in scoring and assists. Having career year, Bucknell will go as far as Kimbal takes them
–
Sounds the horns, flip the switch, this is a new wave for Canadian basketball; welcome to 3.0.