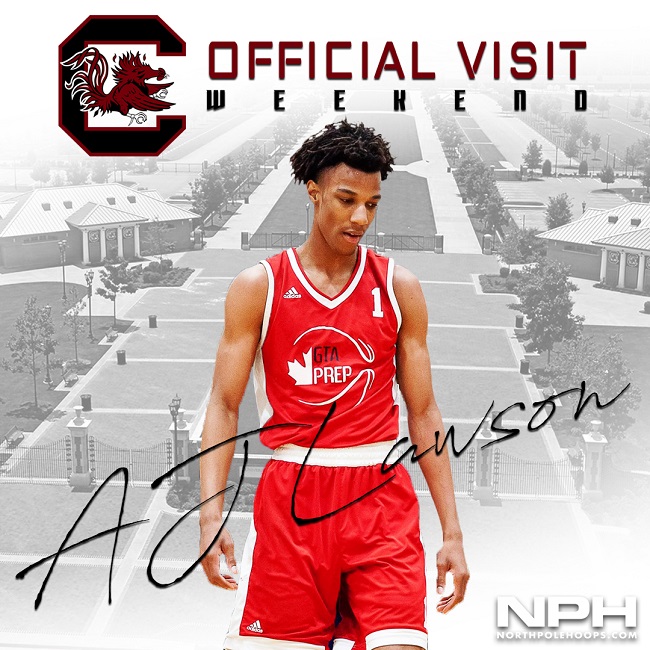 AJ Lawson 1st Official Visit to South Carolina, Top 5 choices, Reclass to 18′
AJ Lawson has officially reclassed to 2018. Lawson is on his first official visit to South Carolina today with his family.
He has narrowed down his college list to South Carolina, Creighton, SMU, Tulane and Oregon.
Lawson had a strong season in the National Preparatory Association in Canada and helped carry GTA Prep to the finals. AJ and his family have made a development decision to forego his post-grad year and go to college.
After the South Carolina visit the Lawson's will then come home for AJ to write his exams. To some degree, the Lawson do feel at home considering AJ's father grew up and went to high school not far from campus in Summerton, South Carolina.
On May 31st he will be jumping into National Team Camp for Team Canada's U18 squad. Lawson will have a huge role as a primary scorer and as one of the team's captains.
Once South Carolina caught wind of the fact that Lawson was considering reclassifying to 2018, the Gamecocks put on the full court press to express the need for AJ. Especially with two guys testing the waters for the NBA Draft.
The Gamecocks have heard back from junior forward Chris Silva, that he will be returning and not entering this year's NBA Draft.
Bringing back this SEC accolades, picker upper, puts Coach Frank Martin's Gamecocks in a good position to make another run at the tournament.
There's a great deal of uncertainty on the return of  6'7 elite scorer Brian Bowen, as he awaits the NCAA to rule on his eligibility.
Some would argue, even with Bowen returning eligible, that he and Lawson could coexist due to both of their abilities to score and make plays for others.
Before AJ Lawson took off for the EYBL this weekend he revealed what factors his college decision would entail.
"I'm going to choose the place where I can feel comfortable in playing my game, an offense that has real flow. Also extremely important to me and my family; I look for a good relationship with the coaches, somewhere I can feel like home."
In conversation, Lawson went into detail about the relationship with his college coach, whoever that will be. He referred to Coach Frank Martin as someone that potentially could help him grow and mature into more of a man.
He will have a dose of that already this summer with the National Team program under the guidance of a living legend in Carleton University's Dave Smart. From a character and disciplinary standpoint, these two coaches have many similarities; even defensive philosophies are shared.
Lawson is determined to make improvements in the defensive aspect of his game.
My style of play is a fast pace type of game where I can score and be a playmaker for my teammates and myself. The potential of being at South Carolina that I like, is that they have a plan to get me stronger, and I can learn great defensive principles.
South Carolina is Lawson's first official visit. As of June 17th, Lawson hopes to have a FIBA Americas gold medal around his neck on home soil. Future visits will happen from the 17th onward.
Exact dates have not been scheduled as of yet.