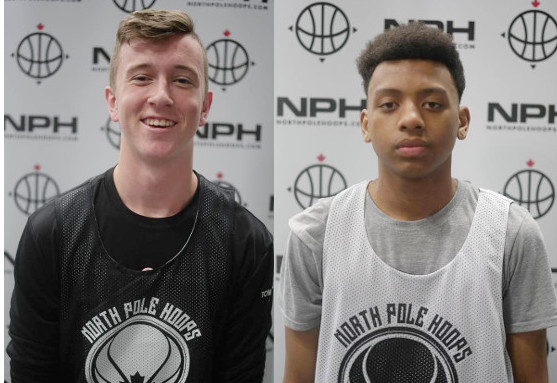 High school
NPH Showcase Circuit
NPH Windsor Showcase Standouts, Next Up From Rose City
Windsor, Ontario is pretty much a rock skip away from the border of Detroit, Michigan. The Rose City is often forgotten on the Canadian side. It holds some of Canada's most promising talent. The NPH Showcase's return in Windsor marks a new era in exposure for this region. Head Coach of the University of Windsor Lancers, Chris Oliver and assistant Steven Carey, were instrumental in bringing the camp back to the region.
Recruiting at the college and university level in Canada is a lot different from what it is south of the border.
In the U. S, the recruiting game has become so competitive that universities at the D1 level in the NCAA are not allowed to hold events like Showcases on campus. This is to ensure that no teams have this recruiting advantage over others.
In Canada this rule does not apply. USports and CCAA programs are welcoming the NPH Showcase to their campus because the value of having 100 plus possible recruits builds interest for their brand and school while saving time, energy and money in their recruiting efforts.
Upperclassmen MVP Thomas Kennedy
Thomas Kennedy lit up the top prospect game while displaying a wide range of skills at 6'9. Kennedy was first identified by North Pole Hoops while he was representing the Riverside Falcons in an OBA tournament two years ago.
His recruitment since then really bubbled up all across Canada and there's been interest south from elite academic institutions in the NCAA.
To be able to shoot from distance like he does at his height is rare. Couple that with the fact that he can also handle it on the wing and pass on the move and you got a terrific prospect with excellent upside.
https://www.instagram.com/p/BjLasynlS3y/?hl=en&taken-by=northpolehoops
All in all, Kennedy is a 6'9 forward with the above skill set and over a 90% academic average. From a character standpoint, he's up there with the best of them. Through getting to know him more on a personal level throughout last weekend we got to learn about his attention to detail, he work ethic through being there in the gym hours before camp for training and how well he carries himself in conversation.
If he stays in Canada to play USports basketball he will more than likely attend the University of Windsor while going for a degree in engineering.
The NCAA is still an option for him if the right conversation comes around. Right now, it's been a lot of interest but no one has yet to pull the trigger.
If the Lancers get a commitment from this big forward, he's coming in with lofty goals; to be the best basketball player that ever played for the University of Windsor.
Fresh on the Scene Underclassmen Desmond Price
With all of the high levels of basketball watched and evaluated over the years, its not often that I get excited about a new prospect but ninth grader Desmond Price had my eyes wide open. He went on to earn underclassmen MVP at Windsor NPH Showcase.
This 'ball on a string' PG ran the show, set the table and created offense; both for himself and for teammates. Price had defenders on skates in several possessions, even getting two defenders to fall from one of his pull back dribbles.
Coach Steve Carey gave advance notice on how good Price was but never oversold his talent. The proof was in the pudding.
Considering his youth, this is the type of kid that needs to be on Team Canada radar for future years. Yes he's that good. One can only imagine where his mental approach would be if he were immersed in an environment with other top point guards in the 2022 class.
USports Talent on Deck
2019 prospect Freedom Maloney carved out a piece of the Windsor NPH Showcase by being a two way player with a strong I. Q for the game. Maloney isn't flashy or supremely athletic yet he just gets the job done, a yes sir, no sir prospect that coaches will enjoy working with.
2020 forward Marc Galipeau is another kind of the hard hat and lunch box type of prospect that just does what it takes to win. Galipeau has been selfless for years that we've known him. Out of necessity for the Stags, he's had to play power forward at 6'4 but is now slowly transitioning out of the role to small forward and shooting guard.
It's a big summer of development for Galipeau and he's of the mind set to make the full transtion within a year. This is someone for USports programs to keep tabs on as graduation year gets closer.
Another 2020 Ardell Scott stuck out at camp for his defensive presence. We consistently address the fact that you can get a job on the next level by simply being a top defender. This is a role that holds premium value at all levels of the game. Scott created a fear in his opponents and made them second guess attacking the rim as he swatted a bunch shots away.
This is not to say that Scott is pigeonholed into being only a defender. His future value and stock as a prospect all depends on what he does with his summer. The athleticism is there, it just needs to be molded.
There are several other USports projected prospects not mentioned here, that will be on the map when coaches read their player profile report.
Galdo Tutu for NCAA Radar
Galdo Tutu rings a bell if you rewind to last summer where he came to Toronto from Windsor to pick up underclassmen MVP in a talented pool of prospects.
He wasn't the MVP this year, but showed us on day two that he was in the run for it.
Tutu has really good presence and awareness on the floor, which allows him to sense where everyone is and make the right play or misguide a defender before making the feed to a teammate.
He is being recruited by Prep programs on both sides of the border and will be a strong option for teams looking for someone to set the table.
The next stop for the NPH Showcase is the Kitchener/Waterloo region at Huron Heights June 2-3.
For a full events list across Canada go to Showcase.NorthPoleHoops.com