Norman Powell re-ups with Raptors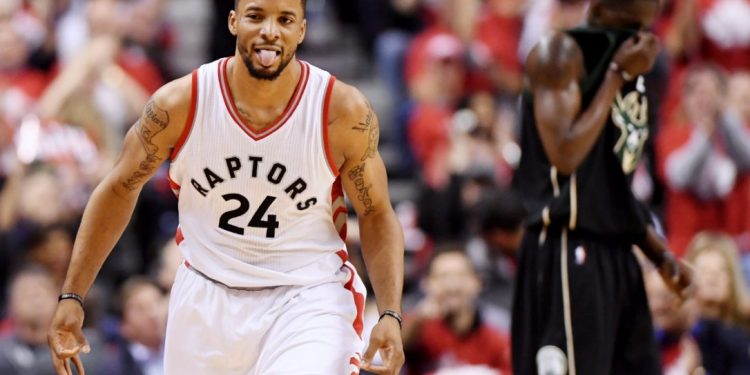 The Toronto Raptors have re-signed "combo guard" Norman Powell to an extension, per Adrian Wojnarowski of ESPN.
Toronto Raptors guard Norman Powell has agreed to a four-year, $42 million contract extension, league sources told ESPN.

— Adrian Wojnarowski (@wojespn) October 5, 2017
To be exact, the deal will be worth $41,932,800, but Powell was able to negotiate the final year of the deal as a player option. It is the maximum the Raptors could have offered to re-sign him at this moment. If Powell continues to trend upward, this deal has steal written all over it.
The deal shows just how far the former UCLA guard has come since signing a three-year deal worth $2,539,382 as the 46th overall pick in the 2015 NBA Draft. He averaged 8.4 points, 2.2 rebounds, and 1.1 assists last season, but those numbers received a serious bump as a starter. Filling in for DeMarre Carroll and DeMar DeRozan at different points in the season, he elevated his scoring to 15.6 points over 18 starts, and has proven to be someone Dwane Casey can rely on in big playoff moments.
Regardless, Powell's value has been much more than numbers can indicate. His maturity, focus, and dedication to improving every day are his most endearing traits. Terrence Ross, DeMarre Carroll, and James Johnson have all come and gone, and now Powell is the one standing tall.
For Powell to now establish himself as a key member of their core, he'll need to focus on the two main shots that analytics predicates. The three-point shot was looked upon as one of his weaknesses coming into the NBA, and he has been better than expected thus far. A career 35.1 percent shooter on 262 attempts, Powell excelled when starting last year to the tune of 39.7 percent. On a team bereft of volume long-distance shooters, Powell's improvement in this area is imperative.
He is about league-average in finishing at the rim at 54.9 percent last year, and the key here will be his decision making. He can be a bit of a one-trick pony in terms of always looking to go all the way to the rim and finish when on the drive, but recognizing when he's attracted multiple defenders and can create a better shot for others will improve those numbers.
It still remains to be seen who the starter will be at small forward between him and C.J. Miles, but the extension certainly should help him play with peace of mind whether he starts or comes off the bench. He'll know that he can still expect at least 24 minutes per game off the bench compared to the 14 per he saw last year, and around the same 32 he saw as a starter last year if given the role again.
With the re-signing, Masai Ujiri avoids potential inflated offers that would have come Powell's way next summer, and maintains his plan of finding out exactly what he has come 2020 when Kyle Lowry, DeMar DeRozan, and Serge Ibaka can all be free agents.