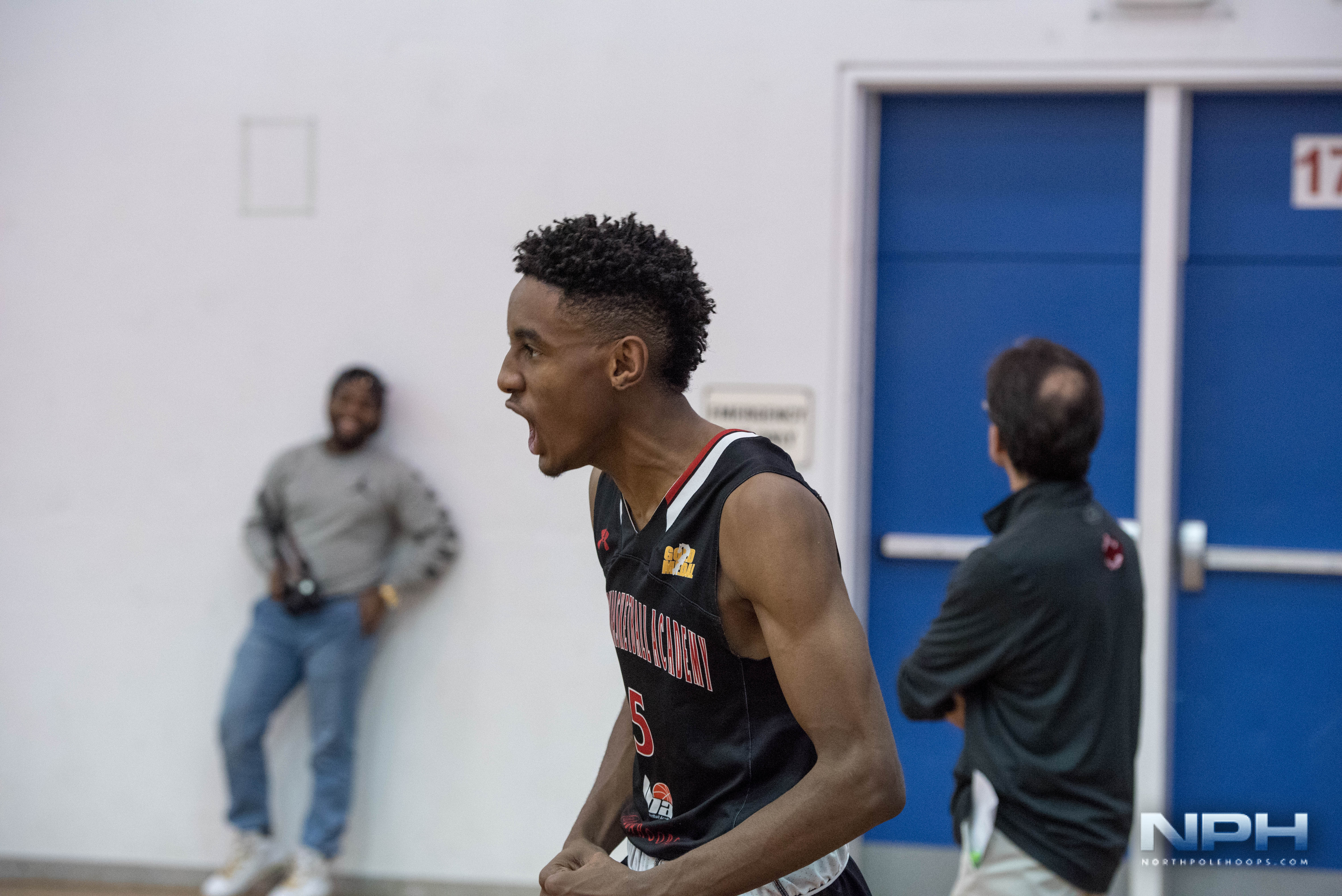 London Basketball Academy busting brackets, meet Canada Topflight in NPA Finals
Day two of the National Preparatory Association's National Championship served up an incredible slate of games, peaking with two thrilling semi-final matchups to end the day on a tremendous note.
https://www.instagram.com/p/BSXO1hfjz1P/?taken-by=northpolehoops
In the first semi-final bout, #1 ranked Central Tech went toe to toe with underdog contender #5 London Basketball Academy, in a game that only got more exciting as time ticked down.
London jumped out of the gates early, eager to prove themselves as contenders for the National Championship, starting the game off with a 14-1 run, thanks to 8 first quarter points for Jalen Warren.
Warren dominated the game from the outset, infecting his entire team with an energy and drive the fueled the London team for the gritty matchup with the #1 seed. The 6'2" point guard finished the day with 31 points, including 11third quarter points to propel LBA to a comfortable 82-63 lead going into the final frame.
Incredibly, the most impressive skill Warren demonstrated wasn't his scoring prowess, but his leadership ability on the court, the way he motivated his teammates and helped keep London's momentum going, even while they held a significant lead.
"He has an immediate impact on the team, and they follow him. Some guys are just born leaders, and that's who he is, a born leader." said LBA Head Coach Angelo Provenzano.
In the final minutes of the second half, as LBA held a 13 point lead, Warren could be heard telling his teammates "One more push! One more push!" encouraging his team to keep their foot on the gas and extend their lead even further before halftime.
"I try to be a vocal leader because I'm not always going to bring 20 or 30 points a game, but one thing I can always bring is my voice, no matter if I'm on the bench or on the court." said Warren.
It was that type of energy that kept London going for four quarters, particularly when things started to get away from them.
You don't earn the #1 seed without cause, and Central Tech reminded people how they earned the top spot in the fourth quarter, erasing London's 19 point lead and taking a three point lead of their own with just under two minutes left to play, thanks in large part to Raheim Sullivan's 29 point effort, with 15 of them coming in the fourth.
For a moment it seemed that all of London's intense work in the first three frames had been nullified thanks to Central Tech's fourth quarter assault, but LBA maintained their composure, and Warren found Denzel Cummins open in the corner where he connected on a dagger three while drawing the foul, tying the game up at 97 with just over a minute left to play.
With a trip to the finals on the line,  London gained another possession and found Cummins again in the corner again for a long two, this time to put LBA back on top with just 40 seconds remaining.
"When I catch the ball, especially off of a kickout, I know I can jump higher than them," said Cummins, when asked what's going through his head when he took those crucial shots. "So I just make sure to rise higher than them, hit the shot, and once it leaves my hands I can tell if it's good."From there LBA held on to their lead by connecting on their free throws, slightly extending their lead for a 103-98 final.
https://www.instagram.com/p/BSY0egADwW2/?taken-by=northpolehoops
The win gives the underdog London squad a chance at the first ever National Championship, an accomplishment most fans didn't consider them contenders for. After a strong showing at the NPA's Western Conference Session, LBA knew they were capable of playing with the best teams in the league, even if nobody else was noticing. "We have that chip on our shoulder, we were ranked fifth coming into this, and both TBA and CTA have beaten us, so we have another chip," said Cummins. "We're going to go into tomorrow looking for that win."With the win, London eagerly watched and waited to see who they would play in the Finals, with the second semi-final matchup pitting #2 Toronto Basketball Academy against #3 Canada Topflight Academy. From the outset both teams were looking to stifle each other defensively, limiting each others open looks and forcing difficult attempts throughout the entire game. "The first thing is that Adeel [Sahibzada, TBA Head Coach], is arguably one of the best coaches that I've coached against, so he's done an unbelievable job of preparing them, they play very disciplined ball," said Aaron Blakely, Head Coach at CTA. For most of the game that worked in Toronto's favour, with TBA holding a lead for the first three quarters and most of the fourth. Adham Eleeda had a lights out performance for TBA, draining 20 points, with 18 of those coming from three pointers. Recent Florida International commit Cordell Veira also chipped in 11 points, and helped give Toronto a 51-46 lead heading into the fourth.
https://www.instagram.com/p/BSYymbJBgMv/?taken-by=npacanada
Canada Topflight, however, proved to be a resilient bunch. Every time you thought they were finished, Graddy Kanku would throw down an emphatic dunk and breath some life into their game, making you believe they weren't done yet. Kanku finished with 15 points, but his real contribution was the energy he brought to the Ottawa squad, reminding them they were still in the game.
In the fourth CTA mounted their comeback, thanks to a 10 point quarter from Khaleem Sarazin, including a string of plays which saw him finish a tough layup to tie up the game with just 1:14 left to play, pull down a defensive rebound on the other end; and then attack the rim yet again to give Canada Topflight their first lead of the game with just 30 seconds left on the clock.
Behind the scenes with @CanadaTopflight "Play like a family, it's never going to be easy." https://t.co/eelQUrMMo7 #nationals #NPACanada pic.twitter.com/Mcy5AR8v9V

— NPA (@NPACanada) April 1, 2017
"Our whole schedule this year helped us for moments like this, so we just learned to keep our cool, keep calm, stay together as a team, and we got through it," said Sarazin. TBA had a final chance to take the lead back but missed their shot, giving Ottawa the ball back as they ran down the clock, finishing with a 69-67 win and punching their ticket to the NPA Finals. "I can't say enough about how well our guys responded at the end of the game," said Blakely. "They hit us with a really hard punch, and for them to be able to withstand that shows a lot of character."The win marks CTA's 12th straight win after an 0-5 start to the season.
https://www.instagram.com/p/BSY3Db8j78S/?taken-by=northpolehoops
"At the beginning of the year we weren't really close, we come from all over," said Sarazin. "So through the year we got closer and Coach Aaron Blakely helped us every day in practice get better."The Championship Battle takes place at University of Mississauga  Toronto at 5p.m. where London Basketball Academy and Canada Topflight Academy will look to take home the first every National Preparatory Association Championship title. At 3p.m., Central Tech will take on Toronto Basketball Academy for the Bronze medal. Both games will be streamed live on Northpolehoops.com. On the consolation side of the bracket, St. Michael's took on Notre Dame in a tightwire battle that came down to the wire, with Kobey Lam connecting on a game-winning shot to give St. Mike's a 79-78 win.
https://twitter.com/NorthPoleHoops/status/848247695705874432
Lam finished with 26 points in the victory, which saw St. Mikes down by as many as 13. The Blue Raiders advance to take on British Columbia Christian in the Consolation Finals, after Keenan Dowell led BC with 29 points as BC knocked off GTA Prep 81-66.
https://www.instagram.com/p/BSWb1CbgcG0/?taken-by=npacanada
Dowell has been lights out throughout this entire season, including averaging 30 points a game in the National Championship session. It will very intriguing to see where this blue-chip prospect will land come season's end, as Dowell finished up his high school career. Be sure to stay tuned to North Pole Hoops all day for live streams of all the Day 3 action, including the first ever National Championship battle.