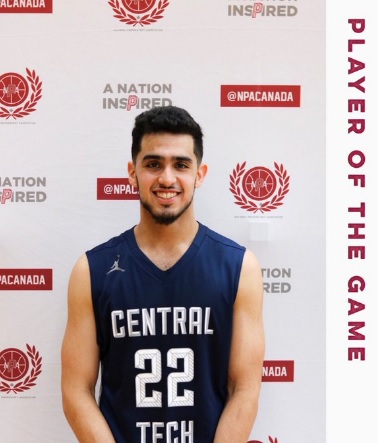 Evan Shadkami, Central Tech in Firm Position for National Title, NPA Final 4 Set
https://www.instagram.com/p/BSUJ2vDDUtQ/?taken-by=northpolehoops
It was an incredible day of basketball in Mississauga, Ontario as Day one of the National Preparatory Association's National Championship kicked off at the University of Toronto Mississauga.
Across the board, all four games provided excitement and competition, as seeds 1 through 8 battled to advance to the semi-final round.
The day started with #1 seed Central Tech taking on #8 GTA Prep, after GTA slid into the 8 seed yesterday with a win against New Brunswick's Rothesay Netherwood. GTA and Central Tech had met several times before in the regular season, with Central Tech going 3-0 against the Mississauga team.
Despite the strong record, GTA consistently made the Blues work for their wins, and this morning was no different. Down by as many as 23 in the third quarter, GTA clawed their way back into the game in the fourth, pulling within five points in the final frame.
GTA didn't have an answer for Central's Evan Shadkami however, who led all scorers with 26 points, with 15 of those points coming from behind the arc. Chris Hankins added 19, and Raheim Sullivan threw in 18, as Central Tech advanced with a 97-88 win over GTA Prep.
Jaden Campbell and A.J. Lawson both notched 23 points in the losing effort.
Central Tech eagerly awaited the results of the second matchup of the day, as #2 British Columbia Christian Academy took on #7 London Basketball Academy, with the winner advancing to meet the Blues tomorrow.
During their last meeting, London took away a 96-69 win on the back of a strong shooting performance from Cameron Deitzel, but B.C. wasn't looking to let that happen again, doing a better job of contesting the strong shooting London program.
After trading leads in the second, B.C. finished the first half with a slim 35-32 lead on the back of Keenan Dowell's 12 first half points. Both teams were playing with true grit, throwing their bodies on the floor and refusing to let easy buckets go past them.
Dowell, who finished an MVP performance at the British Columbia NPH Showcase with a swollen black eye, persevered through a bloody nose in this game to finish with 30 points.
Despite the heroic effort, LBA managed to involve big man Josh Inkumsah in the second half just enough to keep the Panthers at bay, ultimately pulling out an 85-75 win to advance to the semi-finals.
With the big man putting in work down low, open shots became available on the perimeter again, with Jalen Warren and Denzel Cummins taking advantage with 20 and 17 points, respectively.
https://www.instagram.com/p/BSU7oeQDXI5/?taken-by=northpolehoops
With the win London takes on Central Tech tommorow at 3p.m. at the University of Toronto Mississauga. During their last meeting, the Blues took away a 93-85 win against Head Coach Angelo Provenzano's squad.
Provenzano and his London team will look to involve the 6'6" forward Inkumsah even more against a defensively tough Central Tech team tomorrow, with a trip to the finals on the line.
"[Involving Josh] becomes more and more important every game," said Provenzano. "We will have to rebound a bit better, handle their zone defence a bit better, and just take good shots."
In the third matchup of the day #3 Toronto Basketball Academy matched up against #6 Notre Dame Hounds of Wilcox, Saskatchewan.
Despite coming into the Championship session as underdogs, Notre Dame boasted a 2-0 record against the Toronto squad and was looking for the 3rd win in a row against TBA.
However Notre Dame could not get things going offensively, with Toronto limiting the Hounds point guard Adefolarian "Fo-Fo" Adetogun to just four first half points, and forward Jashon Henry to eight.
TBA finished the first half with a slim 37-33 lead, but only extended it in the second half, after a particularly strong third quarter which saw them extend their lead to 16. The Sask squad tried to crawl back in the fourth behind the second half effort of Jashon Henry, who finished with 26 points, but we unable to come closer than nine points and fell 97-80 to Toronto.
The final game of the day saw Ottawa's Canada Topflight Academy face off against Toronto's St. Michael's College. With the respective #4 and #5 seeds duking it out, on paper this game was anticipated to be a tight one, but instead Canada Topflight decided to use this game to announce their presence to the rest of the league.
After an 0-5 start to the year, CTA pulled together as a unit and strung off 10 straight wins in the NPA, and looked to redeem themselves against St. Mike's, who has served them one of their initial losses early in the year.
The Ottawa team came out with fire in their eyes, locking down St. Mike's star forward Danilo Djuricic, holding him to three points in the first half. At half, CTA held onto a 37-31 lead behind Aiden Warnholtz's 11 points.
The second half was much of the same, with Canada Topflight imposing their size and strength on the Blue Raiders, with the likes of Graddy Kanku attacking the rim and throwing down a fearsome dunk.
St. Mike's wouldn't go away in the second though, with some big shots from Sam Rautins and Inaki Alvarez helping their team bring the game back within three points to finish the third quarter.
But the fourth quarter proved to be CTA's time, as they continued their defensive-minded play and finished the Raiders off with a 82-69 win. Graddy Kanku led the Ottawa squad with 15 points, while Lual Akot added 13.
Inaki Alvarez tossed in 17 for St. Michael's, and Sam Rautins added 14.
Head Coach Aaron Blakely credits his teams success to coming together as a unit and having a team of players very open to learning and improving.
"I can't say enough about how they've worked, they've been coachable, and I appreciate the fact they've been willing to listen," said Blakely. "It hasn't been an easy road, especially playing against tough teams like St. Mike's. Our players were really excited to play them, because they are one of the top teams in Ontario, OFSAA Champions, and for us it was a really challenging game, especially given the fact we've slowly grown over the year."
With the win Canada Topflight advances to face Toronto Basketball Academy, one of the teams that helped them start their season off 0-5. Their game tips off at 5p.m. at UTM.
"TBA pose a real challenge, given the fact they are very physical. The biggest thing for us is to figure out where our advantages lie, and try to limit what they can do."
Day 2 action kicks off at 9AM tomorrow at University of Toronto Mississauga, starting with exhibition (Westview VS Rothesay Netherwood) and the consolation side of the bracket. GTA Prep will take on B.C. Christian at 11AM, while Notre Dame meets up with St. Michael's at 1PM.
Day passes are $5 at the door.