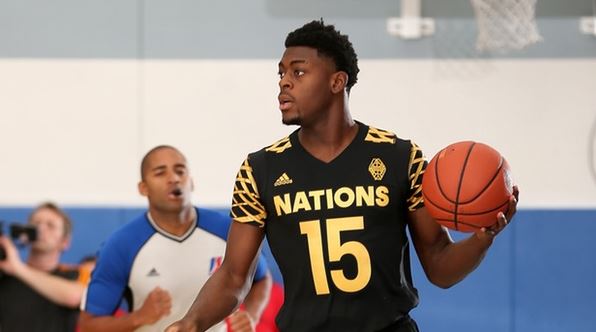 BioSteel All Canadian Roster Deepest to Date
The roster for the 2017 BioSteel All Canadian game was released during half-time of the Raptors vs Mavericks game. North Pole Hoops #1 ranked Canadian player in the 2017 grad class, Nickeil Alexander-Walker and #4 in 2018 Ignas Brazdeikis came on to discuss the opportunity.
Nickeil Alexander-Walker & Ignas Brazdeikis announce the 2017 BioSteel All-Canadian rosters on @TSN_Sports! #LookUpToTheNorth pic.twitter.com/1Yvp8navOH

— BioSteel All Canadian Games (@BioSteelAllCdn) March 14, 2017
In the game's third year, 2017 brings in a pool of talent that projects numerous future NCAA talents as well as more than a few NBA prospects.
Based off of what we've learned on the psyche of the players attending, this will not be a typical style of All Star game, with lackadaisical defense and running of the score. There will be more than one alpha looking to take over on both ends, more than one prospect looking to prove they are the best Canadian talent in the game.
After all, there will be NBA and other pro personnel in the stands watching on and the names below will be looking to capitalize on that opportunity.
Recent Arizona commit, Emmanuel Akot is the 3rd ranked in North Pole Hoops' 2018 Canadian class, he had this to say about his outing in a few weeks.
"Definitely want to have fun but I won't treat it like an all star game. I want to win. Canada doesn't know how good I am. I think being from Manitoba I'm slept on in Canada but I'm definitely one of the biggest names in America."
"I'm a 5 star recruit just like RJ or Simi but I feel like I'm slept on."
Take another prospect like Luguentz Dort, who torched the Adidas circuit with Brookwood Elite and is doing much of the same during his high school season. He's an assassin that has learned to score in a multitude of ways. Dort has a level and type of explosiveness that not anyone else on the floor possesses. He'll bring an excitement element to the game.
We've covered only two alphas and that's without diving into Nickeil Alexander-Walker, one of the most highly skilled scorers and play makers in the game. A bonafide gamer in every sense. The Virginia Tech Hokie will be looking to leave his mark on this game.
I could name a few more; Simi Shittu, Abu Kigab, Ignas Brazdeikis, Marcus Carr and Keshaun Saunders. These are all guys that will not be taking this moment lightly and you'll read it off their body language right away.
Shittu is a two-way player that could end up making a strong case for MVP. The most recognizable name from this bunch around NBA people.
Enter the silent assassins, beginning with Andrew Nembhard. He could stuff a stat sheet because of how involved he is in setting up the flow of the offense and getting guys open looks.
Nembhard has been receiving heavy praise south of the border at Montverde Academy in Florida, where he and the #1 player in the 2019 class Rowan Barrett attend, along with fellow BioSteel selections in Marcus Carr and Grant Shephard.
What about Christian David? The buzz around him has been quiet for the most part and began to pick up again after he returned to full health from an ACL injury.
At 6'7, David can play virtually any position one through four. A plus on the floor at all times and in such a subtle and composed manner.
Another that fits the second mold, Jaelin Llewellyn who has been flourishing at his new school in Virgina.
I can't go without mentioning O'Shae Brissett, a Syracuse commit with some tremendous upside. He's been having his way during the Prep season and is just about ready to move on. He's one of the toughest match ups on the floor when fully engaged.
We could break down each player but it'll be much better to see it all happen.
The point I'm coming to is, the players participating in this year's BioSteel game is the strongest talent that the game has seen in it's short lifespan. The Canadian prospects are going to put on a serious show.
Yet be prepared for a not so typical all star experience. They know each other's tendencies, strengths and weaknesses and will be coming out to make a mark.