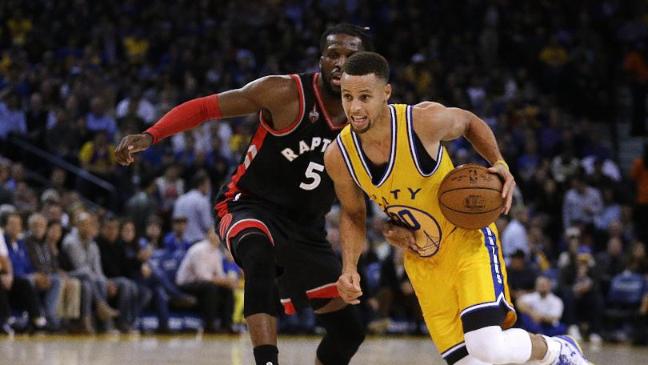 Raptors Warriors preseason game sells out in minutes
Tickets are already sold out for a preseason bout between the Toronto Raptors and the Golden State Warriors, taking place in Vancouver, British Columbia. Fans have indicated that tickets were sold out as fast as a minute after they were available for purchase.
Basketball fans angry after #Raptors vs. #Warriors game sells out in minutes. @ticketmasterCA https://t.co/lty1GoVdRU

— Global BC (@GlobalBC) September 3, 2016
Tickets sold out within minutes for the match up, which will be the first time newly-acquired Kevin Durant dons the blue and gold of Golden State.
Fans reacted with a mix of anger, frustration, and excitement at the news, with some excited about the demand for professional basketball on Canada's West Coast.
Bring the @NBACanada back to #Vancouver for good! If @Raptors v @Warriors sell out a preseason game in mere mins, this city is hungry for it

— Riaz Meghji – Human Connection Keynote Speaker (@RiazMeghji) September 2, 2016
Others were more upset with Ticketmaster, who has encountered problems with tickets selling out quickly before. Concerts for Drake, Adele, and Paul McCartney all sold out instantly as well, with some people managing to snag multiple tickets at a time that they were able to sell online for marked up prices.
https://twitter.com/vyassaran/status/771756188199325697
Tickets for the Raps and Warriors are already available on Craigslist and Stubhub from scalpers who will be able to make a significant profit off of the tickets.