Canadian U17 Boys Come Out Gunning, 2-0 In World Championships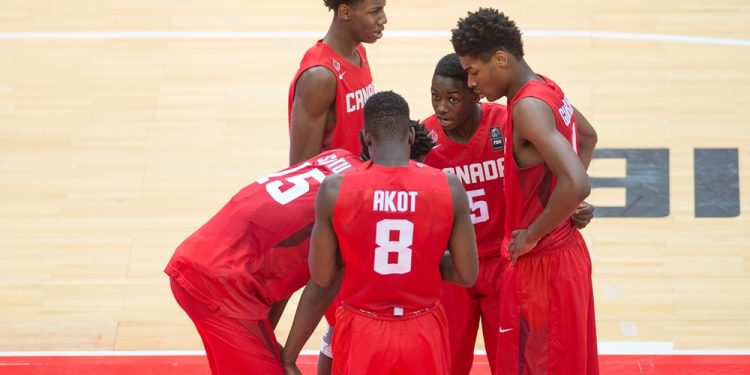 Canada made major adjustments between game one and game two of FIBA U17 World Championships. The red and white stepped up on both ends of the court. Four players scored in double digits, with 14 being the lowest of those double digits figures. Canada is now 2-0 with this win over Finland by a score of 92-68. China is next on the calendar to try to make it out of pool play 3-0 and first in the group.
Finland was outmatched from every perspective, from size to skill and the in between.  The challenges for Canada are in the quarter final games when they take on probably Spain or Turkey. At the same time, China has only allowed 137 points in two games, the least points against from the four teams in Group C, they can not be taken lightly.
The talent level on this squadron is deep beyond the starting five; the starters being Danilo Djuricic, , Simi Shittu, Andrew Nembhard, Ignas Brazdeikis and the young phenom Rowan Barrett Jr.
Barrett Jr. finished with 16 points and 10 rebounds in far fewer minutes than he's used to. He's a top 10 scorer in this tournament averaging 17 per game so far. We're talking about arguably the best long term prospect in the entire tournament.
Danilo Djuricic,  is very familiar with the International stage and some may say that his skill set compliments the style of play. He showed that in this morning's game with a tremendous performance to total for 14 points in 15 minutes; Djuricic shot 4/6 from the three point line and 62% from the field. Due to this versatility he can be used on the perimeter or operating from the high post depending on the match up.
Canada's three point shooting percentage shot up from 23% in their first  game against Australia to 44% in their second game, credit that to the ball movement and perpetual movement of the bodies on the floor. There's further room for improvement of course, but the buy-in is there, the ball didn't stick.
The starting five are all capable of 20 point plus games, yet the unselfishness in their approach allowed for less one on one basketball in order to get better looks and quality possessions.
Coming off the bench  was Emmanuel Akot, a Manitoba product, that added to the length of defenders and pitched in with 14 points.
From memory of watching the tryouts and practices, to seeing how they are meshing now in just a few weeks is promising. As they move towards the quarter finals there is gradual improvement in the chemistry of the Canadians.
Playing with a sense of urgency is what gets momentum going in one's favour. There's a fire that was lit today defensively, mixing it up with full court pressure and strong closeouts, switches and traps in the half court.
Canada is developing the attack first mentality and by doing so is able to decide the tempo from the tip. You know that stereotype of Canadians being "too nice," well that can be erased. The culture is changing rapidly.
Elias Valtonen was Finland's leading scorer with 22 in game one and he was held to 12 in today's match up against Canada with Djuricic, Akot and Quincy Guerrier all having a go at him.
Makes stops and score, that's the name of the game. The big leads that were built allowed for everyone on the roster to get playing time and get the experience needed for the next round.
Coach DeAveiro has reason to trust his bench for the output they had today. While leads are built and maintained, it gives team Canada a chance to rest Ignas Brazdeikis, Simi Shittu, Danilo Djuricic, Andrew Nembhard and Rowan Barrett Jr.
Tomorrow all the final pool play games will go on which leads to a rest day on Monday for all teams before the round of 16 begins.