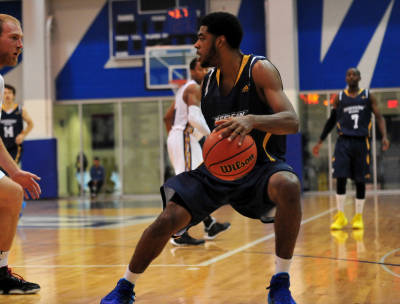 NPH CIS Team Previews: Ryerson Rams
How do the Ryerson Rams build and improve upon the best season in the program's history?
Ryerson Rams
Head coach: Patrick Tatham 
Record in 2014: 17-2 (First in OUA East division)
Playoffs: CIS bronze
Points scored per game: 89.3
Points allowed per game: 65.9
Key players: Aaron Best, Adika Peter-McNeilly, Jean-Victor Mukama
Key losses: Jahmal Jones, Jordon Gauthier, Bjorn Michaelsen
Schedule breakdown:
Until we know otherwise, the Ryerson Rams are still the cream of the OUA East crop and will still battle the two Ottawa teams (and others) for supremacy in Ontario. The 2015-16 season is the proverbial "reload, not rebuild" kind. If Tatham is from the Roy Rana coaching tree, he also has a few particularities. "I like to take risks, I like to take chances," he says, "and I like to push the envelope as well." Already, Tatham has identified the two key games on the Rams' schedule. "We play Ottawa and Carleton at home this year and hopefully we can protect home court for the entire year," he says. "With the new format, you get one shot and that's it. One shot every year."
Key games: at McMaster Marauders, Nov. 11
                    VS Carleton Ravens, Jan. 22
                    VS Ottawa Gee-Gees, Jan. 23
CBG's take: 
How exactly do you build upon the best era in the history of the Ryerson program, one that culminated with a CIS bronze last season and then the graduation of Jahmal Jones, Bjorn Michaelsen and Jordon Gauthier?
If you're Patrick Tatham, interim head coach of the new No. 5 team in the CIS and on the job this season during Roy Rana's sabbatical, you don't change much. "I'm really just trying to gain experience this year and continue to build a program of excellence," he says. "But that's the one thing in my eyes that may change: playing more up tempo basketball."
When he speaks with NPH, Tatham is back in Canada after what he calls "a great learning opportunity" for his team: an 81-61 defeat against Canisius College in Buffalo, where the Rams learned how to react when they are down and, a rare occurrence for them, playing a more athletic team than they are. He says that, "We just didn't shoot the ball well enough."
Still, Tatham's focus is on this new CIS season. "Anybody would probably feel the pressure," he says. "Essentially, a lot of people are looking to see how well Ryerson does again this season." The head coach explains that he feels confident and relaxed, because "the core group of leaders of our team from last year […] knows what it takes."
Adika Peter-McNeilly and Aaron Best form this core group and are two key guys—though Tatham believes others can step up on any given night. "If the new guys can kind of buy in and follow the leaders," he says, "then I think it'll be very, very smooth."
Indeed, if guys like Roshane Roberts, Jean-Victor Mukama and Ammanuel Diressa step up, the Rams should remain a factor at or near the top of the CIS rankings throughout the season. "Let's get it done," Tatham says. "Let's own our division."
And let's head right back to the CIS Final 8 to compete for a national championship again.