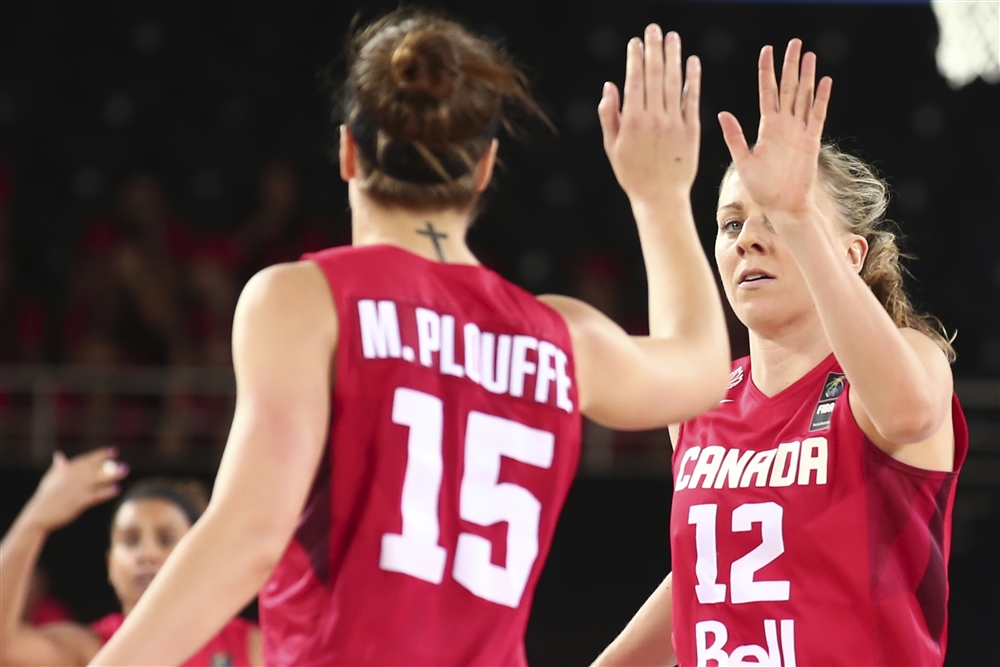 Senior Team Canada
Team Canada
Canadian Women Start Strong
TORONTO – With the spotlight firmly on them and a series of hard practices behind them the Women of Team Canada stepped onto the court Thursday and did not disappoint in a 101-38 win over Venezuela.
A balanced scoring attack by the Canadian side led veterans Lizanne Murphy with 15 and Shona Thorburn with 14 saw seven players score in double figures. Full stats available here.
It was a feel-good game to open the tournament in front of the Canadian fans and the players were still buzzing after the final buzzer.
"It's awesome to play at home," said Thorburn. "Normally it's only us singing 'Oh Canada' and now we actually have a gym full of people participating with us and it's goose bumps emotional."
Canada used second-chance opportunities to their advantage and out-rebounded Venezuela 42 to 19 and ran up the scoring margin while shooting 56 per cent from the field.
On the defensive end Canada was united and moved well forcing Venezuela into a number of 24-second shot clock violations.
The defence was unrelenting – they opened the fourth quarter on a 17-0 run and nearly shut out Venezuela in the final frame until a fading shot ended the shutout.
Venezuela's offence under pressure stopped passing the ball and resorted to one-on-one attacks where they were consistently met at the rim by a larger Canadian opponent with good position to make the stop. Canada moved the ball well and finished with 22 assists to just three for Venezuela.
"Defence has been the cornerstone of our success for a long time and we don't want our offence to improve if it sacrifices our defence," said head coach Lisa Thomadis after the game. "We take a lot of pride in our defence and we don't want to let it slip."
Canada also played without star forward Natalie Achonwa who sat to rest after arriving at team camp two days late. Her presence on the floor will be a big time boost against some of the tougher teams in the tournament.
Canada will play Argentina Friday and Cuba Saturday before the Semis on Sunday. Both games are at 6:00pm
Their first significant tournament on home soil in two decades means the women of Team Canada have a little extra incentive to win it all – just like they did in 1995's Olympic qualifier in Hamilton.