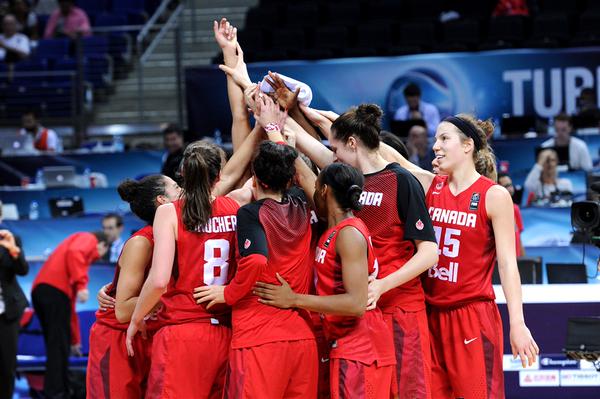 Senior Team Canada
Team Canada
While the Men's team has generated many of the headlines for who may or may not be attending the Pan Am Games, the Women's team will be Canada's basketball team to watch.
With a roster stacked with talent 12 deep, the mix of veterans and infusion of young talent should be more than enough to put them in medal position.
To get you primed for their podium push, here's what you need to know about the women of Team Canada.
The Stars
Natalie Achonwa, 6-3, F; Guelph, ON, Indiana Fever (WNBA)
A former star of the NCAA Final Four, Achonwa's Fighting Irish made the Semis all four years at Notre Dame and the Finals three times but never took the title. Achonwa tore her ACL in her final college game and has since returned strong winning Rookie of the Month in the WNBA. A young leader on the team, she'll be looked to for post scoring and will inject some life into the team after she missed last year's FIBA World Championships.
Kim Gaucher, 5-11, G; Mission, B.C., ASPTT Arras (French Pro League)
The artist formerly known as Kim Smith anchors Team Canada with 15 years experience with the national program and brings international know-how from her time spent playing in pro leagues overseas. Gaucher was the only player head coach Lisa Thomaidis guranteed a starting spot for ahead of training camp. Gaucher is known as a clutch scorer and shooter and won't be fazed in pressure situations.
Kia Nurse, 6-0, G; Hamilton, ON, University of Connecticut (NCAA)
An up-and-coming star of the program who has already found success on the international stage playing almost 22 minutes a game for the fifth place Canadian squad at last summer's Worlds. Still 19 she helped lead her UCONN Huskies to the 2015 NCAA Championship as a freshman. She figures to play an even bigger role with the Pan Am team this summer as they take advantage of their youth and athleticism.
Thursday July 16 – 6:00PM
Canada vs Venezuela
Friday July 17 – 6
Canada vs Argentina
Saturday July 18 – 6
Canada vs Cuba
Sunday July 19 – Semifinals
1:30 – Semi Final 1
5:00 – Semi Final 2
Monday July 20
4:00 – Bronze
8:45 – GOLD
Recent Results
2014 – 5th @ FIBA World Championships
2013 – 2nd @ FIBA Americas (best ever but usually top-3)
2012 – 8th @ Olympics (best since 4th in 1984)
2011 – 3rd @ FIBA Americas
2011 – 6th @ Pan Am Games
2010 – 12th @ FIBA World Championships
The Last Word
"None of these women have played in a meaningful game in Canada in their careers. Great chance to showcase our team, our program and all these amazing women that have dedicated themselves to get to this point," – head coach Lisa Thomaidis.